Some of you may recall earlier in the year when Manfrotto a new fluid head featuring an innovative, continuous counterbalance system based on a nitrogen-piston mechanism – the Nitrotech N8. Unlike conventional video heads with stepped levels of counterbalance, the Nitrotech N8 can be precisely adjusted to the weight of your camera rig; the N8 has a maximum payload of 17.6 pounds which makes it suitable not only for small and compact mirrorless cameras but also for mid-sized camcorders with a few accessories on top. However, not long after the announcement and shipment of the fluid head, Manfrotto had to recall their Nitrotech N8 fluid heads and improve the design of the counter-balance system to prevent breakage from operator misuse.
And it looks like they are not back with a new model – the Nitrotech N12. Manfrotto's new Nitrotech N12 video head can easily support payloads from 4kg to 12kg (around 26 lbs) and features a unique Nitrogen Piston Mechanism that guarantees precise, continuous counterbalance system and a Variable Fluid Drag System.
The Variable Fluid Drag System provides flawless performance on both pan and tilt axes for the smoothest possible footage. Counterbalance is easily adjusted using the ergonomic knob.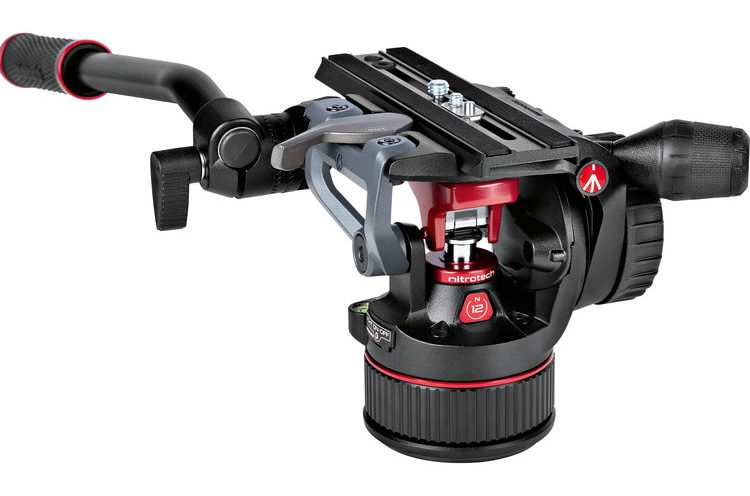 Here's a promo beelow shot with the N8 Nitrotech head, but you get an idea of the new technology.
Nitrotech N12 Fluid Video Head Features
Fluid video head with continuous counterbalance system
Payload 4-12 Kg (up to 26.4 lbs)
Variable fluid pan & tilt drag system
Precision Counterbalance System
Illuminated Bubble Level
Left-Side Controls
Side lock plate attachment
3/8" easy link connector for accessories, with anti-rotation
Flat base mount ideal for various applications
Available: Mid-December 2017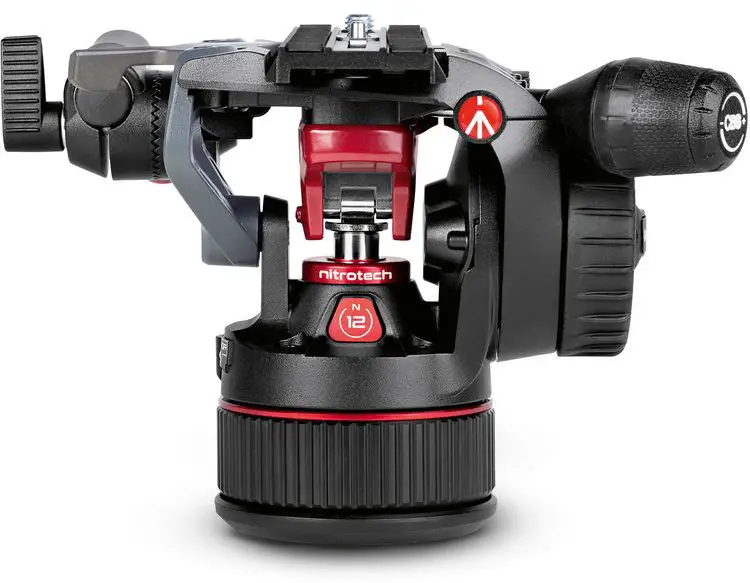 Nitrotech N12 Specifications
| | |
| --- | --- |
| Weight | 79.36 oz |
| Collection/Series | Nitrotech |
| Material | Aluminum |
| Safety Payload Weight | 26.46 lbs |
| Counterbalanced Weight | 26.46 lbs |
| Tilt Drag | continuously adjustable 0 to max level |
| Pan Drag | continuously adjustable 0 to max level |
| Plate Type | 504PLONG |
| Ball Flat | Flat |
| Center of gravity | 2.17 in |
| Front Tilt | -70° / +90° |
| Bubble Spirit Level (No.) | 1 |
| Top Attachment | 1/4″ screw, 3/8″ screw |
| Powered by (batteries) | Lithium |
| Certifications | WEEE; RoHS |
| Colour | Black |
| Easy Link | Yes |
| Head Type | Video/Fluid Head |
| Maximum Working Temp | 122 F |
| Minimum Working Temp | 5 F |
| Pan Bar Included | Yes |
| Panoramic Rotation | 360 |
| Quick Release | Yes |
| Working Height | 5.83 in |
The Nitrotech N12 also features Manfrotto's unique 3/8" anti-rotation Easy Link connector to attach a wide array of accessories. Its longer Side Lock sliding plate enables the camera to click in from above for fast and precise set-up and it is equipped with a metric ruler and back-lit levelling bubble for easy use. The head's 75mm Flat Base fits a range of supports including sliders and jibs, for a wide variety of applications.
The Nitrotech N12 Fluid Video Head is extremely lightweight for a head of its kind. This new model sets a unique standard of engineering innovation and aesthetics combined with the unprecedented power to reliably counterbalance a wide array of camera weights and equipment configurations, giving independent content creators the greatest degree of creative freedom and peace of mind available on the market. The Nitrotech N12 completes Manfrotto's Nitrotech range and video offering.
The Nitrotech N12 has a UK list price of £599.95 and tripod/head kits start at £1099.95.
The US price for the new N12 Nitrotech head is $599.99 and you can order yours from authorised resellers such as B&H or Adorama.
Disclaimer: As an Amazon Associate partner and participant in B&H and Adorama Affiliate programmes, we earn a small comission from each purchase made through the affiliate links listed above at no additional cost to you.
Claim your copy of DAVINCI RESOLVE - SIMPLIFIED COURSE with 50% off! Get Instant Access!