The Italian-based gear maker Manfrotto just unveiled its first video head that features an innovative, continuous counterbalance system based on a nitrogen-piston mechanism. Unlike conventional video heads with stepped levels of counterbalance, the Nitrotech N8 can be precisely adjusted to the weight of your camera rig.
What's more impressive, the innovative video head has a maximum payload of 17.6 pounds which makes it suitable not only for small and compact mirrorless cameras but also for mid-sized camcorders with a few accessories on top. The unit comes with a sliding camera plate that has a safety lock, fluid-drag pan and tilt functions along with an illuminated bubble level that can be extremely handy, especially in low-light conditions.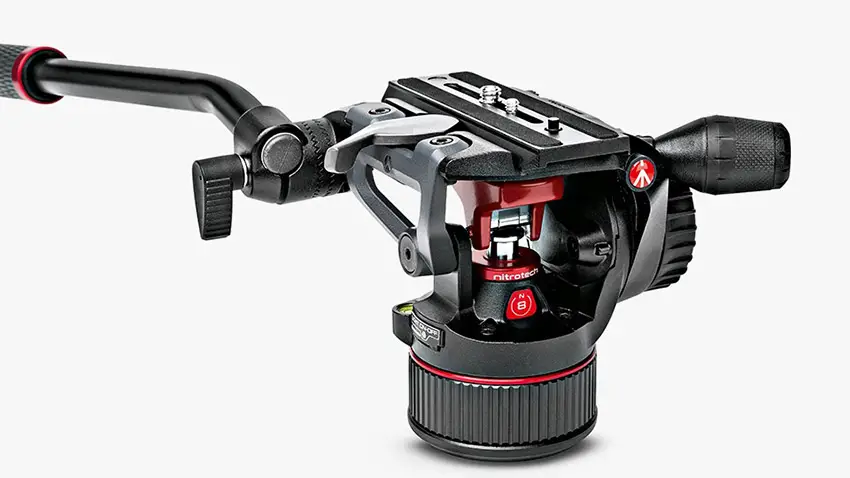 The Nitrotech N8 fluid head features a 75mm flat base, allowing it to work with a wide variety of support systems such as monopods, tripods, cranes, shoulder rigs, sliders, etc. In addition, there is a 3/8″- threaded Easy Link Connector built into the side of the unit that allows users to attach some extra accessories if needed while keeping them off the camera rig itself.
Nitrotech N8 Fluid Video Head Highlights
Supports Up to 17.6 lb
Innovative Nitrogen-Piston Mechanism
75mm Flat-Base Head
3/8″- threaded Easy Link Connector
Precision Counterbalance System
Adjustable Sliding Plate with a Safety Lock
Illuminated Bubble Level
Left-Side Controls
Compatible with Manfrotto Tripods and other support systems
Price: $449.99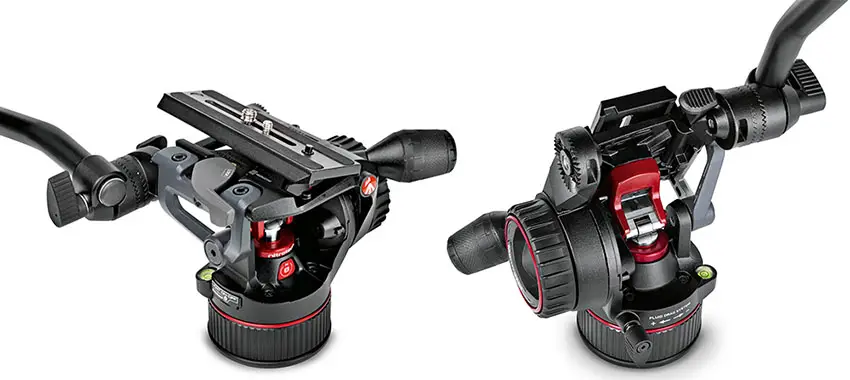 Furthermore, the flexible Side Lock mechanism allows you to lock, loose for adjustment, and unlock the balance plate using just one hand for all three functions. The convenient layout of the tilt, pan, and counterbalance mechanisms puts these adjustments within reach of your left hand while operating the panhandle with your right one at the same time.
The Nitrotech N8's variable fluid drag systems provide smooth panning and tilting moves that can be fine-tuned even for the most demanding shots you need to pull off on set. Of course, this wouldn't be possible without the nitrogen piston technology that allows the counterbalance force applied by the head to be continuously variable, something that is much difficult to achieve with the fixed or stepped counterbalance of most video heads in this class.
You can currently get the Nitrotech N8 video head for $449.99 as a standalone accessory or as an integral part of the available Manfrotto packages listed below.
[source: Manfrotto]
B&H Order Links:
Manfrotto Nitrotech N8 Video Head
Manfrotto Nitrotech N8 Video Head & 546B Pro Tripod with Mid-Level Spreader
Manfrotto Nitrotech N8 Video Head & 546GB Pro Tripod with Ground Spreader
Manfrotto Nitrotech N8 Video Head & 535 Carbon Fiber Tripod
Claim your copy of DAVINCI RESOLVE - SIMPLIFIED COURSE with 50% off! Get Instant Access!