CineMilled are a popular accessories manufacturer when it comes to handheld gimbal stabilizers. A lot of gimbal operators know the brand from their clever accessories such as the extension arms for the original DJI Ronin for example, which allows for greater clearance when balancing cameras such as the Sony FS700, FS7 and C300 Mark II. Earlier in 2017, CineMilled released their "All Terrain Shoes" for the Freefly Movi Pro and DJI Ronin, and now they are back with a new universal mount for the DJI Ronin 2.
The latest crop of "big boy" gimbals such as the DJI Ronin 2, can support massive payloads with cine cameras such as the ALEXA Mini and cine zoom lenses, making them an indispensable part of almost any shoot nowadays. Such gimbal stabilizers are getting used in a variety of creative ways and very often used in conjunction with cars and tripods.
Hence, why CineMilled are now calling for gimbal ops to "…unleash your Ronin2 with a true universal mount".  The new CineMilled Universal Mount for Ronin 2 can be mounted to just about anything and anywhere, whether it be a cable cam, a car mount, or a heavy-duty tripod. It is also compatible with their Mitchell threaded collar and castle nut, Mitchell washer and knob, Steadicam Armpost adaptor and the CineMilled PRO Ring system!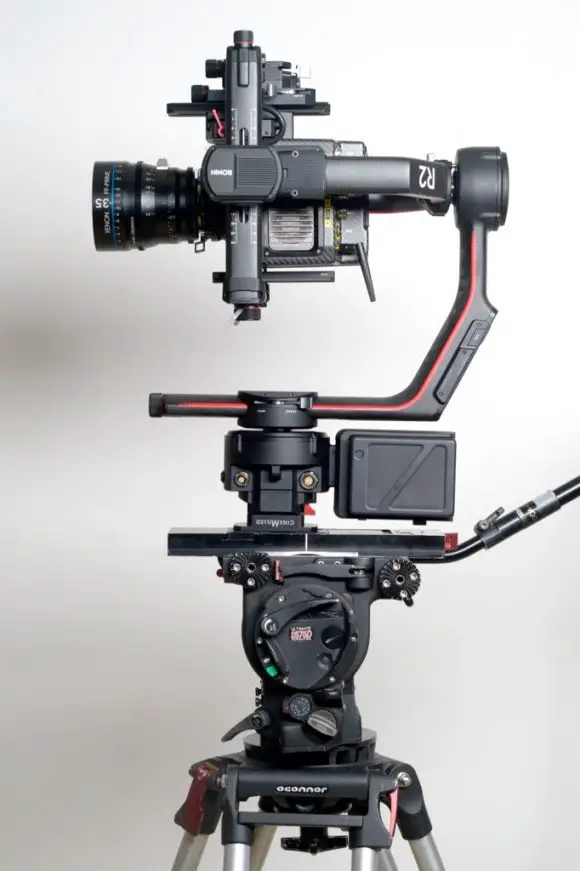 DJI Ronin 2 Highlights
Designed for Cinema Camera – REDs, ARRI Alexa, etc.
30 lbs Payload Capacity
Enhanced SmoothTrack Algorithm and GPS
Upright, Underslung, and Briefcase Modes
Easy Underslung/Upright Transitions
2-Axis Mode for Use with Steadicam
Retractable Feet/Self-Supporting Design
Camera Control for Select Cameras
2.4 / 5.8 GHz Switchable Remote
Up to 0.6-Mile Control Range
All the threaded holes down the centre line of the mount are spaced 1-inch on centre which is the industry standard drip and cheese plate spacing. Users have access to a multitude of standard threaded holes (1/4-20″ and 3/8-16″) all over the mount including a few non-threaded positions.
Factory "Safety locking pin" system is also included and works just like DJI intended and provides some safety until you latch down and secure the dovetail. The Universal Mount can be also used to it to mount directly onto a Steadicam sled to enable Steadicam 360 mode on the DJI Ronin 2.
The CineMilled Universal Mount for Ronin 2 is priced at $199 and should be shipping soon. The Ronin 1 Dovetail adapter, which allows you to adapt the R2 Universal Adapter and use with the R1 mount is price at $40 USD.
[via CineMilled]
Disclaimer: As an Amazon Associate partner and participant in B&H and Adorama Affiliate programmes, we earn a small comission from each purchase made through the affiliate links listed above at no additional cost to you.
Claim your copy of DAVINCI RESOLVE - SIMPLIFIED COURSE with 50% off! Get Instant Access!