When it comes to choosing a video editing workstation, investing in a system tailored towards your personal needs and requirements should always be a primary consideration. For instance, if you're a creative professional who predominantly works with Final Cut Pro X, naturally you'd opt for a Mac-based computer.
On the other hand, if you're someone who relies heavily on Adobe's ecosystem for your video editing workflow, your machine would benefit greatly from NVIDIA's graphics cards mainly due to the GPU-acceleration provided by CUDA technology. No matter what system you opt for, one thing is for sure – it should be built out to maximise your video editing workflow.
In the video below, seasoned filmmaker Tom Antos showcases his 2018 monster rig that obviously can handle 4K and 6K RAW footage in real-time with ease. For a build that cost roughly $3,000, getting this level of performance and computing power is somehow expected and even taken for granted by many people. But, let's explore some of the real advantages one can get with such a system.
The core of the showcased system is the Intel Core i9-7900X Processor with ten physical cores which operate at a stock speed of 3.3 GHz. These ten cores can achieve a maximum turbo frequency of up to 4.3 GHz while running intensive tasks, and the best performing cores can run at speeds of up to 4.5 GHz utilizing Intel Turbo Boost Max Technology 3.0. Overall, Intel's new series of i9 chips promises to deliver blazing fast computer performance, perfect for any professional video editor.
Coupled with the X299 motherboard from MSI, the system provides plenty of room for upgrades down the road, whether it be additional PCIe SSDs or more RAM. The motherboard lets you install up to eight SATA-based optical and storage drives as well as run multiple graphics cards and link them with SLI or CrossFire technology. Aside from storage, the unit comes with three USB 2.0 Type-A ports, four USB 3.0 Type-A ports, and two USB 3.1 ports with 10 Gb/s speeds.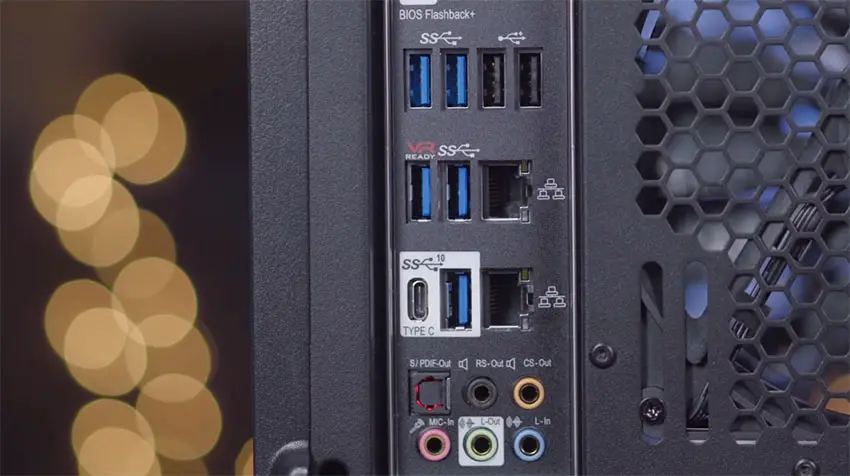 In addition, this powerful PC build rocks 64GB of Kingston's HyperX Predator 3000 MHz DDR4 memory, allowing for unparalleled performance when it comes to video editing. It's also worth noting that the rig can be upgraded up to 128GB of memory if required.
For graphics, Antos opted for an MSI Gaming GeForce GTX 1080 graphics card. The GPU is based on NVIDIA's Pascal architecture that provides significant improvements in performance, memory bandwidth, and power efficiency over its predecessors. The front panel of the card features a variety of outputs including three DisplayPort 1.4 outputs in addition to an HDMI 2.0b output and a DVI-D Dual-Link output.
In terms of storage, the system offers the traditional synergy of solid state and hard disk drives. For the SSDs, Antos uses an Intel 600p Series 256GB M.2 SSD as a boot drive that stores the operating system and frequently used applications for fast and easy access.
For even higher speeds and to store on-going and/or important projects, the 2018 rig utilizes the much faster Intel 750 Series AIC 400GB PCIe based SSD. When it comes to archiving less frequently-used projects and files, a Seagate 4TB BarraCuda Pro 7200RPM HDD is also available on board. In fact, the BarraCuda Pro is touted as one of the fastest 3.5-inch hard disk drives on the market you can currently get.
In regards to system's power supply, the custom PC comes equipped with the Cooler Master V750 Fully Modular PSU which does, in fact, have 80 Plus Gold certification, giving you peace of mind knowing that your power supply is always running efficiently.
For cooling, Antos picked the Cooler Master 240 CPU All-in-One Liquid Cooler for effective cooling performance, which is paramount for running overclocked CPUs like the Intel i9 chips.
To house the build, the acclaimed Cooler Master Master Case H500P ATX Mid-Tower Case was chosen. The stunning look of the case with its sleek dark-grey construction, dual-front RGB fans, and tempered glass side panels is a very nice touch. Plus, it's extremely silent while operating, especially when you consider the number and size of the fans running on board.
2018 Custom Monster Rig Components
From a performance standpoint, this computer really knocks most builds out of the park. The system can playback both 4K and 6K raw footage seamlessly in Premiere Pro CC. Even with some color tweaks applied to the clips in real-time, the playback performance was still rock solid.
Obviously, this build suits Tom Antos' workflow perfectly. As for yourself, if you're trying to find the right system for your video editing workflow, make sure to do your due diligence carefully, especially if you're planning to assemble a new video editing workstation from scratch.
[source: Tom Antos]
Claim your copy of DAVINCI RESOLVE 16 - SIMPLIFIED COURSE with 50% off! Get Instant Access!