Matthew Grip kit doesn't really need an introduction. It's proven to last ages, and is used in major Hollywood motion pictures and episodic TV. I own a few Matthews C-stands and they've served me well for a few years, and I am pretty sure they will outlast most of my other gear. Recently, I was doing some reason on dolly systems as I am in the market for one, and I came across the Matthews Dutti Dolly. Released earlier in the year, the Dutti Dolly is the brain child of Hollywood grip veteran James Saldutti, who came up with the idea for a low-profile and portable dolly for cinematographer James Muro ASC.
At the moment, I am using a compact carbon fibre slider, which is more suitable for DSLRs and mirrorless cameras, and even though I can use it with my Canon C300 Mark II, as soon as I put a longer lens, the whole setup gets a bit wobbly. This is where I think the Dutti Dolly may come in handy.
"The idea for the Dutti Dolly came from a need by cinematographer, James Muro ASC. He always liked low shots. And to move quickly. So, I looked at various dollies and realized most of them rest higher on a track. I created the Dutti Dolly not only to rest lower – but also to be much more portable."

"Jim took it everywhere on Rush Hour 3. Fight scenes at the Eiffel Tower. Running shots. And more. Cinematographer Joaquin Sedillo ASC made a lot of use out of it when he was doing shots in the auditorium on Glee. When the aisles were too narrow or the table too close – he was able to put the dolly in the row behind him – and get the shot."

– James Saldutti (Dolly Grip and the inventor of the Dutti Dolly)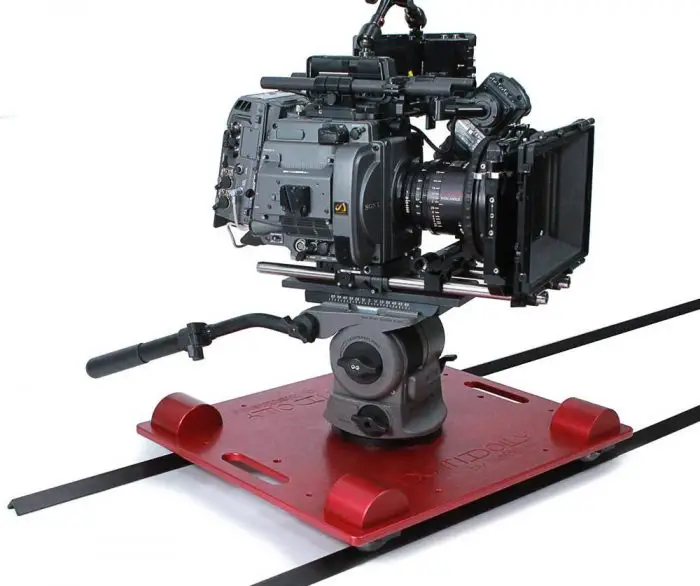 Matthews Dutti Dolly Features
Less than 2" riding height (on or off track) for extreme low angles
Fits in tight spaces (airplane and bus isles, church pews, etc.)
Compatible with common hardware store track options (round, square, angle, PVC)
No track required – rolls directly on any smooth surface
Seat option for ride-on capability
Perfect for dolly step offs using handheld, steady-cam or gimbal systems
Direct mount tripods, bazookas, tilt plates and other adapters
Mounts either over or underslung
Size and weight provide stability for hard whip pans and quick tilts
Tapped 3/8" holes for endless rigging possibilities
Mount multiple dollies together tandem or side by side
Removable wheel covers for easy maintenance
The Dutti Dolly is available in various colours from black, to red, green and blue, and has been used on hundreds of feature films, television shows and commercials and through a partnership with Matthews, the Dutti Dolly is now commercially available worldwide.
The low-profile design, which has been refined with a sturdy 1/2″ thick rectangular CNC'd aluminium platform and a built-in Mitchell mount, helps with keeping the overall footprint portable. The Dutti Dolly measures at 20" x 24", and it rolls extremely low to the ground at just under 2" in height while remaining incredibly stable whether riding directly on smooth surfaces, or on rails.
Its design makes for a good platform for heavier setups with cinema cameras and according to the spec sheet, has a max capacity of 800 lbs, which means you can throw any camera setup at it and it won't bulk. For longer rail setups with heavier cameras it is recommended to use a middle track support to minimize track flex.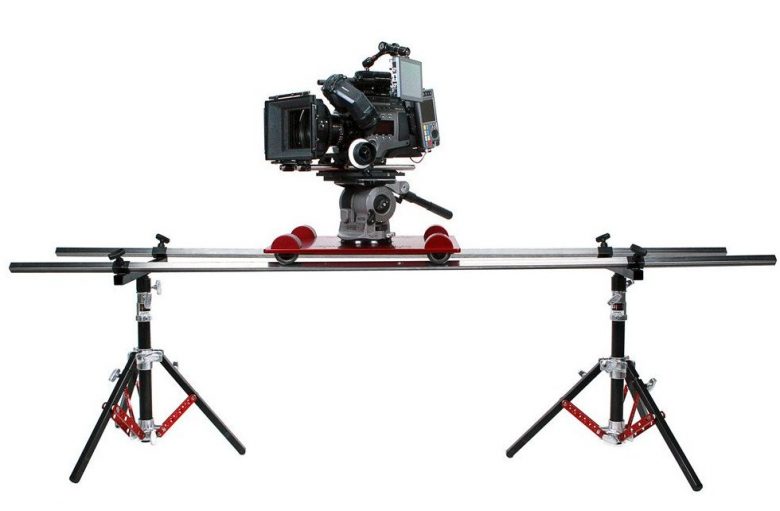 Its 8 inline skate wheels and universal stand brackets allow it ride smoothly on speed rail or on tubing found in a local hardware store such as round, square, angle or PVC, making it ideal for one-man bands and smaller crews, who need to be light on their feet and do fast set-ups with limited access to other grip kit.
Despite its small size, Dutti Dolly remains incredibly stable and adaptable. It can be mounted on the ground, on stands or apple boxes, over or underslung without the wobble seen on other small dollies. The compact footprint is easy to set-up and transport, yet large and durable enough for standing or sitting applications, and is compatible with mounting tripods, bazookas, tilt plates and other accessories.
Dutti Dolly Specifications
Weight: 25 lbs. (11.3 kg)
Capacity: 800 lbs. (363 kg)
Dimensions: 20" x 24" x 3.5" (50.8cm x 61cm x 8.9cm)
Platform Height: 1.75" (4.4cm)
Center Mount: Mitchell System
Mounting points: (14) 3/8" tapped mounts
Material: Machined 6061 T-6 aluminum
Finish: Non-reflective type 2 hard anodize
Wheels: (8) Inline Skate
To learn more about the Dutti Dolly and the various accessories and track available for it head over to Matthews. Pricing starts at around $1,399 list direct, but B&H are selling it for $1,119 USD. The Dutti Dolly Rental Kit, which includes 3 track brackets, a carry case and 75mm and 100mm adapters is also available and priced at $2275 at B&H.
Claim your copy of DAVINCI RESOLVE 16 - SIMPLIFIED COURSE with 50% off! Get Instant Access!