Panasonic have been on a roll this past week with the announcement of the Lumix GH5S, which has been somewhat polarizing among the GH5 crowd, to say the least, however, let's not forget that Panasonic actually makes another camera that sits "above the GH line and below the Varicams" – the AU-EVA1.
Unlike the more compact GH5/S, the Panasonic EVA1 features a Super35 sensor and EF mount, and has been shipping steadily for about two months now and Panasonic have been a great job addressing some early adopter concerns mainly having to do with the handgrip connection play, which has already been resolved (read more about this here).
And now, Panasonic have also released a new firmware version 1.10 for the camera, which does feature some bug fixes and doesn't add any big features, but it does improve the overall camera experience by fixing some small annoyances such as "ghosting" artifacts when panning,  and the camera not remembering the Focus Assist settings when SDI is set to Mirror LCD and when the LCD monitor is disconnected.
With the new firmware ver. 1.10 EVA1 users don't have to keep the LCD plugged in if you don't want, you can still get Focus Assist via the SDI output to another device, which is useful.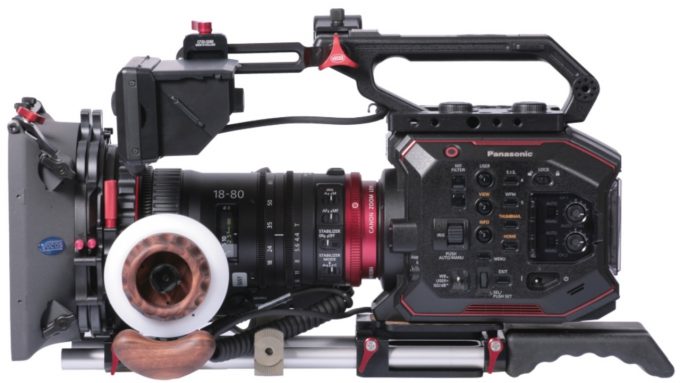 The picture above shows the EVA1 rigged with some cool accessories from Vocas, which you can read about in my previous post here.
Panasonic EVA1 Firmware ver. 1.10:
FIXED – When the HDMI output is connected to BT-LH1850 monitor and displayed on it, once the monitor's input setting is switched to SDI, "No Signal" is shown and no image will be displayed any more even if the setting is put back to HDMI.
Display of SENSOR TEMP at low temperatures is improved.
FIXED – Panning at high speed may cause ghosting.
FIXED – Focus Assists are not displayed on the SDI output destination when the LCD panel is disconnected.
FIXED – An image on the LCD is defective when Open Iris F. A. is enabled.
FIXED – Even if the Wi-Fi setting is switched from INFRA to DIRECT, the display of IP address will not change.
FIXED – The camera cannot connect to Wi-Fi using D-Link DWA-171 (For Australian Market).
Error in information superimposed on SDI (payload) at 24.00 Hz is corrected to 60.00.
If you are an EVA1 owner/operator or a rental house you can download the firmware from Panasonic's support page here.
Claim your copy of DAVINCI RESOLVE - SIMPLIFIED COURSE with 50% off! Get Instant Access!