SmallHD have just announced two new monitors designed for gimbal operators and those shooters, who are often bracing the bright exteriors. The new SmallHD 502 Bright is a newly updated, daylight-viewable version of their super-popular 5-inch SmallHD 502 monitor. The SmallHD 502 Bright has a 1000 nits bright screen that can come in quite handy in those sunny exteriors where you have to run around all day with a heavy gimbal setup, when the last thing you'd want is to struggle to see where you are framing, focusing and how you are exposing.
The monitor design on the 502 Bright has been slightly altered from the predecessor 502 to ensure a rugged stance, capable of withstanding the rigours of the modern video production environment, while weighting only at around 270 grams (9.4 oz).
The 1080p display is not a touchscreen as on the more budget oriented SmallHD Focus, however it is super bright at 1000 nits offering a daylight viewable experience that gimbal ops would surely appreciate, paired up with an ergonomic joystick for intuitive navigation through the excellent SmallHD "page based" operating system, which is easy to get used to even for those operators that have never used it before.
SmallHD 502 Bright Features
5-inch 1920 x 1080, 1000 nits LCD Display,
441 ppi, 10bit colour, 100% Rec.709
Machined Aluminium Chassis
3 x 1/4″ 20 mounting points
Only 9 watt power draw
Powered via 2 x Canon LP-E6 batteries
HDMI In/Out + SDI In /Out
HDMI + SDI Cross Conversion
Real-time 3D LUTs, also features

Scopes, Waveform, False Colour,
and Focus Assist/Peaking

179 degrees viewing angle
Perfect for gimbal operators
Price: $1,299 – Early Adopter Bundle
For those of you, who prefer the 7-inch monitor size, SmallHD have the new 702 Black Limited Edition monitor. Sporting a new black exterior, as opposed to the silver sides on the original 702 Bright, the new 702 Black Limited Edition also features a 1000 nits bright screen, HDMI and SDI connectivity and also the option of getting power directly either via Canon LP-E6 batteries, similar to the 502 Bright, but also via Sony L Series (NP-F) style batteries thanks to the innovative dual battery system.
Additional power cables are also available for power via D-tap from AB or V-mount style batteries for both monitors.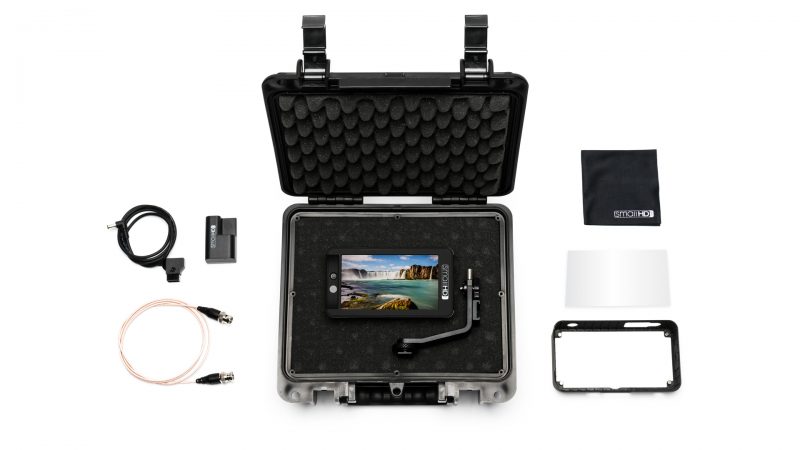 The SmallHD 502 Bright Early Adopter Bundle is available for $1299 from SmallHD direct for a limited time only, saving you $300 off regular pricing, and it also gives you a 48-inch thin SDI cable, a hard transport case, a D-TAP power adapter cable, the Focus Tilt Arm and a rubber bumper for extra protection. The SmallHD 702 Black is priced at $1499.
Claim your copy of DAVINCI RESOLVE - SIMPLIFIED COURSE with 50% off! Get Instant Access!