After you've got your shiny new GH5/GH5S in hand, odds are you are going to need a bunch of accessories to rig it up accordingly. Of course, what you buy depends on your needs and budget constraints.
For instance, if you're someone whose style of filmmaking leans more towards run-and-gun shooting, or if you want a setup that's fast and flexible enough to take from tripod to handheld at a moment's notice, you might be interested in the custom rig assembled by Adam Murtland who claims to have created the ultimate rig for the Panasonic GH5/GH5S cameras.
The heart of the build suggested in the video above is the 8Sinn Cage for the Panasonic GH5. The durable metal construction of the unit coupled with an abundant amount of mounting points throughout the cage allows for flexibility when adding accessories to the camera.
If you're on a budget, however, the SmallRig GH5 Cage could be even a better alternative for your workflow. In fact, Murtland plans to switch to that cage system since it provides additional mounting points and has the advantage of being a cheaper accessory when compared to the 8Sinn Cage.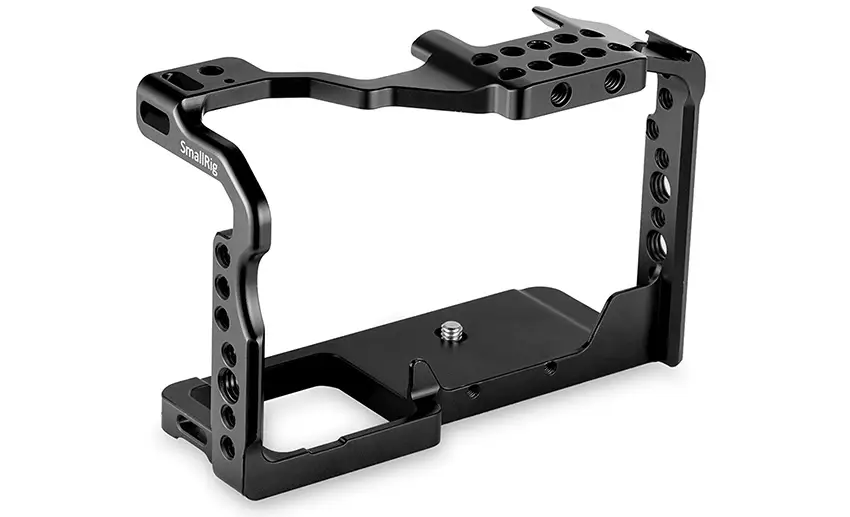 Next on the list is the CAMVATE QR Wooden Handle Grip for DSLR Cage that also seems to be a popular choice among indie filmmakers when it comes to external camera handles that provide extra stability while holding the camera.
Although you may feel that the $80 price tag may be a bit high, its reliable reputation and quality wood build will give you confidence while filming with your camera, plus it could be extremely convenient to use since the surrounding metal cage can get quite cumbersome to hold.
To wrap up the mounting components of the rig, Murtland suggests several SmallRig accessories including a Switching Plate to add more mounting points to the top of the rig, as well as a Camera Base Plate with Rod Rail Clamp for seamless transition from tripod to handheld, or to enable the camera to be mounted onto a rail system if need be.
In addition, he also uses a SmallRig DSLR Monitor Holder Mount 1842 to mount his external monitor, in this particular case – the SmallHD FOCUS 5" ON-Camera Monitor. Not only is the product from an acclaimed manufacturer, but the monitor itself is small and compact while boasting stunning image quality to help frame your shots on the fly. The unit comes with everything you need to get started, including batteries, a charger, and all the necessary HDMI cables to operate the device.
Lastly, the audio system used for this GH5/GH5S rig is the RODELink Filmmaker Kit and/or RodeLink Newsshooter Kit, both of which are digital wireless microphone systems perfect for any use case.
They provide excellent sound quality for the price and can be bought as a set with the transmitter and receiver. All the audio signals are passed through the Panasonic Professional Microphone Adaptor for the GH5 which allows you to use 2 XLR microphone inputs rather than the 1/8" microphone input jack.
You can find the full list of all bits and pieces that Adam Murtland utilizes for rigging his GH5 camera below.
[source: Adam Murtland]
Order Links:
Claim your copy of DAVINCI RESOLVE - SIMPLIFIED COURSE with 50% off! Get Instant Access!