ARRI just announced their new ALEXA LF "large format" 4K digital cinema camera at the BSC Expo show in London! I am attending this very show both today and tomorrow and will have more information as soon as I get a chance to speak to someone from ARRI about their new 4K camera and new lenses.
In the meantime, I highly recommend you follow us on Twitter with our official account @4kshooters, and also my personal account @rawgoldmedia for more photos and updates from BSC Expo about other new announcements and interesting findings. If you want to ask anything specific about a specific product or manufacturer, drop me a line on twitter on either of the above accounts and I'll do my best to find out.
In addition to the new ARRI ALEXA LF, the legendary German motion picture camera, lights, lenses and accessories maker also announced the ARRI Signature Primes – a new lineup of full-frame (or large format as ARRI calls them) lenses that can cover the massive new sensor in the ALEXA LF.
ARRI ALEXA LF (Large Format) 4K Digital Cinema Camera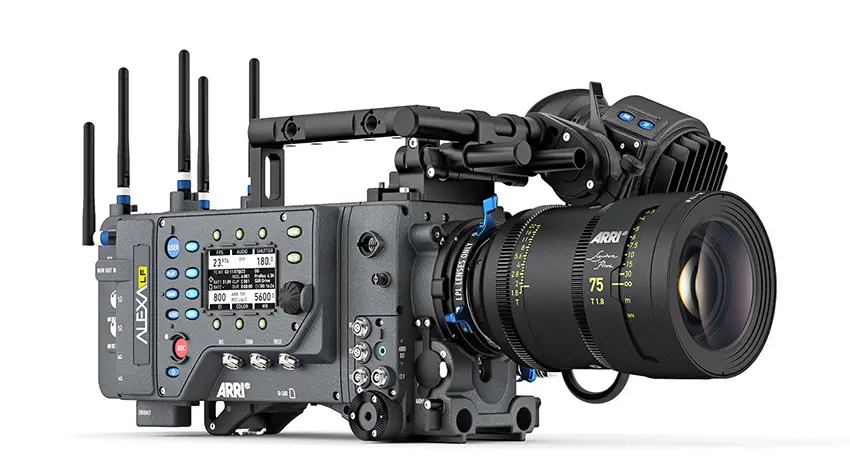 Not be confused with the 6.5K large format (and rental only) ALEXA 65, the new ALEXA LF features a "large-format 4K version of the ALEXA sensor," that is a tad bit bigger than full-frame. On the front of the ALEXA LF is a new LPL mount designed for the new ARRI Signature Primes that can cover the new large format sensor. 
According to ARRI the new camera system comprises of the ALEXA LF camera, ARRI Signature Prime lenses, LPL lens mount and PL-to-LPL adapter. These system elements have been designed to take fullest advantage of the enlarged sensor, while also offering compatibility with existing lenses, accessories and workflows. This is great news for those heavily invested in S35 lenses as the ALEXA LF will offer a 16:9 4K mode in which users can use S35 lenses. 
Thanks to its large sensor, the new ARRI ALEXA LF can record 4K DCI and UHD natively allowing cinematographers to create stunning images with large-format aesthetic while retaining the sensor's natural colorimetry, pleasing skin tones and stunning capability for HDR and Wide Colour Gamut workflows.
The ALEXA LF will record a huge range of resolution flavours including 4K ProRes and ARRIRAW up to 150 fps. A more detailed list of resolutions, formats and detailed specs will be posted a bit later on as they become available.
One of the major new features in the ALEXA LF is of course the new LPL lens mount, which has been designed and optimized for large-format sensors. The wider diameter and shorter flange focal depth allows the ARRI Signature Prime lenses and all future large-format optics to be designed as small and lightweight, with a fast maximum aperture (like T1.8 on the new Signature lenses, which is damn fast for cine primes) and pleasing bokeh—a combination of features that would not be possible within the confines of the PL lens mount.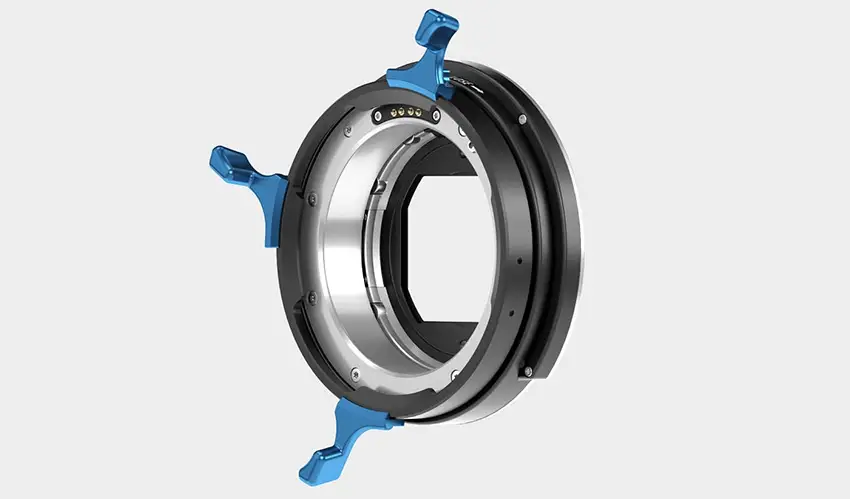 The LPL mount will also be available for the ALEXA Mini or AMIRA, thanks to the ARRI PL to LPL mount adapter, so Signature Prime lenses can be used for both large format and Super 35. In addition, the LPL mount is being licensed to other lens and camera manufacturers. The ALEXA LF is also wireless capable with the ARRI Wireless Video System operating in the 5 Ghz band.
There are no hardware upgrades available from any previous generation of ALEXA to the ALEXA LF.
There are optional built-in Full Spectrum ND filters (from 0.3 strengths to 2.4) behind the lens, which are larger in diameter than the FSND filters for S35 ALEXA cameras. They operate via spring-loaded steel mechanism instead of magnets like in the ALEXA SXT W, since there was not enough space inside the lens mount for magnets. 
ARRI ALEXA LF Summary
Large Format 4K ALEVIII Sensor (from the ALEXA family)
Compatible with Full-Frame Lenses

New ARRI Signature Primes at T1.8 (mostly)

Sensor is slightly bigger than 35mm full-frame
Familiar ALEXA SXT family body design
4K ProRes recording options
ARRIRAW at 150fps
SxS or SXR Capture Drives depending on configuration
Netflix/Amazon and other UHD/4K deliverables compliant
New LPL mount for large format lenses
Compatible with S35 lenses
Wi-Fi enabled
Basic pricing starts at €74,000
Available in March 2018
The ALEXA LF Basic camera set with SxS card option and Viewfinder starts at €74,000 Euro, and goes up to €97,200+ Euro for the option with a full set of ALEXA LF FSND Filters + 2TB SXR Capture Drive. Sadly (for SXT/XT owners) there are no hardware upgrades available from any previous generation of ALEXA to ALEXA LF.
First deliveries are expected to start in March 2018.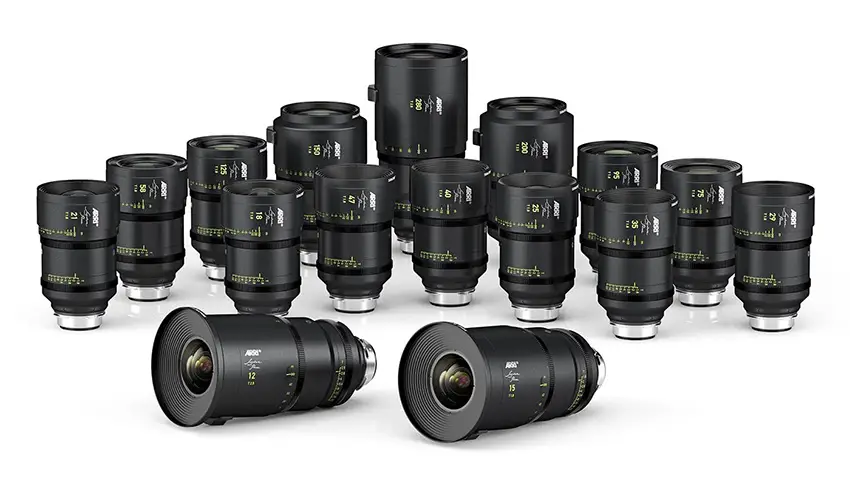 ARRI Signature Primes for ALEXA LF
Accompanying the ALEXA LF camera, ARRI are also announcing a whopping 16 new large-format ARRI Signature Prime lenses, ranging from ultra-wide 12mm T1.8 to telephoto 280mm T2.8 and fitted with the ARRI LPL mount.
The new lenses feature state-of-the-art optical precision and have been "designed to render organic, emotionally engaging images, gently softening and texturizing the large format with natural skin tones and creamy bokeh" according to ARRI. Most of the range is at T1.8 so expect creamy bokeh and ability to use them in light-starved conditions.
The announced ARRI Signature Primes focal lengths (in both metric and imperial) are:
ARRI Signature Prime 12mm T1.8
ARRI Signature Prime 15mm T1.8
ARRI Signature Prime 21mm T1.8
ARRI Signature Prime 25mm T1.8
ARRI Signature Prime 29mm T1.8
ARRI Signature Prime 35mm T1.8
ARRI Signature Prime 40mm T1.8
ARRI Signature Prime 47mm T1.8
ARRI Signature Prime 58mm T1.8
ARRI Signature Prime 75mm T1.8
ARRI Signature Prime 95mm T1.8
ARRI Signature Prime 125mm T1.8
ARRI Signature Prime 150mm T1.8
ARRI Signature Prime 200mm T2.5
ARRI Signature Prime 280mm T2.8
The ARRI Signature Prime range is the first cine lens series to feature machined magnesium lens barrels, making the optics incredibly lightweight and robust. They are also the first to incorporate ARRI's next-generation LDS-2 Lens Data System, with high data rates and absolute encoders for fast initializing. LDS-2 extends the possibilities of lens data and is being licensed to other lens and camera manufacturers.
The ARRI Signature Primes start at around €19,000 Euros a piece with the ultra-wide 12mm T1.8 and the telephoto 280mm T2.8 reaching €31,900 Euros a pop. Hey, at least ARRI will ship them in a customized ARRI branded aluminium case that you can show your bank manager.
ARRI is expected to start shipping the 35mm, 47mm 75mm, and 125mm as early as June 2018, with wider 18mm to 29mm to follow in the July, August and September 2018. And finally the the ultra-wide 12mm and 15mm as well as longest focal lengths will follow in 2019.
To learn more head over to ARRI's dedicated ALEXA LF site here.
Disclaimer: As an Amazon Associate partner and participant in B&H and Adorama Affiliate programmes, we earn a small comission from each purchase made through the affiliate links listed above at no additional cost to you.
Claim your copy of DAVINCI RESOLVE - SIMPLIFIED COURSE with 50% off! Get Instant Access!