OK, let's clear things up! 11,750fps is not an easily attainable frame rate by any stretch of the imagination, but who else rather than the folks at Vision Research would have the balls to pack the ridiculous processing power required for the job into a professional cinema camera? Well, it seems that the company is breaking its own barriers again, this time with its brand new Phantom v2640 ultra high-speed camera.
With its custom 4-Megapixel CMOS sensor and extremely efficient internals, the behemoth is capable of capturing 6,600fps at its native resolution of 2048 x 1952 as well as 19,690fps at 720p and even 28.760 fps at 640×480. The catch – the device can capture up to 7.8 seconds of 12-bit footage at full resolution on its super-fast 288 GB internal RAM.
Don't worry, though. If the internal storage isn't enough for some reason, you can still use an external 1TB or 2TB CineMag IV memory cartridge, but only at lower frame rates due to the limited throughput of 1 gigapixel/sec. Just as a reference, the proprietary RAM module on board supports transfer speeds of up to 26 gigapixels/sec, so you can do the math.
According to Vision Research, the Phantom v2640 has both the lowest noise floor of any Phantom camera and the highest dynamic range of any Phantom Global shutter camera. The device boasts 64 dB of dynamic range and has an impressive ISO of 16,000 and 3,200 for the monochrome and color version of the camera respectively.
The v2640 also offers up to 4 operating modes, including Standard mode with Correlated Double Sampling for unparalleled image quality alongside a High Speed (HS) mode that provides up to 34% more throughput.  Monochrome cameras also have Binning modes for increased transfers and sensitivity. Each unit comes equipped with a standard Nikon F-mount, but C-mounts and Canon EOS mounts are also available as an option.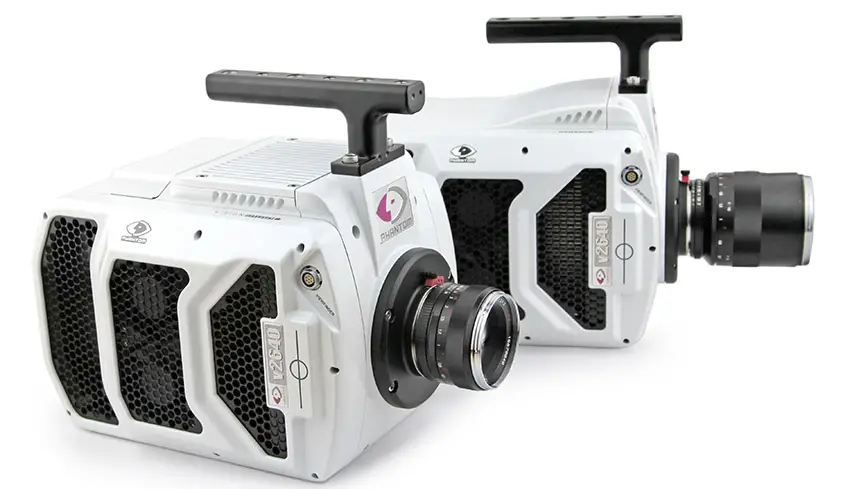 Phantom v2640 Ultra High-Speed Camera Specifications
Vision Research Custom Designed 4-Megapixel CMOS Sensor
Sensor Size: 27.6 x 26.3
Pixel Size: 13.5 Micron
12-bit Depth
 2048 x 1952 – 6,600fps; 1920 x 1080 – 11,750fps; 1792 x 720 – 19,690fps; 640 x 480 – 28,760fps
Supported File Formats: Cine, Cine Compressed, Cine RAW, AVI, h.264 mp4, Apple ProRes .mov, Multipage TIFF, MXF PAL, MXF NTSC, Uncompressed QuickTime, Windows BMP, OS/2 BMP, PCX, TGA, TIFF, LEAD, JPEG, JTIF, RAW, DNG, DPX
Record Times: 7.8 seconds at maximum frame rate, 12 bits, 2048 x 1952 resolution and into maximum internal memory
Color ISO 3,200, Mono ISO – 16,000, Mono ISO Binned – 25,000
72 GB, 144 GB, 288 GB high-speed internal RAM. CineMag IV for non-volatile storage (1 TB, 2 TB)
Global Shutter
10Gb Ethernet standard
Analog video (NTSC or PAL) available on Break-out-Box
Two HD-SDI ports on camera
Component viewfinder port
Programmable I/O ports includes adjustable (assign and define) signals including F-sync, strobe, event, trigger output, ready and more
Nikon F-mount standard, supports F & G style lenses; Canon EOS mount optional; C-mount optional
Weight: 17 lbs, 8 oz. (8.1 Kg)
Price and availability of the Phantom v2640 are still unknown, but considering that the previously announced Phantom VEO4K sells for merely $60,000, a six-figure price tag obviously won't be a precedent.
[source: Vision Research]
Disclaimer: As an Amazon Associate partner and participant in B&H and Adorama Affiliate programmes, we earn a small comission from each purchase made through the affiliate links listed above at no additional cost to you.
Claim your copy of DAVINCI RESOLVE - SIMPLIFIED COURSE with 50% off! Get Instant Access!