Shooting high-quality ultra slow-motion aerial videos used to be a serious (and quite expensive) challenge even for the most seasoned videographers mainly due to the bulky and heavyweight form factor of the existing Phantom high-speed cameras. It seems that this problem now becomes a thing of the past with the introduction of the brand new Phantom VEO4K-PL High-Speed Camera. With its convenient and compact body weighing just 6 lbs/2.5 kg, the latest ultra slow motion Phantom camera provides much more versatility and a vast array of options when it comes to mounting the camera on a drone or a hand-held camera gimbal.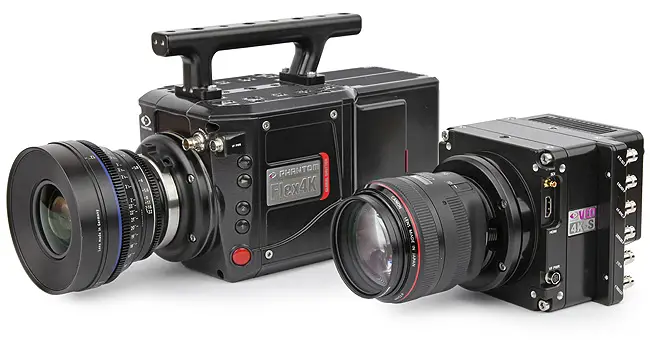 Specs-wise, the  Phantom VEO4K-PL is capable of 12-bit Cine RAW recording while shooting 938fps at the maximum native 4096 x 2304 resolution. Additionally, it can go up to 1000fps at 4096 x 2160 and whopping 1970fps at 2048 x 1080 pixels. Other recording formats include Cine Compressed, AVI, Apple ProRes, Multipage TIFF, MXF, Uncompressed QuickTime, DPX and more.
The device uses PL Mount and sports a 27.6 mm x 15.5 mm CMOS sensor with Global Shutter switchable to Rolling shutter with base ISO of 640 and 320 respectively. There is also an integrated optical low-pass filter sitting over the sensor for improved image quality and less aliasing artifacts.
Furthermore, the VEO4K-PL can record in bursts of up to five seconds at 1000fps 4096 x 2160 to its internal 72 GB RAM resulting in a 3 minutes 28 seconds video when played back at 24fps. The brand new high-speed camera includes all the features of the VEO-S model cameras, including on-camera controls, ruggedized connectors and compatibility with removable CFast 2.0 storage media up to 512GB. The unit comes equipped with 10Gb Ethernet for an optimal workflow and includes 3G HD-SDI, HDMI outputs, and Programmable I/O.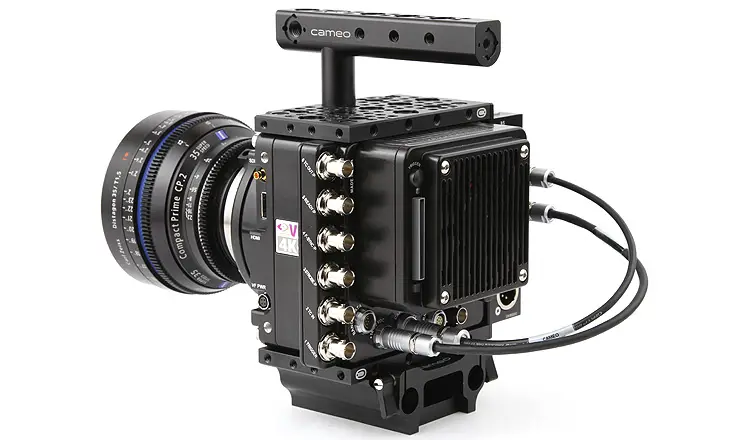 Phantom VEO4K-PL High-Speed Camera Highlights
4K at up to 1,000 fps, 2K at up to 1970fps
27.6 mm x 15.5 mm CMOS sensor
Global shutter, switchable to Rolling shutter
Color ISO 320T (Rolling shutter); 640T (Global shutter)
Recommended EI range is 800-1000
PL-mount and Optical Low Pass Filter (OLPF) are standard
Canon EOS mount optional (compatible with Flex4K-style EOS mount)
12-bit Recording
Supported formats: Cine RAW, Cine Compressed, AVI, h.264 mp4, Apple ProRes .mov, Multipage TIFF, MXF PAL, MXF NTSC, Uncompressed QuickTime, Windows BMP, OS/2 BMP, PCX, TGA, TIFF, LEAD, JPEG, JTIF, RAW, DNG, DPX
10Gb Ethernet option for optimal workflow
Includes all VEO-S features: CFast 2.0 media compatibility, On-camera controls, HDMI, 3G-SDI, secondary battery input
Dedicated Trigger and Timecode In BNCs on camera body
Dimensions: 5.0 x 5.5 x 6 inches (L x W x H); 12.7 x 14 x 15 cm
Body Weight: 6lbs, 2.5kg
Price: $60,000
As any other Phantom high-speed camera, the VEO4K-PL won't be cheap either with an expected price tag of  $60,000. Nevertheless, the camera's compact form factor and ultra slow-motion capabilities still seem to be quite appealing for aspiring filmmakers who want to dip their toes into the exciting world of extreme slow-motion cinematography.
[source: Vision Research]
Claim your copy of DAVINCI RESOLVE - SIMPLIFIED COURSE with 50% off! Get Instant Access!