There is a new kid on the (3-axis handheld gimbal) block – the AllSteady 7. Started by TurboAce, the AllSteady 7 was funded by a Kickstarter campaign, which earlier in 2014 raised over $140,000.
The AllSteady 7 from TurboAce, is a heavy-duty gimbal, which can hold payloads of up to 20 lbs (9-10 KGs), a 32bit Alexmos board for increased response and performance, and features a proprietary balancing system for quicker re-balance.
This means you can use not only a DSLR type camera like your GH4 or your 4K capable Sony A7s, or maybe your rusty 5D Mark II or III with a heavy zoom lens for example, like the EF 24-70mm 2.8L or the EF 16-35mm, but also with chunkier cameras like the a fully rigged Red Epic.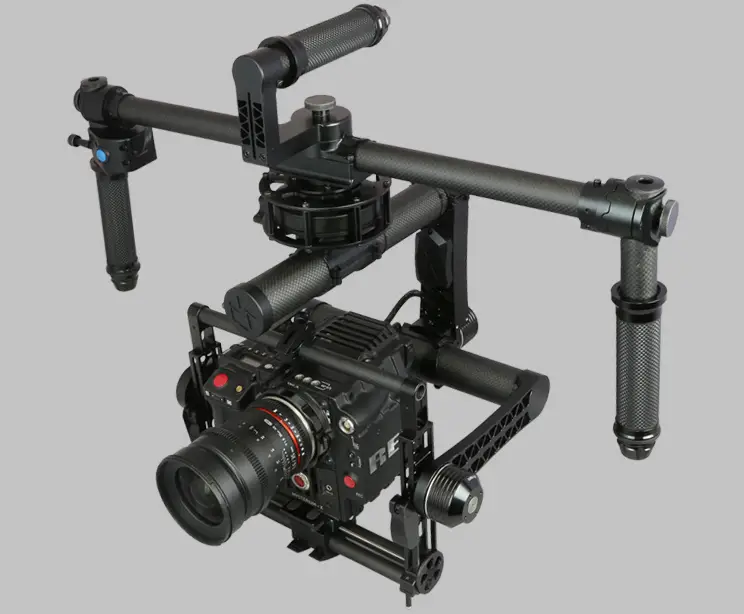 Check out their Promo video below and the Kickstarter project update video as well:
The AllSteady-7 Features & Specifications
* Exceptionally Rigid Carbon Fiber & CNC Aluminium Architecture
* Payload Capacity: 20 lbs maximum depending on operating conditions
* Run Time: 2 to 4 hours depending on operating conditions
* 40mm Core Structural Carbon Fiber Booms with superior rigidity to support heavier payloads without bounce or slippage.
* 25mm Handle Bar Carbon Fiber Booms with Optional Monitor Mounting Bracket with Articulated Arm.
* 32bit Alexmos Gimbal Controller with Dual Sensor implementation for fast, reliable and consistent orientation.
* Ultra High Resolution Pan-Axis Motor with specialized large diameter and high stator count for exceptionally smooth panning without micro jitters.
* Differentiated Brushless Roll-Axis & Tilt-Axis Motors to optimize precision and tolerance to accommodate a wider range of camera and lens combinations.
* Anti Rotation Stopper on tilt-axis to prevent wire damage from accumulated 360 tilt-axis rotations.
* Multi-Directional Motor Shaft with tight tolerance mounting designed to secure and to eliminate slop in motor mechanism. (Patent Pending)
* Support Bearings integrated on all three motors to safeguard all vulnerable smaller motor bearings from premature wear and damage.
* Expanded Pan-Axis Motor Cage with zero slop integration for a tough 35mm ID / 40mm OD bearing to reinforce pan-axis function to sustain heavier payloads in tilted positions. (Patent Pending)

* Main Electronic Compartment houses the gimbal controller and features On/Off Power Switch and Battery Status Indicator LED.
* Aux Electronic Compartment houses either the 2nd Sensor or the Optional Aux Voltage Regulator.
* Integrated Battery Compartment for a fast and secured loading to prevent a loose battery from interfering with gimbal performance.
* Reversible Joystick Module for right or left handed users and for regular or inverted gimbal operations.
* Triple Booms Camera Tray locks camera and lens from both top & bottom, a critical set up that prevents vibrations and oscillation from surfacing.
* Toolless Macro Tilt-Axis & Roll-Axis CG Adjustments to accommodate major camera & lens changes
* Quick Release Levers on camera tray CG adjustments for fast and convenient camera & lens balancing
* Micro Roll-Axis Adjustment enables a wheel to pull and push the payload in micro increments thus eliminating trial and error in balancing. (Patent Pending)
* Internal Clamps integration in critical joints to prevent boom damage from over tightening and slippage from heavier payloads. (Patent Pending)
* Ergonomic Rubber Grip Handles adjustable in 45 degree increments to accommodate different operating positions.
* Comprehensive Wire Conduits, Hollow Motor Shafts and Slip Ring implementation for unimpeded gimbal functions, to protect wires from damage and for clean aesthetics.
* 4,000mah 4S Lithium Ion Smart Battery with Auto Shut-Off to prevent battery damage.
* Wall Charger to conveniently recharge batteries.
* Optional Aux Voltage Regulator for 5V or 12V
* Optional Wireless Joytick Controller Module
* Optional Live Video Feed for wireless operators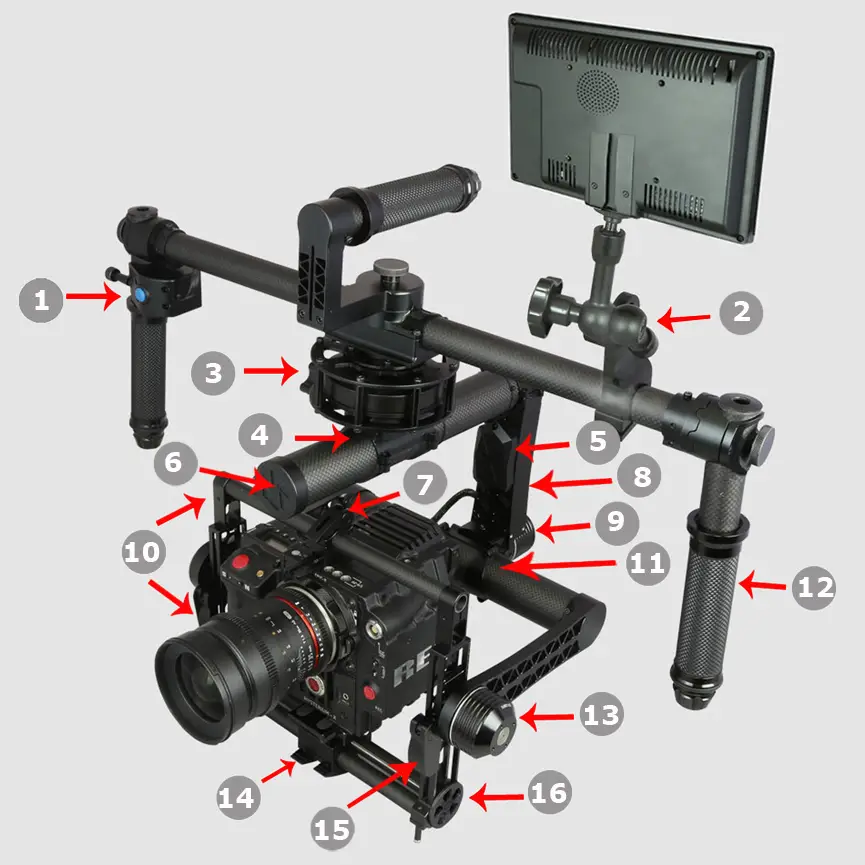 AllSteady-7 Diagram & Options
Reversible Left/Right Handed Joystick Module
Monitor Bracket & Articulating Arm
Motor Cage & Ultra Resolution Pan-Axis Brushless Motor
Toolless Pan-Axis CG Adjustment
Aux Electronic Compartment for 2nd Sensor & Optional Aux Power
Integrated Battery Compartment
Quick Release Camera Top Mount Bracket Adjustment
Main Electronic Compartment for 32Bit Alexmos Dual Sensor Controller
High Torque Roll-Axis Brushless Motor
Triple Carbon Boom Camera Tray (2 Bottom Booms + 1 Top Boom)
Toolless Macro-Roll Adjustment
Rubber Grip Handle Adjustable in 45° Increments
Tilt-Axis Brushless Motor with Anti-Twist Stopper
Double Quick Release Micro-Roll Adjustment Lock
Quick Release Vertical CG Adjustment
Optional Tool-less Micro-Roll Adjustment
Here's another sample/promo of the AllSteady 7 in action:
Recommended Camera List:
* Red Epic, Red Scarlet X, Red Epic Dragon
* Blackmagic Production Camera – BMPC
* Canon C100, C300 + Grip or C500
* Canon 5D Mark II, Mark III, 6D, 7D, 60D, 70D
* Canon 1DC, 1DX
* Sony FS700 with Prime Lens
* Nikon D800/E
* All DSLR Cameras with equal of smaller dimensions – Panasonic GH4, Sony A7s etc.
Priced at $3,599 / $3,999 depending on options, the AllSteady 7 is yet another well-rounded and quality addition to the already burgeoning handheld gimbal market for small form factor cameras.
This gimbal will definitely give the DJI Ronin, BeSteady One Plus, and even the Movi M5 a run for their money, or at least so it seems on spec and judging by the quality of the footage from the promos. Certainly very exciting times to own a small form-factor camera these days. For more information, please visit TurboAce.
[via Cinescopophilia]
Claim your copy of DAVINCI RESOLVE - SIMPLIFIED COURSE with 50% off! Get Instant Access!