Insta360 just launched the Insta360 GO, a super-tiny stabilized action camera that mounts anywhere. The Insta360 GO has been designed for effortless capture of short videos, timelapses and hyperlapses using an innovative form factor and AI-powered smart editing, all while weighing just under 20 grams.
Use it as an action camera, dashboard camera, spy cam, whatever-cam – when worn, GO enables seamless, hands-free shooting thanks to a magnetic body, plus a range of accessories, enabling the Insta360 GO to be ready to clip, tag or hang on just about anything.
Insta360 have simplified video capture for the masses with GO to simply pressing its only button once to record a clip for up to 30 seconds. A second press stops the recording. File transfer happens via a smartphone.
FlowState Stabilization
The GO features Insta360's signature FlowState stabilization as its "secret sauce" enabling anyone to get smooth footage and not even think about it.
However, the Insta360 GO simplified mass-market workflow doesn't just stop with a one-button-press recording – it even saves you time in the edit. A features, Insta360 calls FlashCut uses AI to find the best shots you've captured with the GO and combine them on "the go" into a stylized edit.
Insta360 GO can sort content based on theme (e.g. food, cities, smiles) and quality of shot composition. With FlashCut, users can capture, edit and share their day in a few taps.
For creators who like to get hands-on, the GO app also offers a full-featured editing tool that allows tweaking of everything from transitions to colour palette and playback speed. The app also lets users easily combine footage from the GO and their smartphone, ensuring their edits bring together all of their best shots.
Hyperlapses & Barrel Roll
Thanks to its next-level FlowState stabilization, you can easily make hyperlapses with the Insta360 GO for up to 30 minutes at 6x speed. The GO app's unique Barrel Roll feature lets you twist your shots like a turntable, as many times as you like. It's a head-turning effect that looks even better when combined with a hyperlapse.
Water resistant.
The Insta360 GO is IPX4 water-resistant straight out of the box. It's ready for splashes, rain, and submersion in water for up to 10 seconds.
Slow-Motion
GO supports shooting at up to 100fps, and although it is essentially a 1080p camera, the footage looks pretty decent for the form-factor and size of the camera. The camera is limited to a 30 second shot length and a 200 clips total on a full charge. The internal memory tops out at just 8GB and there is no option for a MicroSD card expansion, which can be a deal-breaker for some.
Insta360 GO Technical Specifications:
Video Resolutions:

Standard:

2720 x 2720 @ 25fps (Captured)/1080 @ 25fps (Exported via app),

Interval Shooting:

2720 x 2720 @ 25fps (Captured)/1080 @ 25fps (Exported via app),

Timelapse:

3040 x 3040 @ 30fps (Captured)/1080 @ 30fps (Exported via app),

Hyperlapse:

2720 x 2720 @ 30fps (Captured)/1080 @ 30fps (Exported via app),

Slow Motion:

1600 x 900 @ 100fps (Captured)/1600 x 900 @ 30fps (Exported via app)

Video Bit Rate:

Standard: 40Mbps,

Interval Shooting: 2720 @ 25fps 40Mbps

Timelapse: 6x40Mbps

Hyperlapse: 40Mbps

Slow Motion: 1600 x 900p 100/40Mbps

Photo Resolution:

3040 x 3040 (Captured)
1:1 Exported at 2560 x 2560,
16:9 Exported at 2560 x 1440,
9:16 Exported at 1440 x 2560,
4:3 Exported at 2560 x 1920

Shot length Duration:

Standard, Interval Shooting, Slow Motion:
Hyperlapse:

record up to 30 minutes to produce up to a 5-minute video

Timelapse:

adjustable interval
record up to 8 hours to produce up to a 9-second video

Compatible Mobile Devices:

iOS:

iPhone XS, iPhone XS Max, iPhone XR,
iPhone X,
iPhone 8/8 Plus,
iPhone 7/7 Plus, iPhone 6s/6s Plus (TBC),
iPad Pro, iPad (2018)

Android (available on launch)

Insta360 GO Android minimum configuration requirements:

OTG: Supports OTG

System on Chip(SOC):

Qualcomm 835/Kirin 970/Exynos 8895 or above

System Version: Android 7.1.1 or above (64-bit operating system)

RAM: 3 GB RAM or above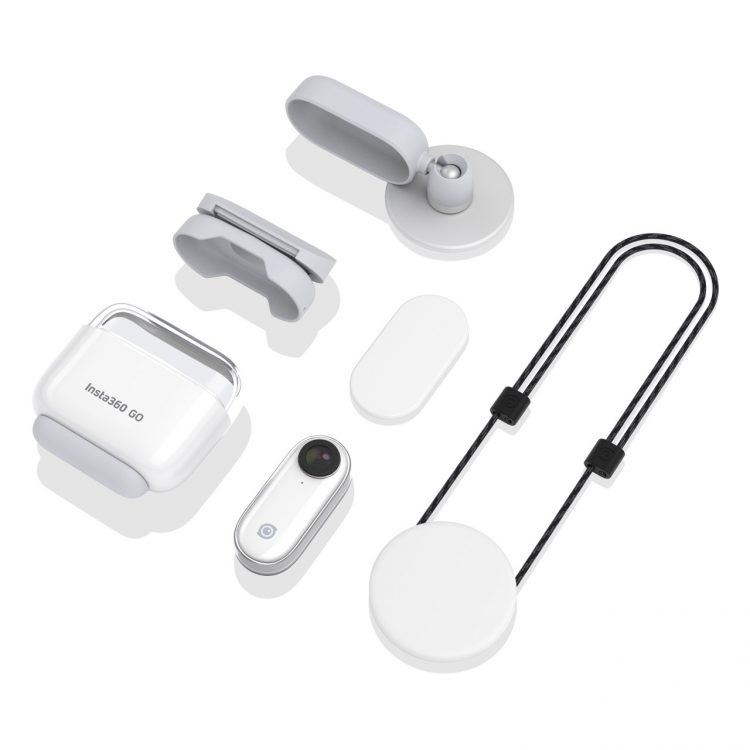 The Insta360 GO comes standard with a range of accessories for easy charging and mounting, including the Charge Case, Magnet Pendant, Pivot Stand, Easy Clip and Sticky Base.
The Insta360 GO is priced at $200 US and it's available to pre-order from B&H and insta360.com.
Claim your copy of DAVINCI RESOLVE - SIMPLIFIED COURSE with 50% off! Get Instant Access!