Earlier last week, the SD Association launched its fastest speed class – Video Speed Class, which also delivers real-time multi-file recording and support the highest video resolutions available today including 4K, 8K, 3D and 360 degree video. The new Video Speed Class standard is part of the latest SD 5.0 protocol, which ensures guaranteed minimum performance levels just as the Speed Class and UHS Speed Class classifications do for the current crop of SDXC cards. According to the new Video Speed Class, minimum speeds will range from 6MB to 90 MB per second.
The fastest options – V60 (60 MB/s) and V90 (90 MB/s), will support 8K resolution (7680 x 4320), while V6, V10 and V30 capture high-definition and 4K resolution and guarantee minimum sequential write speeds of 6 MB/s, 10 MB/s and 30 MB/s respectively. All speed classes guarantee minimum video recording speeds to ensure smooth video playback, so actual recording performance may be even faster.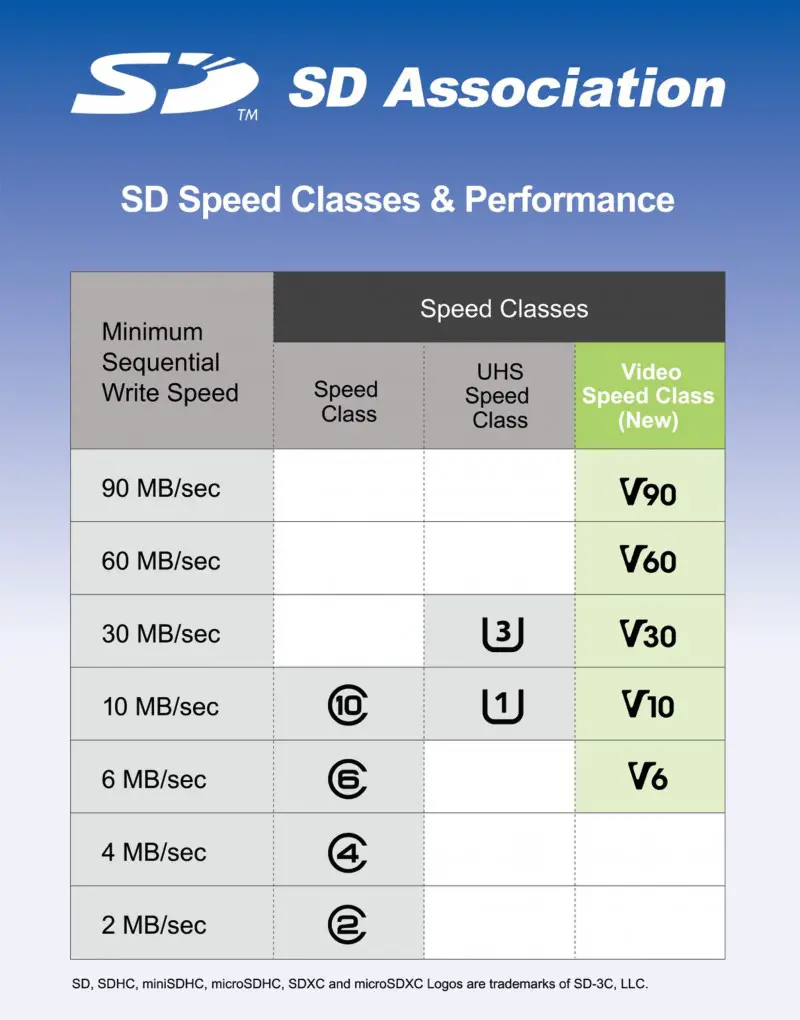 The SD Association also released a new white paper entitled "Video Speed Class: The new capture protocol of SD 5.0," which outlines how the latest SD specification enables Video Speed Class and can be downloaded here.
"With Video Speed Class, SD device and memory card manufacturers can offer the highest-quality video recording to consumers and professionals that keep pace with the awesome video resolutions not only offered today, but anticipated tomorrow," said Brian Kumagai, president of the SDA. "New products leveraging the capabilities of Video Speed Class will be based on the high storage capacities offered by SDHC and SDXC memory cards."
Even though 8K video may be far out in the future and 360Degree video still in its infancy, the new Video Class Speed ratings of V90 and V60 are significant step ups as they are three times faster compared to the current UHS standards, which top out at 30 MB/s. In addition, the new standard supports multi-file recording, or shooting video while recording GPS data or still images to other files at the same time, which will help with 360 degree video and faster and multifunctional camcorders.
According to the SD Association the next generation SD cards bearing the new Video Speed Class will appear from major card manufacturers in the upcoming months. Capacities or prices are yet unknown, but as the new V standard will run concurrently with the current UHS-I and UHS-II I am expecting to see capacities ranging from 64GB to 512GB or even maybe 1TB.
[via AnandTech]
Claim your copy of DAVINCI RESOLVE - SIMPLIFIED COURSE with 50% off! Get Instant Access!