The announcement of the end of Lexar brand memory cards literally shook the creative world back in June 2017. Lexar cards have had a good reputation throughout the years, which quickly made them a decent and reliable alternative to the more expensive equivalents available on the market at the time.
Fortunately, things are about to change quickly as a group of former Lexar and SanDisk executives has now teamed up to compete against the established rivals in the camera storage space with their just-announced ProGrade Digital brand that aims to deliver the highest quality memory cards, card readers and software optimized for use within professional cinema and photography markets.

The ProGrade Digital CFast 2.0 memory cards, for instance, will be available in 128GB, 256GB, and 512GB capacities (selling for $230, $350, and $700, respectively) allowing the highest data rate capture for 4K content in a wide range of devices. These are all CFA compliant and VPG 130 certified, as well as thoroughly tested and will provide read data transfers at speeds up to 550 MB/s.
The company will also start off with a single line of high-quality SDXC UHS-II memory cards ranging from 64GB to 256GB capacities boasting transfer speeds of up to 200MB/sec. The SDXC cards will be U3 compliant, which makes them suitable for different applications including 4K video recording. There's also a ProGrade Digital memory card reader in the making that will feature dual slots for both CFast and SDXC cards and will use USB 3.0 Gen 2 for transfer speeds of up to 10Gb/second.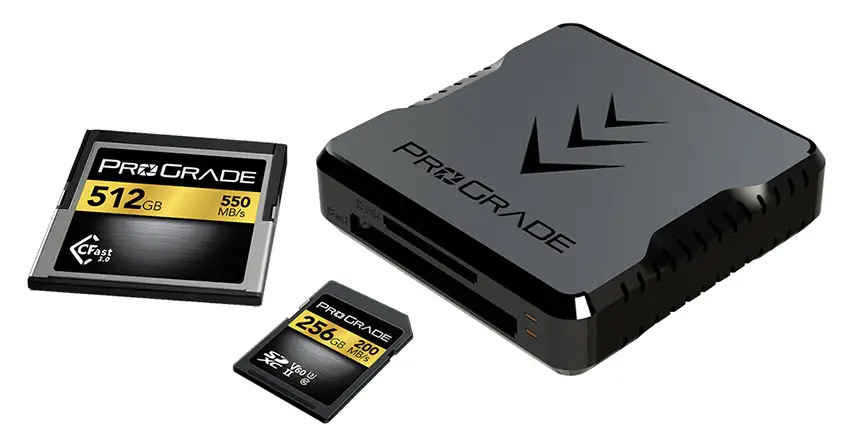 What's more, users will be able to multi-task as the reader will support full-speed data flow concurrently from cards in each slot. The unit will sell for $79 and will come with two 18-inch-long cables (a Type A to Type C cable and a Type C to Type C cable) and a 2-year warranty.
According to the company's press release, all ProGrade Digital products are designed to provide the highest levels of performance, quality and reliability in high-end DSLRs, camcorders and digital cinema cameras. I guess that's something we're all about to find out once the new arrivals hit the market later this month.
[source: ProGrade Digital]
Disclaimer: As an Amazon Associate partner and participant in B&H and Adorama Affiliate programmes, we earn a small comission from each purchase made through the affiliate links listed above at no additional cost to you.
Claim your copy of DAVINCI RESOLVE - SIMPLIFIED COURSE with 50% off! Get Instant Access!