After announcing their new sing-rod Zip Focus system just a week ago, Wooden Camera are heading to Las Vegas for NAB 2018 with a few more new product announcements designed to make your life on set much easier, especially when it comes to being quick, efficient and unencumbered by your rig when changing from a handheld setup to sticks. The two new developments from Wooden Camera are their new Touch & Go quick-release system and their new push-button ARRI rosettes that can bring a new level of versatility to your handheld setup.
The new WC Touch and Go System has been designed as an industry standard, QR system compatible with O'Connor 120mm, Sachtler, and Ronford Baker plates. The Wooden Camera version offers a generous weight reduction compared to other systems due to the recess designs on the receiver and plate.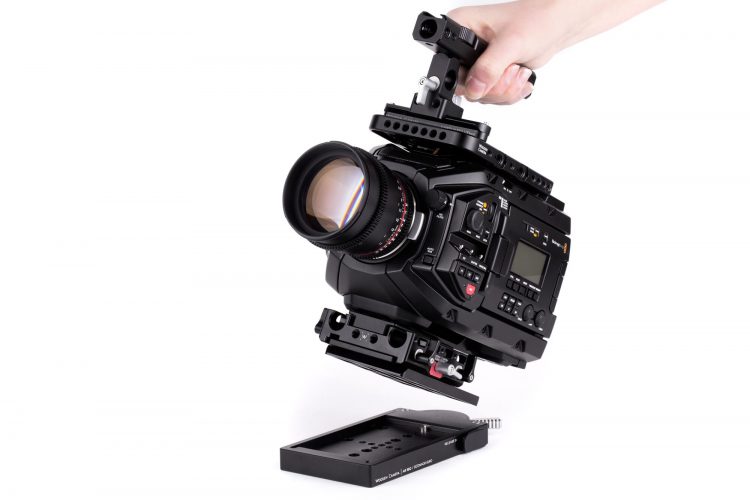 The Touch & Go system is a really quick way to detach the camera from a tripod, without losing the 15/19mm bars for example and your MB and FF along the way with it. Wooden Camera includes 3/8-16 screws, with which you attach the top plate to the bottom of your camera then simply drop it into the base and the plate will snap into locked mode. Push the lever further to clamp the Quick Release Plate in place. To remove, pull the lever and push down on side release button at the same time.
Wooden Camera Touch and Go System Highlights / Specs:
Compatible with 120mm O'Connor Euro/Sachtler 35Ronford Baker RBQ
Weight: 510g /1.12 lbs
Dimensions:

184.2 x 91.44 x 25.4mm
7.25 x 3.6 x 1 inches

Price: $399
Available early April, available to pre-order from WC here.
The Wooden camera Push Button ARRI Rosette comes in either a right or a left version as to accommodate a comfortable thumb operation; it mounts between your existing Rosette Handle and ARRI M6 rosette attachment point allowing for quick handle position adjustments with push of a button. 20 positions available using the push button and fine tune adjustment still available via the rosette. This makes for a really quick re-adjustment of your handgrip and when packing your handheld setup in your bag for travel.
The Push Button Rosette Also available in a Left Side Version, Set Of Two, or Set Of Four. Pricing is $85 a piece, or two for $160 and four for $299.
Head over to Wooden Camera to pre-order and learn more.
Disclaimer: As an Amazon Associate partner and participant in B&H and Adorama Affiliate programmes, we earn a small comission from each purchase made through the affiliate links listed above at no additional cost to you.
Claim your copy of DAVINCI RESOLVE - SIMPLIFIED COURSE with 50% off! Get Instant Access!