For seasoned video editors, RAID storage is a common solution as it offers a balance between high-capacity storage and rapid file transfer speeds, not to mention the ability to recover your assets in an unforeseen event of data loss. Unfortunately, if you're considering buying a RAID storage array, you're going to need to save up a lot of money as these rather high-end solutions do not come cheap.
Despite the setback of its high price tag, it may be well worth the peace of mind and performance gains you get from a RAID Storage Array. The LaCie 6big Thunderbolt 3 6-Bay Array is an excellent example in that regard, so let's find out what specific type of performance one should expect from it in a real-world environment.
LaCie are well known for creating high-quality, well-performing RAID systems for quite some time while combining a sleek industrial design to suit users workspace. The 6big, for instance, is a RAID Storage Array with six hard drive bays. The unit comes with six hot-swappable Seagate Iron Wolf Pro SATA III 7200rpm drives that range from a total capacity of 12TB to a whopping 60TB.
The overall build of the device is elegant and appealing to the eye with its smooth off-white aluminum construction. Regarding I/O, the 6big has dual Thunderbolt 3 ports and a USB 3.1 Type-C port, which is backward compatible with earlier USB interfaces. For your convenience, an adapter from Type-C to Type-A is also included in the box.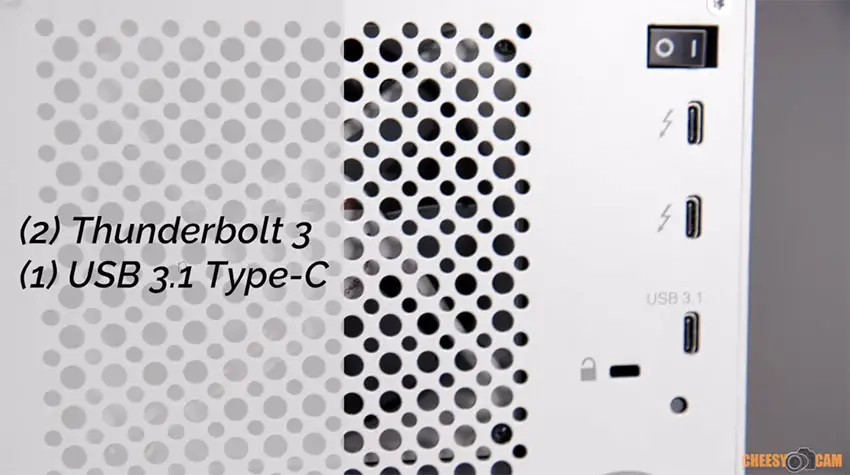 While the price tag of the 6big starts at around two thousand dollars for the 12TB version, it seems that it will be well worth the investment. The unit comes with LaCie's RAID Manager Software which allows you to set up and maintain your RAID System. For instance, the app will notify you of any problems regarding your drive. In fact, you can even opt in to receive email notifications about the state of every storage unit running on board.
What's more, you're even able to choose the RAID configuration that best suits your needs. In the video, Emm of Cheesycam decided to opt for RAID 5 since in his opinion this mode provides the right balance between speed, storage space, and redundancy.
Using the Blackmagic Design Disk Speed Test, the drive reached a write speed of 796 MB/s and read speed of 647 MB/s through Thunderbolt 2 port which ended up being faster than transferring files from a single external Samsung SSD. Meanwhile, you could easily get rates of up to 1200 MB/s using Thunderbolt 3 with the same RAID configuration.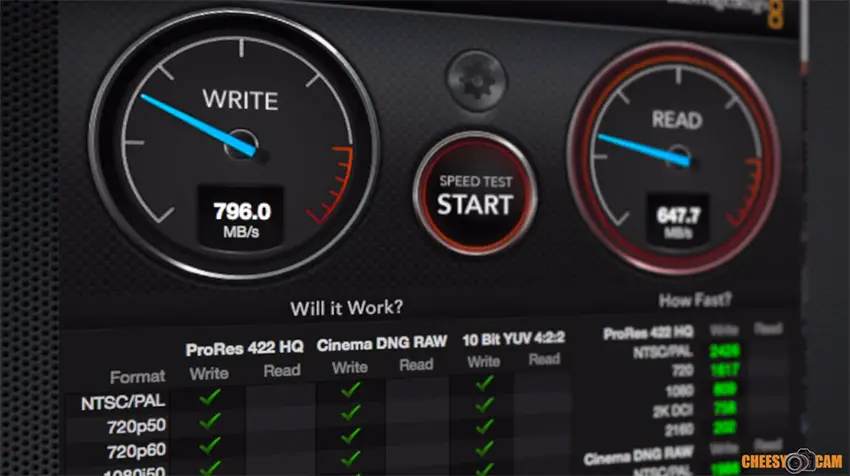 Basically, from a price to performance perspective, the LaCie 6big RAID Array is a much better value than purchasing six individual SSDs in an enclosure/docking system.
Plus, each drive in the system is backed by a five-year warranty, which includes data recovery services and drives replacement at no additional cost. This option is actually a great bargain since you won't have to spend extra money in case any of the hard drives fail for some reason, thus saving you long-term costs.
[source: MrCheesyCam]
Order Links:
Claim your copy of DAVINCI RESOLVE - SIMPLIFIED COURSE with 50% off! Get Instant Access!