I'm quite sure that many of you have already experienced the immersive, deeper and richer sound of the Dolby Atmos sound system in your local movie theatre. Dolby Atmos has the amazing ability to have sounds come from above us in addition to other features, which enrich our cinema-going experience.
Dolby Atmos is the first home theatre system that is based not on channels, but on audio objects. Any sound heard in a movie scene—a child yelling, a helicopter taking off, a car horn blaring—is an audio object. Filmmakers using Dolby Atmos can decide exactly where those sounds should originate and precisely where they move as the scene develops.
 The first movie I personally saw in cinema equipped with the brand new Dolby Atmos sound system was Alfonso Cuaron's sci-fi epic "Gravity". It definitely added another audible dimension to my experience and I admit, I really enjoyed to watch the movie that way. It immersed me much deeper into the chaotic and endless real of space exploration and adventure.
Long story short, Atmos was launched in 2012 as the fifth upgrade to Dolby's 39 year-old "stereo" surround sound product, and has since been proclaimed as "one of the most significant developments in the history of cinema sound" by Pinewood Studios.
In the movie Noah, for instance, Dolby Atmos in the cinema made it sound like the torrential rains were pouring down from the sky on top of you. And if you saw Godzilla in a Dolby Atmos movie theatre, hearing the monster roar above you was beyond realistic—it was terrifying.
This is what Brett Crockett, Director of Sound Research at Dolby shares:
You're probably wondering how you can recreate this effect in your living room. We want to make bringing Dolby Atmos into your home as easy as possible, so we've given you choices.

If you're willing and able to install speakers in your ceiling, there will be great options. If that's not possible for you—and for many people, it isn't—our partners will offer new Dolby Atmos-enabled speakers that produce full, detailed overhead sound from speakers located where your conventional speakers are now.

If you already have speakers that you love, you can choose an add-on, Dolby Atmos-enabled speaker module that complements your existing speakers. (In fact, many people will place the modules right on top of their current speakers.)
How is it possible to have the "Atmos" effect with your current home sound system? In general, It's a complicated technical process, but it all comes down to understanding the physics of sound waves and understanding the way our brain interprets those sound waves, Brett Crockett explains.
The partners of Dolby will also offer home theater receivers and other entertainment devices to decode and deliver the Dolby Atmos experience in our home. The good news here is that we shouldn't buy a new Blu-ray™ player. The existing players that fully conform to the Blu-ray specification will be able to support Dolby Atmos content on a Blu-ray Disc™.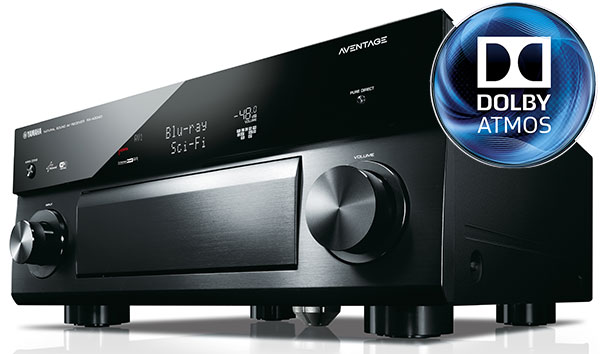 TWICE.com reports that the object-based surround-sound format will be available on select Blu-ray releases as early as this fall.
"Dolby said consumers likely won't need a new Blu-ray player to play Atmos-encoded discs because "existing players that fully conform to the Blu-ray specification will be able to support Dolby Atmos content on a Blu-ray Disc,"
According to Dolby, the main requirement to enjoy Atmos at home is a compatible AV reciever. Fortunately, both Onkyo and Pioneer announced new Atmos-compatible receivers recently. The format is compatible with HDMI 1.3 and above, as well as current-generation Blu-ray players. It looks like the future of home AV audio is finally here.
More than 20 manufacturers including Denon, Marantz, Onkyo, Pioneer and Yamaha, have already licensed Dolby's Atmos for home for a range of different devices, many set for release in September at the IFA electronics trade show in Berlin.
Guys, what do you think? Is it worth to upgrade your current home sound system to the new Dolby Atmos or do you still prefer to enjoy the sound at the local cinema?
[via twice.com and blog.dolby.com]
Claim your copy of DAVINCI RESOLVE - SIMPLIFIED COURSE with 50% off! Get Instant Access!