In earlier videos from BVE 2018, we've covered some more high-end LED lights such as the Kino Flo DIVA 21 and the Aladdin Fabric Lite, however for most of use, those lights are out of our budgets, present company included.
So, as I was chatting to my buddy Dan from Holdan, UK – a major distributor in the UK on popular brands such as SmallHD, SLR Magic, Blackmagic Design and many more, we got talking about affordable, but versatile LED lights. This is when he showed me the LEDGO Pad light. I was not familiar with it prior, although I'd seen the smaller version (LG-E116C), which his an on-camera light, however what got me interested in the "Pad Light" was the super-thin profile, lightweight and it's super affordable price of just £199 + VAT.
The LEDGO LG-E268C (or Pad Light for short, duh) is a Bi-Colour LED light roughly the size of an iPad and it produces a lovely diffused light due to its diffused front panel in the equivalent of around 27W, which packs a punch for light of this size making it really suitable for interviews. On the back you get a dimmer (0 to 100% in small increments, flicker-free) and a knob for changing the temperature from 3200K to around 5600K, and two battery slots for Sony L series (NP-F style batteries, which we all have a ton of).
LEDGO LG-E268C Pad Light Features
Bi-Colour Large LED Pad Light
Brightness Control via:

Wi-fi, 2.4GHz
On-Board Dimmer

CRI(Ra): 95
Colour Temperature: 3200K-5600K
Illumination (LM): 2165 lm
Control brightness, colour and colour temperature via the WiFi Control Box
Power: 26.8W
Power Source: 15V3A adapter or Sony NP-F750/970 Battery
Dimensions: 350 x 240 x15MM
Weight: approx. 0.94kg
One of the most interesting and useful feature of the LEDGO Pad Light is the fact that you can control it wirelessly thanks to the built-in Wi-Fi receiver and the free iOS/Android app. To control more than 1 light, (up to a 100 LEDGO lights actually) you can get the LEDGO Wi-FI Control Box (or hub) which is only listed at £65 +VAT, and control your lights in a small studio for example.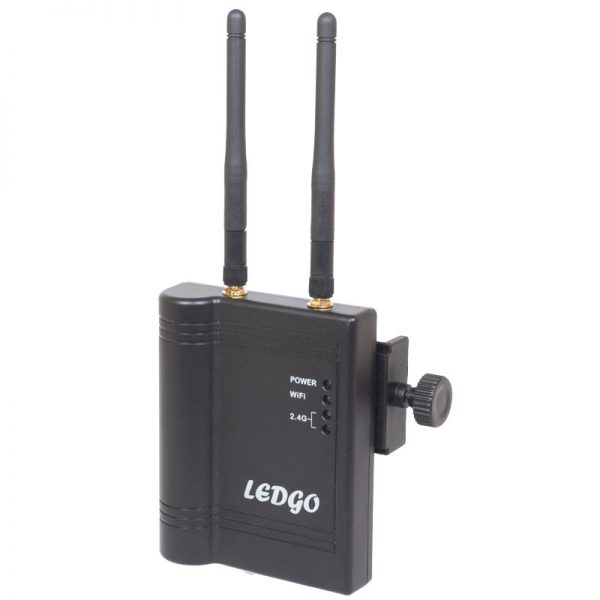 LEDGO Wi-fi Control Box Features
LEDGO WiFi 2.4G Control Box
0 – 100% Flicker-Free Brightness Control
Single LEDGO 2.4 Wi-fi Control box can control all your lights from a distance of 15 meters
Provides an access point for Wifi enabled lights – controlled by the FREE IOS or Android App
Wirelessly control brightness, colour and colour temperature
Set and save different lighting scenes
The Wi-Fi Control box is compatible with the following LEDGO lights:
For some reason I can't find this model sold in the States, so it may be a European thing, but nevertheless, for all your guys and gals in North America you can browse through the LEDGO LED lights for sale on B&H via this link here.
If you are in the UK and are interested in picking up the LEDGO Pad Light, best to get in touch with your favourite dealer. List on Holdan's website here.
Claim your copy of DAVINCI RESOLVE - SIMPLIFIED COURSE with 50% off! Get Instant Access!