Ikan is bringing a lot of new kit to NAB 2018. The new announcements include the release of the new Ikan CB8 canvas fabric LED light and the Helia Studio Fresnel LED. The latest light is flexible enough to be used in unconventional or compact spaces, but the light also functions as a full light kit. The CB8 comes in both two point and three point kits, which include light stands, bags and a soft box diffuser.
"Sometimes the hardest part of videography is carrying the equipment," says Product Manager Barry Garcia. "The best part about our new bi-colour fabric lights is the portability and the light weight when traveling with them."
The lightweight and portable LED light is bi-colour between 3200K and 5600K. The CB8 hits a high mark of 95 on both the Colour Rendering Index (CRI) and Television Lighting Consistency Index (TLCI). The light can be used in a variety of videography including broadcast, music, documentary, filmmaking, corporate video and more.
Flexible, canvas LEDs are in vogue for sure, and Ikan are the latest manufacturer to join the sub-segment of the LED game. In case you missed it, you can also check out my BVE 2018 coverage where I checked out the Aladdin flex lights (link here).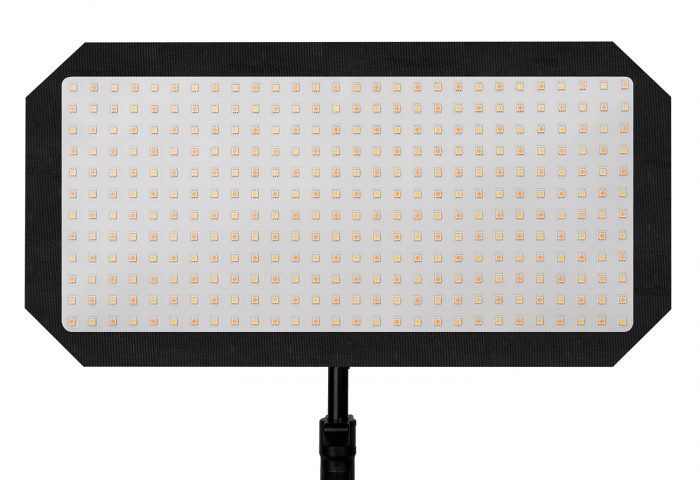 Ikan Canvas Bi-Color 3200K-5600K Fabric LED Features
Lightweight Bendable Fabric LED's
95 CRI 96 TLCI
Bi-Color adjustable from 3200K-5600K
Beam Angle of 120 degrees
X-Holder on a Heavy Duty Ball Mount w/5/8″ receiver
Baby Pin Mount with 90 Degree Hole
Price: $399.99
Available: TBD
Ikan will showcase their new Canvas Fabric LED light kits at the NAB show in Las Vegas, NV from April 9-12, 2018. To check them out and their latest kit visit booth C10919.
The other new lighting product Ikan is bringing to NAB 2018 is the new Helia HF150 LED fresnel light. The Helia is a bi-colour light, allowing for use in a variety of videography including broadcast, music, documentary filmmaking, corporate video and more.
"Since the light is a bi-color Fresnel, the HF150 light will give a lot of broadcast studios a chance to mix color more," says Product Manager Barry Garcia.
The Helia is a 4″ fresnel glass fitted with a bi-colour 150 watt COB LED bulb with virtually no heat displacement. The HF150 is equivalent to a 650 incandescent watt. Ikan's newest light has a CRI/TLCI of 96, which is very good.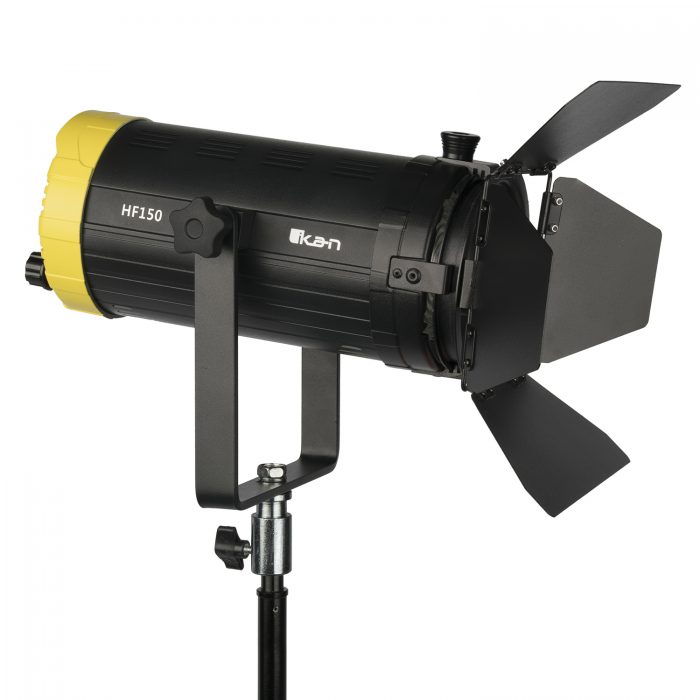 Helia Fresnel Bi-Color LED Features
4″ Fresnel
Bi-Color Light adjustable from 3200K-5600K
High CRI and TLCI
500 watts equivalency
28 to 70 Degree Beam Angle
DMX In and Out
Price: $799.99
Shipping: TBD
The third LED announcements from Ikan is the two ring lights called Oryon, a new line of large diameter ring lights. The line includes 14″ and two 18″ ring lights with an option for a cosmetic mirror. The soft light produced from these ring lights is ideal for close-up photography or videography, particularly in vlogging or social influencer photography.
"The best thing about these new large diameter ring lights is just how soft they are when you're using them for close-up work," says Product Manager Barry Garcia. "The lights are dynamic and can be used in photography, music videography, filmmaking, vlogging, and so much more."
Oryon 14″ Bi-Colour 3200K-5600K Ring Light
14″ Diameter ring light (18″ also available)
Bi-Color 3200K-5600K adjustable
CRI:96 TLCI:97
15mm Rod mounting for different camera systems
2 Sony L batteries included which give the light up to 4 hrs of life
Dual style charger allows for quick recharge
Price:

14″ Oryon LED – $350
18″ Oryon LED – $380
The new line of LED lights includes the Oryon 40, 48 and 60. The Oryon 40 is a 14″ ring light with a half stop diffuser. Both the 48 and 60 lights are 18″ ring lights with a slightly larger half stop diffuser. The 60 includes a cosmetic mirror. All three of the Oryon series ring lights hit a high 96 on both CRI and TLCI. The lights include Sony L series batteries, a charger and a stand as well as multiple mounting options for a variety of cameras.
If you are visiting NAB this year visit booth Ikan at booth C10919 to check out their new products. You can pre-order from Ikan via this link here.
Claim your copy of DAVINCI RESOLVE - SIMPLIFIED COURSE with 50% off! Get Instant Access!