Astora is a new brand of high quality LED lights hailing from the Netherlands set to debut their first three LED lights at the upcoming NAB 2018 trade show in Las Vegas in just a few days time. Entering the market of high-quality LED lights is a challenge with already established players such as ARRI, Kino Flo, and Litepanels, just to name a few, already boasting expansive LED ranges with impressive quality and RGBWW features, however Astora are aiming to carve out their own niche of the market with some top quality LED fixtures for the working video professional.
Earlier today, Astora unveiled its new line of LED lighting solutions, which includes three different models – the Astora WS (or Widescreen), the Astora PS (Power Spot) and SF (Super Flood) model. All Astora lights have been designed to meet the needs of photographers and filmmakers with features including the highest brightness in its class and built-in wireless control and removable barn doors. With an almost perfect colour reproduction (TLCI up to 98 according to the manufacturer) and silent fan-less operation, newcomers Astora aim to provide creative image makers with the tools to expand their vision.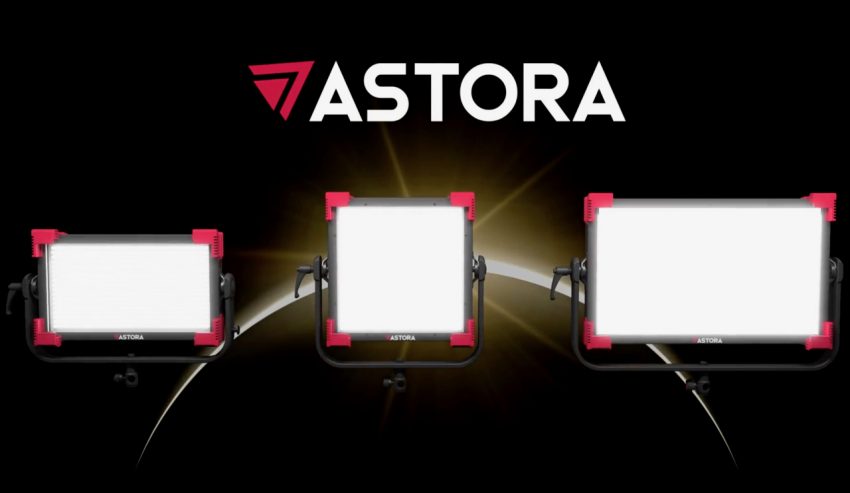 ASTORA LED RANGE Highlights
Super Bright LEDs with up to 16629 lux@ 1 meter (3 feet) – PS Model
Complete kits with wireless remote and removable barn doors included
Perfect color reproduction with a TLCI up to 98 and a CRI up to 97
Fan-less, silent operation
Flicker-Free
Low power consumption perfect for battery operation on the go

V-mount – "PS" Power Spot model
Sony NP-F mount – "WS" Widescreen 16:9 model
Each of the three models has its own specific characteristics but all Astora lights are very bright and come with a wide range of built-in features. With up to 16629 lux at 1 meter (Power Spot model) and flicker-free performance they deliver consistent lighting for any situation, including high frame rates and high shutter speeds.
With its integrated wireless control and included remote, settings can easily be adjusted from anywhere, at any time. All lights come in a rock-solid but lightweight metal housing and contain removable barn doors, making these lights a complete solution for any filmmaker or photographer.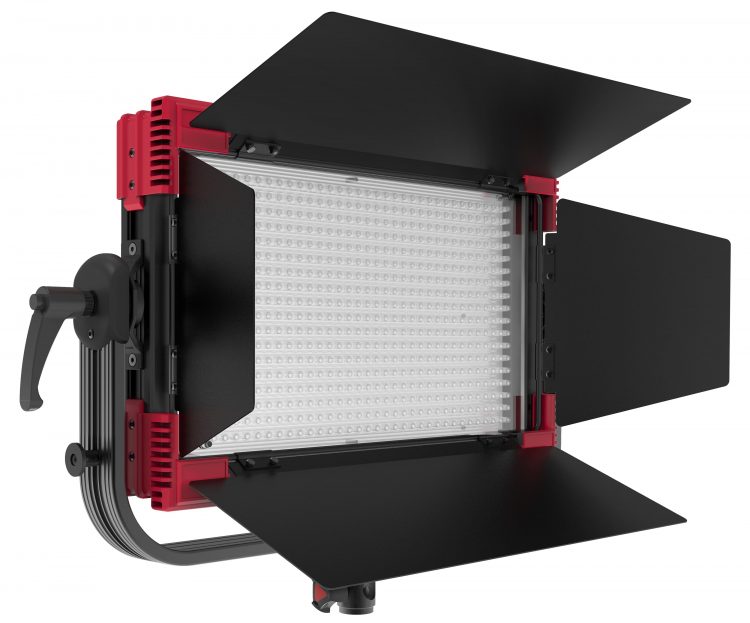 The ASTORA WS (Widescreen) is the most portable light from Astora with a 16:9 surface area giving video professionals an excellent key light for interviews for example. Like all Astora lights it is one of the brightest lights in its size-class, combining a compact shape and a 50° beam angle with a tremendous output of up to 7381 lux@1m.
Available as pure Daylight (WS 840D) and Bi-colour (WS 840B) models, you can choose between maximum brightness at pure Daylight or ultimate flexibility to match ambient colour temperatures quickly and accurately with the Bi-colour model. The WS model has a built-in NP-F battery plate so users can power the light on the go via affordable and super popular NP-F (L-series) type batteries.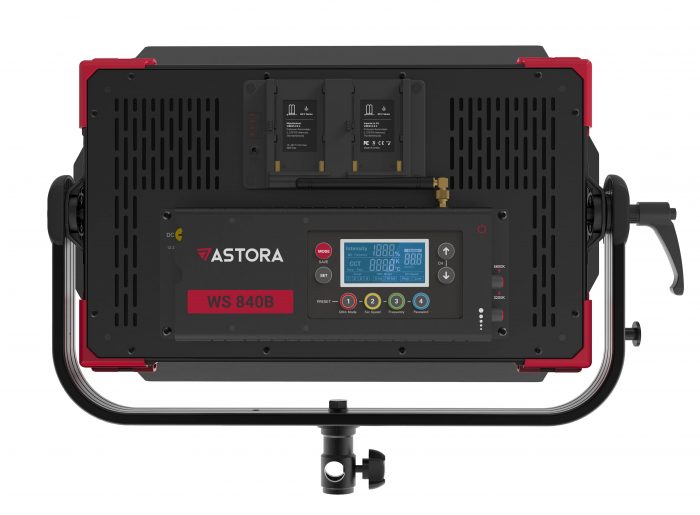 The WS model pricing starts at $550 USD for the daylight version, and $650 for the Bi-colour WS model, which is quite aggressive given similar models from other manufacturers.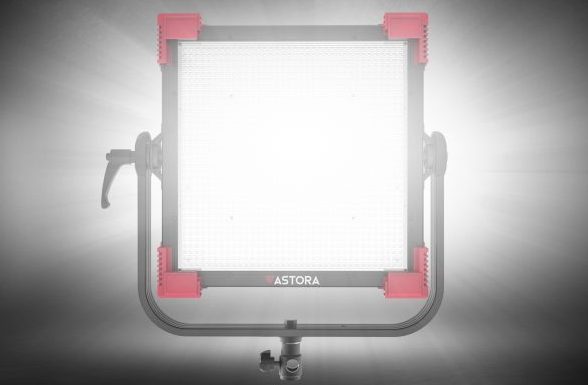 The ASTORA PS (Power Spot) offers much more brightness than the WS model mainly thanks to its 30° beam angle. This thing packs a punch with the staggering 16629 lux@1m, so that you'll have enough power to bounce or diffuse the light, light at a distance or in bright sunlight. When on location, you'd have to use a V-mount battery due to the power consumption around (and below) 86W, however the Power Spot is not restricted to expensive high-current V-Mount batteries.
Pricing for the Daylight PS model starts at $779 USD, while you'd have to shell out $899 USD for the bi-colour Power Spot, which is not bad at all in terms of price to performance.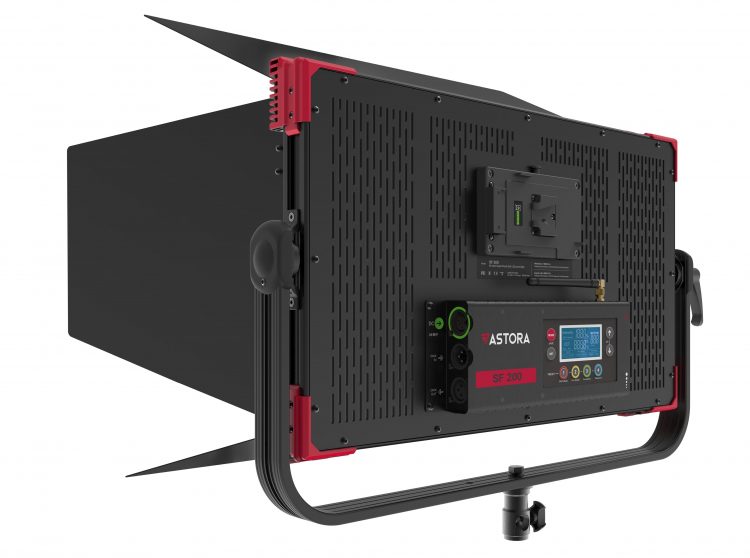 The wide 120° beam angle and the fixed diffusor of the Astora SF (Super Flood) series create a soft scattered light that wraps nicely around its subject. Available in three sizes you can choose from maximum portability to largest aperture.
Providing up to 13,000 lumens, the Astora SF Soft series is a soft yet bright light source that mimics the effect of a soft box keeping a compact and thin form factor. In addition to wireless control the ASTORA SF series also has DMX 512 built-in, so that it can be integrated into any existing environment easily via industry standard XLR connectors.
The Super Flood Astora's come in three sub-models (all bi-colour):
Astora SF100 (1 x 1 shape) – $899
Astora SF120 (1 x 1 shape) – $989
Astora SF200 (wide 2 x 1) – $1099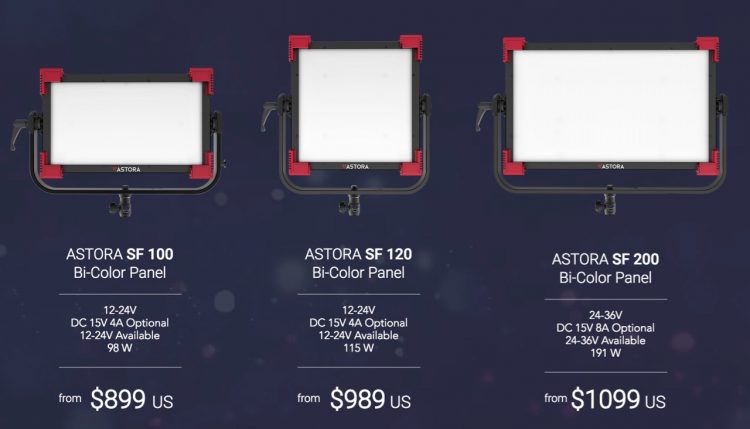 For more details and specs head over to Astora's website.
All Astora product will be available from April 2018 at authorized Astora dealers. For more information please visit www.astoralight.com
Disclaimer: As an Amazon Associate partner and participant in B&H and Adorama Affiliate programmes, we earn a small comission from each purchase made through the affiliate links listed above at no additional cost to you.
Claim your copy of DAVINCI RESOLVE - SIMPLIFIED COURSE with 50% off! Get Instant Access!