The exciting pre-NAB announcements continue to pop up left and right. European premium filmmaking gear maker Edelkrone just announced the Motion Box – its latest pocket-sized motion control device packed with a plethora of unmatched next generation time-lapse features.
In essence, it's an app-controlled pan and tilt head, camera skater, 1-axis head all-in-one solution aiming to take your camera controlled movements to a whole new level. The device allows you to easily program your pans, achieve perfectly stable speeds, repeat the same shot with exceptional precision, capture stunning panoramic photos or use it for capturing complex time-lapse sequences on the fly.
Motion BOX comes equipped with two ultra high-resolution encoders for extremely precise repeatable motion and provides 360-degree rotation in as fast as 21 seconds. The unit features a built-in Li-Ion battery which takes only 4 hours to charge. You can shoot up to 48 hours in time-lapse mode and up to one hour in active pan/tilt mode with top speed on a single battery charge.
Furthermore, you can add a second Motion Box with Tilt Kit to control both pan and tilt axes simultaneously. Each Motion Box comes equipped with a built-in accelerometer which enables the device to adjust itself accordingly depending on the configuration.
Motion BOX Specifications
Size: (L x W x H) 3.90 x 3.75 x 1.48 in (99 x 95 x 37.5 mm)
Weight: 18.3 oz (520 g)
Camera Load: Pan: 15 lb (6.8 kg) or less (centered);
5.5 lb (2.5 kg) or less (When used with FlexTILT Head.);
Tilt: 8 lb (3.6 kg) or less (centered);
Mounting Options: 1/4″-20 mounting screw on top; 3/8″-16 mounting port on bottom;
1/4″-20 male to 3/8″-16 male threaded screw adapter & 3/8″-16 to 1/4″-20 reducer bushing for mounting port are provided
Max speed: 360° in 21 sec
DC motor with x2 ultra high-res encoders
Built-in Li-Ion battery (Charging cable included)
Bluetooth low-energy communication.
iOS 9.0 or later. Android 5.0 or later
CNC machined aluminum & stainless steel components
Price: $299
Meanwhile, if you need an ultraportable, app-controlled dolly system, you can combine the Motion Box with Edelkrone's Skater Kit. This macro-precise combo allows you to shoot stunning real-time and time-lapse videos on any smooth and flat surface effortlessly.
Using this specific configuration, creative professionals can take advantage of the manual controls on the app to move their camera in real-time or compose precise, repeatable motion by setting start and end points, speed up or slow down the movement and convert it into time-lapse with a single tap.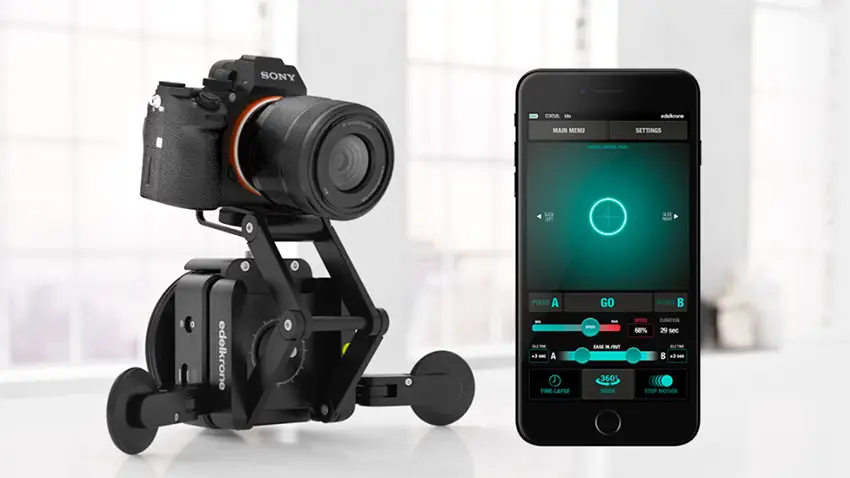 Beyond that, Motion BOX can also be combined with SliderONE PRO instantly turning it into a 2-axis slider. With Motion BOX, SliderONE PRO users can achieve parallax shots and still convert their shots into time-lapse or stop motion sequence.
Motion BOX is also designed to serve as a product turntable for simple, automated packshot videos and 360° product photography. Product Turntable Kit comes with a baseplate, two pads, and shutter release extension cable.
The ultraportable motion control weighs just 18.3 oz (520 g). Nevertheless, it provides a load capacity of 15 lb (6.8 kg) for panning, 5.5 lb (2.5 kg) with the FlexTILT Head 2, and 8 lb (3.6 kg) for tilting and can be used directly on the ground without a tripod or any other support system. Motion BOX should hit the market in early May 2018 selling for $299. If you want to learn more about the product and different configurations, head over to Edelkrone's official website.
[source: Edelkrone]
Claim your copy of DAVINCI RESOLVE - SIMPLIFIED COURSE with 50% off! Get Instant Access!