Well there goes my plans for finally jumping ship altogether to the "PC Master Race" and getting rid of my ProRes addition once and for all… just kidding, I am still considering leaving the Apple ecosystem altogether (after all, I am in the shittiest position possible – editing with Premiere Pro on a Macbook Pro), but this latest bombshell announcement from Apple has got my world turned upside down once again and put a wrench in my plans (once again). And for the first time ever, I am probably going to be buying Final Cut Pro X… I've dreaded even uttering these words for so long, but with the latest Apple announcement I am about to tell you about, I will probably be joining the Dark Side soon.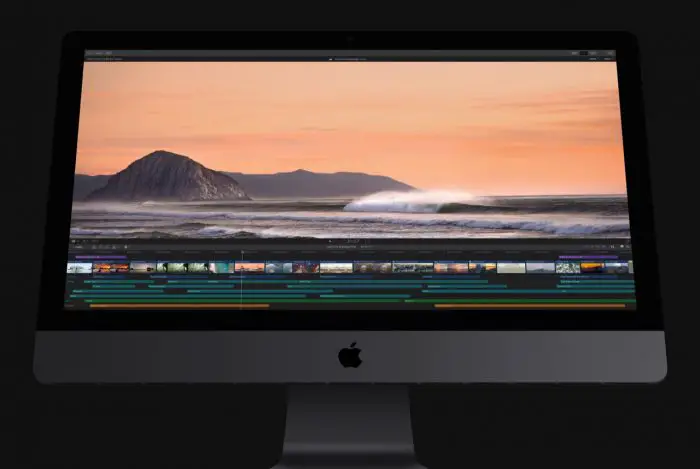 Apple is bringing ProRes to Raw or Raw to ProRes, not really sure, but the new FCP X update (10.4.1), which will be available for download on DAY 1 of NAB 2018 this Monday April 9th, will add a brand new codec called ProRes RAW.
In my basic understanding of this new codec it is the best of both worlds – fluid real-time playback without rendering even in 4K, efficient encoding and decoding with tremendous disk space benefits (compared to uncompressed raw or even CinemaDNG), and all the flexibility of a Raw workflow – something like REDCODE Raw for non-RED camera users.
At the moment (at least as of this upcoming Monday), the only NLE that supports it is – you guessed it – Final Cut Pro X. Chances are, Adobe will try to support it in time, but as of now, ProRes RAW will live in the world of FCP X only.
ProRes RAW has been designed for HDR workflows, and with the latest codec editors can import, edit and grade pristine footage with RAW data from the camera sensor just like they would any other non-Raw existing ProRes codec be it a 10bit or 12bit variant, however this time with the benefits of a Raw workflow – with full access to white balance, ISO, lens data stored in the metadata files and much more.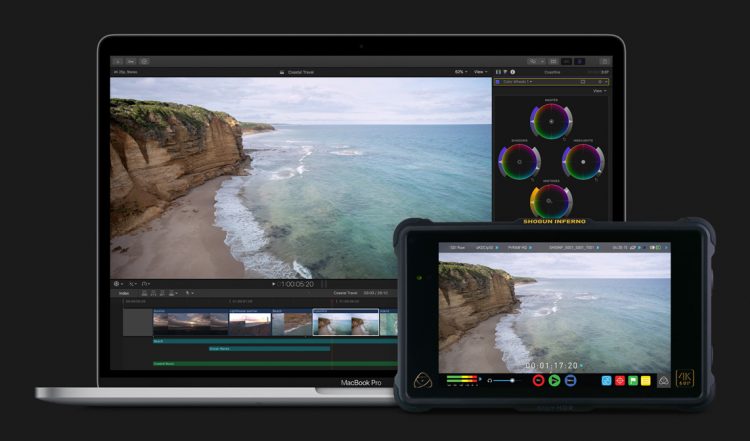 And with performance optimized for macOS, editors can play full-quality 4K ProRes RAW files on MacBook Pro and iMac systems in real time without rendering. ProRes RAW files are even smaller than ProRes 4444 files, allowing editors to make better use of storage while providing an excellent format for archiving.
Apple ProRes RAW will be available in two compressions – ProRes RAW and the higher quality ProRes RAW HQ. According to apple "…both achieve excellent preservation of raw video content, with additional quality available at the higher data rate of Apple ProRes RAW HQ. Compression-related visible artifacts are very unlikely with Apple ProRes RAW, and extremely unlikely with Apple ProRes RAW HQ."
In its nature, the ProRes RAW is 12bit, and even supports 8K resolutions; data rates are of course resolution dependent. Best to refer to the official Apple ProRes Raw White Paper (link at bottom of article) for more details. Here is an example of how ProRes Raw stacks up against other common ProRes flavours in 4K DCI/59.94p:
It is quite impressive to see ProRes RAW HQ is more efficient than the 12bit ProRes 4444, which is a huge file without the benefits of Raw; and if you want go with the more compressed ProRes Raw – you get a file similar in size to ProRes 422, which is just nuts.
NOTE: The Data Rates on the side of the graph above – should read 200 MB/s on the lowest bar, 400 MB/s, 600 MB/s, and 800 MB/s at the top bar – getting you a 4K/60p ProRes RAW HQ bit rate (varying between) 290 – 370 MB/s – which is very manageable. I am not sure why, but the Apple ProRes RAW white paper has those censored or omitted, but the version that I saw briefly has the data rates. I will update the link if I come across the revised white paper.
According to Apple, compared to other raw video formats supported by Final Cut Pro, ProRes RAW offers superior performance in both playback and rendering, as shown in the charts below: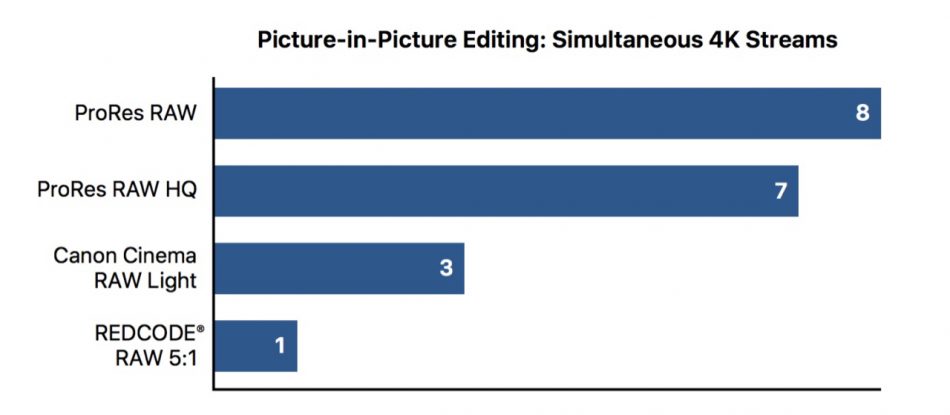 NOTE from Apple's White Paper: Testing conducted by Apple in March 2018 on production 2.3GHz 18-core Intel Xeon W-based 27-inch iMac Pro systems with 128GB of RAM, Radeon Pro Vega 64 graphics with 16GB of HBM2, and a 4TB SSD. Tested with prerelease macOS High Sierra, prerelease Final Cut Pro 10.4.1, Canon RAW Plugin 1.0 for Final Cut Pro X, and plugins from RED Apple Workflow Installer v12, using 50-second picture-in-picture projects with 8 streams of Apple ProRes RAW video, 7 streams of Apple ProRes RAW HQ video, 3 streams of Canon Cinema RAW Light video, and 1 stream of REDCODE® RAW 5:1 video, all at 4096×2160 resolution and 23.98 frames per second. Performance will vary based on system configuration, media type, and other factors.
Final Cut Pro editors can work natively with ProRes RAW and ProRes RAW HQ files created by Atomos recorders. The format will be available as a free update for owners of Atomos Sumo19 and Shogun Inferno devices. The format will also be available as part of a forthcoming upgrade package to users of the DJI Inspire 2 drone and Zenmuse X7 Super 35mm camera system designed for aerial cinematography.
The latest Final Cut Pro X update will also see the addition of advanced closed captions. FCP X users can now add captions to their projects without the need for expensive third-party plugins, software or services. Editors can import closed caption files directly into their project or create them from scratch. Captions appear in the viewer during playback and can be attached to video or audio clips in the timeline, so they automatically move with the clips to which they're connected.
An all-new captions inspector makes it simple to adjust caption text, colour, alignment, location and more. Users can even create captions in multiple languages within the same timeline and easily share captioned videos to YouTube and Vimeo. And in the share window, a new Roles tab displays titles, video and audio roles in a single consolidated interface, making it easy to configure roles and closed captions when sharing.
Motion 5.4.1 and ProRes RAW enable motion graphics artists to take full advantage of RAW image quality with superb performance and flexibility when designing graphics and effects. Compressor 4.4.1 gains support for closed captioning with comprehensive controls to view, adjust and deliver captions as part of a batch or iTunes Store package.
Final Cut Pro 10.4.1 will be available on April 9 as a free update for existing users, and for $299.99 (US) for new users on the Mac App Store. Motion 5.4.1 and Compressor 4.4.1 will also be available on April 9 as free updates for existing users, and for $49.99 (US) each for new users on the Mac App Store.
To learn all about the new ProRes RAW format, all you editing nerds can download the Apple ProRes RAW White Paper presented in this PDF here.
Disclaimer: As an Amazon Associate partner and participant in B&H and Adorama Affiliate programmes, we earn a small comission from each purchase made through the affiliate links listed above at no additional cost to you.
Claim your copy of DAVINCI RESOLVE - SIMPLIFIED COURSE with 50% off! Get Instant Access!