For another year in a row, Western Digital Corporation (WDC) continues to be at the forefront of SSD technology development with its latest professional-grade ultra-fast solutions in its powerful G-Technology G-DRIVE and G-SPEED Shuttle product families.
Keeping up with the ever-growing fast-transfer and high-capacity demands of professional content creators has always been a serious challenge. Nonetheless, by enabling real-time 4K and 8K workflows with the power of Thunderbolt 3, and transfer rates up to 2800MB/s, the brand new G-Technology Pro SSDs offer an ultra-fast, super-reliable solution for any creative professional working in the studio or on the go.
The latest G-DRIVE mobile Pro SSD boasts a durable, shock-resistant design with specially engineered components to endure even the harshest conditions out in the field. The aluminum core, on the other hand, prevents overheating and maintains a consistent high performance of the unit.
The G-DRIVE mobile Pro lets creative professionals edit multi-stream 8K footage at full frame rate, quickly render projects and experience them at full resolution while being able to transfer as much as a terabyte of media in seven minutes or less.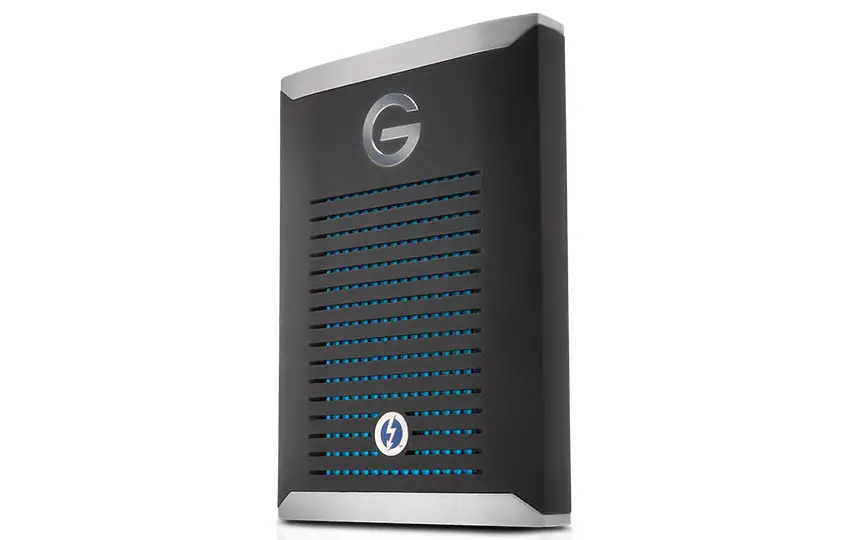 The G-DRIVE mobile Pro SSD comes equipped with Thunderbolt 3 port and is backed by a 5-year limited warranty. The unit will come in 500GB and 1TB  capacities that should become available later this summer selling for $659.95 and $1,049.95 respectively.
Equipped with scorching fast transfer rates of up to 2800MB/s and Thunderbolt 3 technology, the G-DRIVE Pro SSD solution comes in four different capacities up to 7.68TB. Unlike its mobile Pro sibling, the G-DRIVE Pro SSD sports dual Thunderbolt 3 ports that enable users to daisy-chain up to five additional devices on the fly.
The stackable, rugged aluminum enclosure is small enough to help you keep your workplace tidy. Combined with Enterprise-class solid state drives, the G-DRIVE Pro SSD delivers reliable, high-performance desktop storage you can rely on. The G-DRIVE Pro SSD solution with Thunderbolt 3 will be available in May 2018 in capacities of 960GB ($1,399.95), 1.92TB ($2,099.95), 3.84TB ($4,099.95) and 7.68TB ($7,599.95).
Last but not least, comes the G-SPEED Shuttle SSD. With up to 16TB of SSD capacity, the G-SPEED Shuttle SSD with Thunderbolt 3 is optimized to support multi-stream HD, 4K, 8K, VR and VFX workflows.
Equipped with transfer rates up to 2800MB/s, hardware RAID 0, 1, 5, 10, 50, and eight removable SSDs pre-loaded and configured in RAID 5, it is built for ultra-demanding production workflows. The G-SPEED Shuttle SSD should be available later this month in capacities of 8TB  and 16TB selling for $5,099.95 and $7,599.95 respectively.
Whether it's out in the field or back at the studio, the new Pro SSD family of devices from G-Technology give you the tools to transfer footage at blazing-fast speeds, edit multi-stream 8K footage at full frame rate, and quickly render VR projects and experience them at full resolution for a more efficient workflow.
[source: G-Technology]
Claim your copy of DAVINCI RESOLVE - SIMPLIFIED COURSE with 50% off! Get Instant Access!