Single pistol grip gimbal stabilizers for compact cameras have not only become extremely abundant, but also an inseparable and expected part of a one-man band shooter these days. With numerous brands to choose from, those shooting video with 4K mirrorless cameras or DSLRs have lots of choices when it comes to selecting a single hand gimbal stabilizer for a Panasonic GH5 or Sony A7 III for example.
Pilotfly have been in the game for some time now, and are now announcing a new model – the Pilotfly Adventurer. As with pretty much all latest gen single grip gimbals, the Adventurer offers the camera operator a clear and unobstructed view of the back LCD display of the camera – something that was often the biggest disadvantage of previous gen gimbals in this class. Pilotfly already did this with the Pilotfly H2-45 which provides you a direct view to the camera display.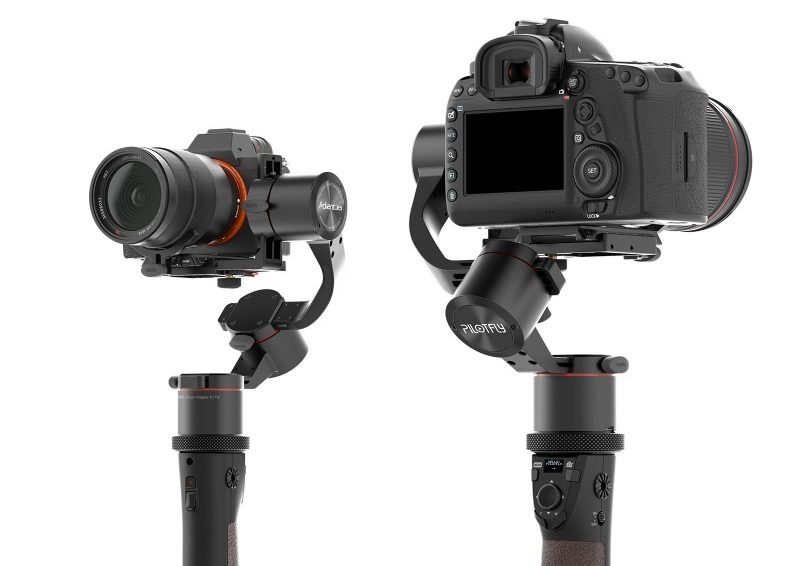 However, the Adventurer represents the start of a new generation of 3-axes gimbal technology for Pilotfly. Featuring newer, stronger motors, which can accomodate a high payload of max. 3.2kgs, the Pilotfly Adventurer also offers a CNC machined construction with an easy to read OLED display at the top of the handle, indicating battery life and mode of operation.
Pilotfly Adventurer Features
Clear unobstructed view of camera screen
Stronger motors – up to 3.2kg payload
5 motor presets: from Ultra Light weight, to Ultra Heavy
Full 360 degree rotation
OLED screen on the back of handle
CNC alloy construction for the head
Left or Right motor orientation (selectable upon order)
up to 6 hours battery life
Price: $849 at B&H
Or €849 from Pilotfly.de
The new CNC construction have allowed Pilotfly to reduce the weight under 1 kg and that is including the battery. The new and stornger motors can carry a payload up to 50% higher than the former H2-45 version with increased motion accuracy thanks to the Digital Absolute Position Encoders on each axis offering a full motion range of 360 degree without limitation.
What you get in the box:
1 x Pilotfly Adventurer gimbal
1 x Adapter plate
1 x Carrying case
1 x Universal power supply 18V 100V ~ 240V
1 x Balance charger APC-50
1 x AD-90 Battery
1 x Panasonic camera cable
1 x Sony camera cable
1 x USB cable
1 x Quick Start Guide
The Adventurer is priced at $849 and can be pre-ordered from B&H or direct. For full specs head over to Pilotfly.
Claim your copy of DAVINCI RESOLVE - SIMPLIFIED COURSE with 50% off! Get Instant Access!