Editing on a laptop when travelling or getting a backup drive for a shoot is kind of mandatory nowadays. As resolution requirements go up, so do data rates and storage requirements, so it is no wonder that companies making storage solutions have been releasing new products left and right in an effort to satisfy the latest requirements in video acquisition, backup or workstation workflows for other data intensive tasks. Sony, the electronics giant they are, have been making external hard drives for some time now, and and are now expanding their External Solid-State Drive (SSD) portfolio with a brand new top of the range SL-E series.
This new SSDs boast a stylish, high-capacity external SSD design that is small enough to put in your pocket but powerful enough for high-speed and safe data transfer – a mandatory requirement for editing, especially when doing so with 4K footage.
The stylish new SL-E SSDs are quite tiny, and Sony uses the term "…smaller than a credit card, so you can take it anywhere" and will be available in May 2018 in capacities from 240GB to 960GB of storage so you can keep all your important files with you all the time.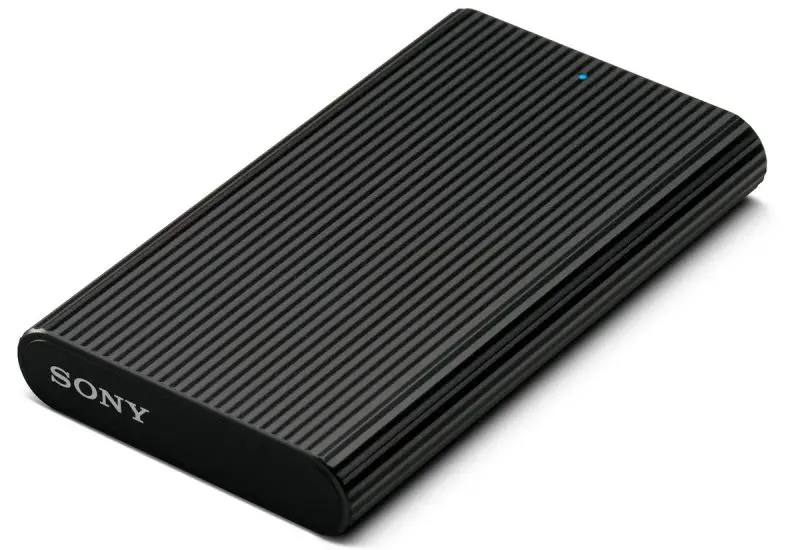 The new Sony SL-E drives utilise flash memory with no moving parts inside increasing the shockproof capability and reducing the chance of mechanical breakdown of the unit and dreaded data loss. The drives also contain ENC DataVault Lite software for enhanced security. This E Series has been designed with thoughtful elements such as a wave surface for grip and making it easy to find and easy-to-see access LED.
Sony SL-E SSD Specifications/Features
Up to 960GB storage capacity
Ultra-compact design; smaller than a credit card and just 50g (1.8 oz).
USB 3.1 Gen 2 interface with USB Type-C port
High-speed data transfer up to 540MB/s (read) and 520MB/s (write).
Stylish, durable metal body with wave surface finish
DC 5V (USB bus powered) Max. 900mA
USB Type-C to C and USB Type-C to Standard-A cables included
What's included:

Cable: USB Type-C to USB Standard-A (USB 3.1 Gen 2, 45.7cm),
Cable: USB Type-C to USB Type-C (USB 3.1 Gen 2, 45.7cm),
Limited Warranty Card,
Operating Instructions

Pricing/Availability:
Sony is ensuring their new SSD lineup is cross-platform compatible thanks to the USB Type-C port ensuring connectivity to all the latest mobile technology, as well as standard-A USB cables for laptops not equipped with USB-C ports. Having both ports ensures usability with a wide range of devices including Mac and Windows PCs, Android smartphones and tablets.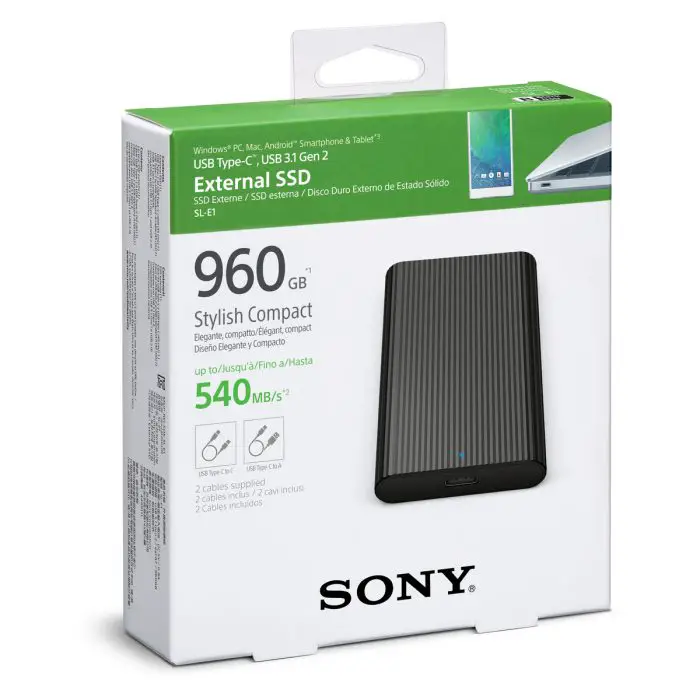 The SL-E drive offers an excellent solution for digital photography professionals. The USB 3.1 Gen 2 interface offers a high capacity and ultrafast connection to your PC which makes it the perfect partner for high performance tethered shooting with cameras like the new Sony A7 III. Data transfer speeds up to 540MB/s (read) and 520MB/s (write) provide for fast backups, quick checks and retouching of images.
This makes for a portable, durable drive which is very useful to have on shoot, as well as for other professionals who need to store and easily transport high amounts of data and need quick access to them. The other cool feature of the SL-E drives is that they are also USB powered, so they can be used with the new Blackmagic Pocket Cinema Camera 4K, which has the unique feature of writing data directly to an external SSD via USB.
The new Sony SL-E Solid State Drives are expected to start shipping in May 2018 and priced as indicated below (after all these are Sony branded so expect to pay a premium):
240GB – €169 /£149
480GB – €289 /£249
960GB – €499 /£429
Claim your copy of DAVINCI RESOLVE - SIMPLIFIED COURSE with 50% off! Get Instant Access!