You may recall when Canon announced their new top dog Cinema EOS camera – the Canon EOS C700 back at IBC 2016, they also did say eventually the camera will be able to output 4.5K "Cinescope" Raw to a dedicated Codex Raw recorder (the eloquently named CDX-36150) up to 120fps. And now, Canon have announced a series of firmware updates not just for their EOS C700 flagship cinema camera, but also for the Canon C100 Mark II, XC10 and XC15 along a few other pieces of equipment carrying the Canon logo.
The new C700 firmware will also unlock additional recording modes on the CDX-36150 with expanded frame rates, in both RAW and ProRes formats. including the maximum aforementioned 12-bit 4.5K RAW recording.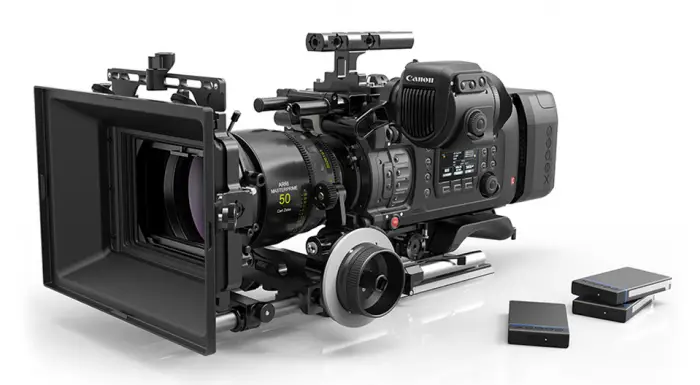 Here's the new modes on the Canon EOS C700 with the Codex CDX-36150
4K/QFHD ProRes
4.5K Max 100 fps
4.5K (2.39:1) at 120 fps
ProRes 422 HQ 10 bit 60 fps
2K Cropped mode for super-slow motion up to 240fps
For a more complete picture of the recording formats, resolutions and frame rates check out the table below that Canon have kindly prepared for anyone interested in the C700.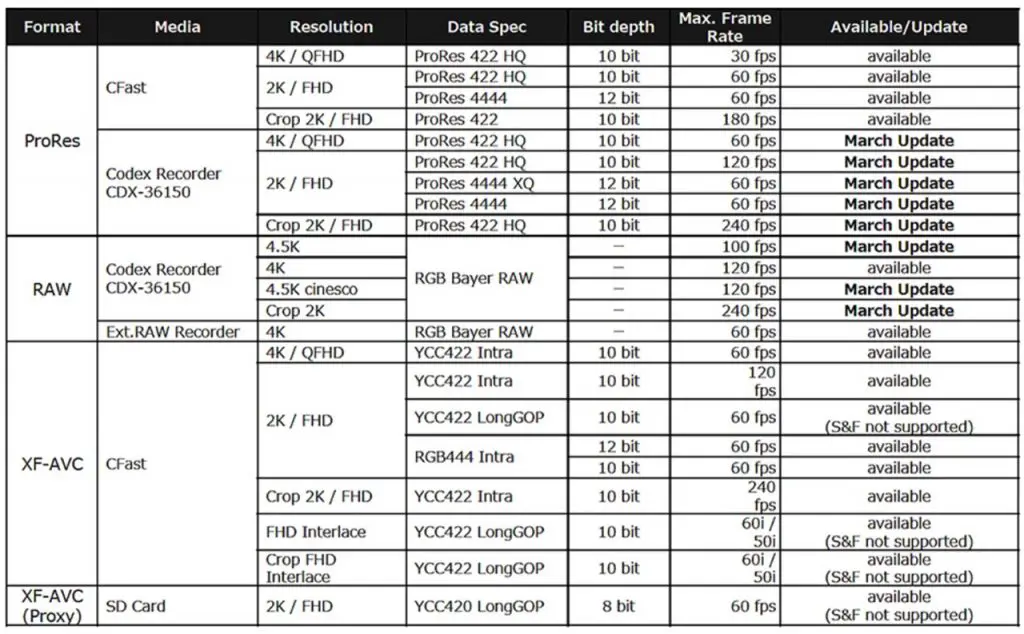 To learn more about the EOS C700 check out our post here, or see this commercial shot on it.
Canon C100 Mark II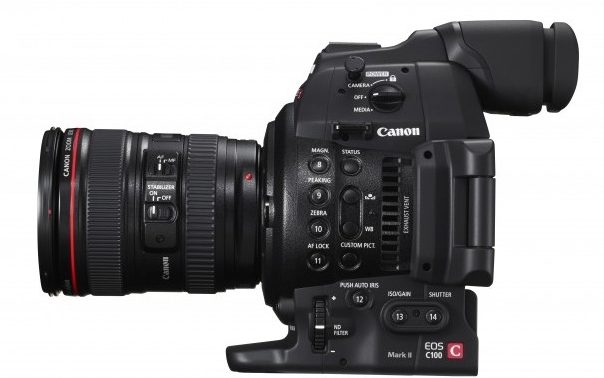 Moving down the Cinema EOS hierarchy, the lovely and very capably Canon C100 Mark II is also getting a bit of a boost. The C100 Mark II gets similar functionality, which was recently added to the C300 Mark II, namely a feature called Shutter Angle Priority.
It's a change in the way the shutter responds when "Angle Mode" is selected. This particular update comes in direct response to requests from many Cinema EOS shooters that asked for manual adjustment changes to the Shutter Angle when changing frame rates.
With this firmware update, when the Shutter Angle is selected, it won't change again until the operator changes it, even if the frame rate is changed. This only affects Shutter Angle and other shutter modes remain unchanged.
This firmware also enables Peripheral Illumination Correction data for the new EF 24-105 f/4 L IS USM II lens. This will compensate for any changes in aperture throughout the zoom range of the lens (as the 24-105mm f4 ain't parfocal and loses a stop or so at the long end when zoomed).
Canon EOS C100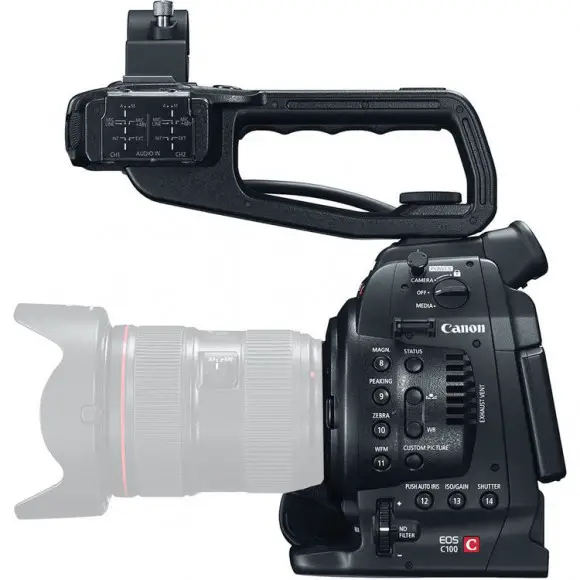 The new firmware update for the original Canon EOS C100 also enables peripheral illumination correction for the following Canon EF and EF-S lenses:
EF 35mm f/1.4L II USM
EF 50mm f/1.8 STM
EF-S 18-135mm f/3.5-56 IS USM
EF 24-105mm f/4L IS II USM
The firmware also provides Cinema Servo Lens Support for the CN7 x 17KAS (17-120mm), the compact zoom CN-E18-80mm T4.4 L IS KAS and CN20 x 50 IAS lenses.
This firmware adds enhanced in-camera functionality when one of these lenses is attached. For instance, a menu addition will enable control of the zoom from the joystick on the grip unit. And the zoom speed will be adjustable in 16 variations – from super slow to super quick.
Push Auto Iris and Auto Iris for all three servo zoom lenses mentioned above is now included, along with enabling support to adjust the aperture from the Control Dial on the camera body. Also, the Start/Stop button on the lens will be able to trigger and stop camera recording.
Canon XC10 / Canon XC15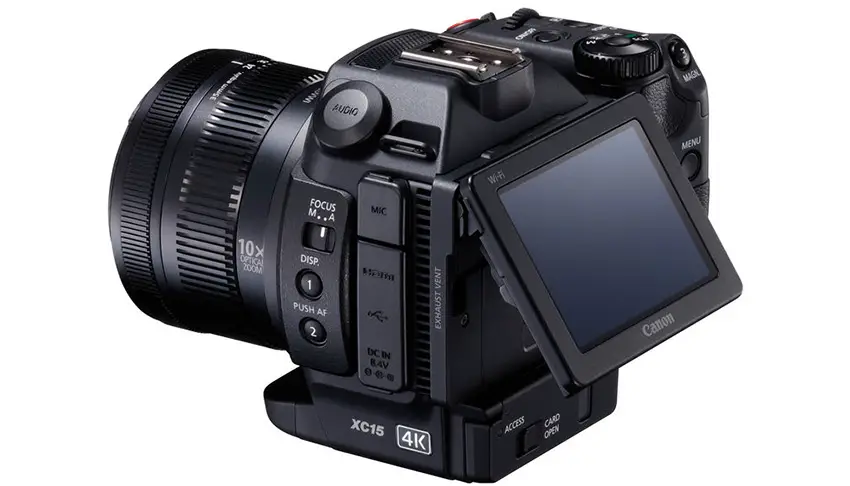 The XC10 and Canon XC15 get a minor firmware update, which adds support for VPG130 CFast cards, which meets the latest specification by the Compact Flash Association for a Video Performance Guarantee (VPG) Profile for Cfast cards, VPG Profile 3.
The VPG Profile 3 specification enables guaranteed sustained capture of video streams at up to 130MB/s for professional video capture. This includes guaranteed video capture over multiple capture files and across file system updates without dropping frames, enabling high quality 4K capture.
Canon ME20F-SH/ME200S-SH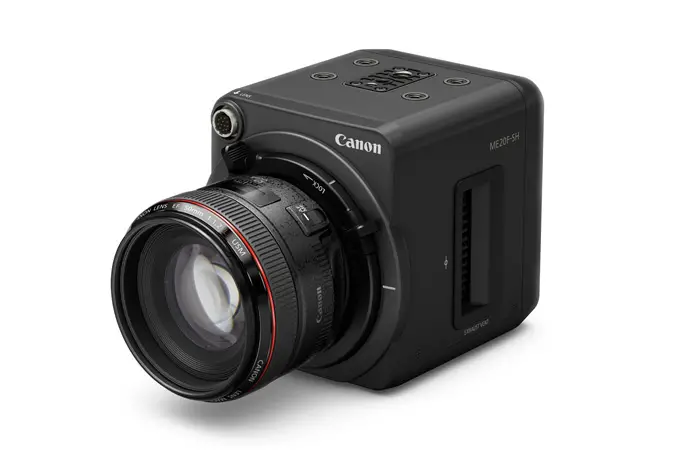 New semi-auto modes available for the multi-purpose cameras:
Tv: Shutter Speed is selectable. Iris and Gain are auto

ND is selectable as either Auto or Manual

Av: Iris is selectable. Sutter Speed and Gain are auto

ND is selectable as either Auto or Manual

AGC: Shutter Speed and Iris are selectable. Gain is auto

ND is selectable as either Auto or Manual
The Compact-Servo 18-80mm T4.4 EF is now supported on the ME20F-SH (this support was already included for the ME200S-SH when it was released). The following points are available when the Compact-Servo 18-80mm T4.4 EF is attached:
Acquirement of metadata
Peripheral illumination correction is supported
Aperture can be adjusted manually by using the joystick on the camera body
Focus/Zoom/Iris can be operated by using RC-V100
Support for One-shot AF
Support for Push Auto Iris
Start/Stop button on the lens can be worked with camera when the grip unit is attached
Peripheral Illumination Correction is also supported for the following lenses:
EF100-400mm f/4.5-5.6L IS II USM
EF35mm f/1.4L II USM
EF24-105mm f/4L IS II USM
This update will also add menu settings for both cameras that offer Fine-Tuning adjustments when used in a chroma-key situation. Four kinds of parameters, Hue (Blue or Green), Chroma, Area and Y Level, have been added to the Custom Picture menu in order to extract the keyed object and synthesize the background for certain systems that use an "easy chroma-key system."
An "easy chroma-key system" refers to a chroma-key kit where blue or green light is added to a particular grey matte background.
Also, three new modes of white balance are being added for both cameras in addition to AWB (auto white balance). When the camera mode is set to Auto, it will now be possible to choose from the following four choices of white balance:
AWB (Auto White Balance)
White Balance Set(WB-A/WB-B)
White Balance Preset(Daylight/Tungsten)
Color Temperature (2000K – 15000K by 100K)
For further information head over to Canon's US support site. Canon UK click here.
Claim your copy of DAVINCI RESOLVE - SIMPLIFIED COURSE with 50% off! Get Instant Access!