The Canon EOS C700 was one of the big announcements for this years IBC Show, and it was not surprise why; after all it is Canon's new flagship 4K high end pro camcorder that takes off where the C500 and C300 Mark II left off aiming at the highest levels of TV, Film and commercial work. It's big, it's heavy, you can't "put it on a 3-axis gimbal" (you  hire a Steadicam op instead, which is what you do with most other big, high-end tanks like the Alexa XT, Sony F65 etc. etc) and it polarized the video oriented blogosphere like no other camera in recent memory. And while the jury is not out yet, because obviously the camera hasn't even been released yet for most of us to see decent footage, Canon paraded the new C700 at IBC showing off some footage shot on a C700 prototype – namely a new Aston Martin commercial, which you cans see below.
For those not yet familiar with some of the basic specs of the EOS C700, it features a brand new 4.5K CMOS image sensor providing up to 15 stops of dynamic range. 4K up to 60p to CFast 2.0 cards in different flavours of XF-AVC and ProRes along with 4K Raw output to a dedicated Codex Digital Recorder is possible. The Canon C700 boasts a radical new shoulder mount design with EF and PL mount versions (and even a Global Shutter version to be released in early 2017), removable user interface control panel (a-la the Varicam LT), built-in V-mount battery plate, dedicated EVF, and high end features such as in-camera grading, multiple dedicated outputs, wide colour space support and plenty more.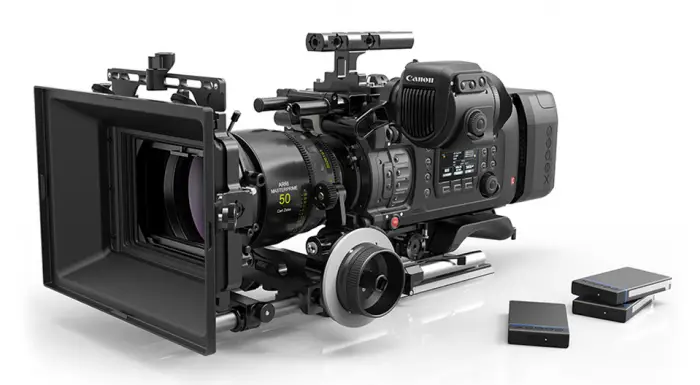 Canon EOS C700 Highlights – $28,000 Body at B&H
Super 35mm 4K CMOS Sensor
10-bit or 12-bit 4K RAW up to 120 fps (via Codex raw recorder)
2K RAW up to 240 fps (via Codex Raw recorder)
ProRes 4K up to 60 fps (via Codex Raw recorder)
EF Cinema Lock Type Mount (PL version available)
Global Shutter version in 2017
Up to 15 Stops of Dynamic Range
Dual Pixel CMOS AF
4K up to 60 fps, 2K/HD up to 240 fps
ProRes 4444 in 2K/FHD
Proxy Recording to SD Cards
Canon Log 2 and Canon Log 3
XF-AVC and ProRes Recording to CFast 2.0
Today you can't judge a camera by the spec sheet, especially a high end one like the C700. I really like the footage above, I think that Aston Martin commercial looks great and given the seamless integration between the various cameras used such as the EOS-1D X II DSLR, and Canon C300 II combined with the excellent Canon cine optics, the C700 can surely produce fantastic images when in the right hands.
Sure, they may be a bit late to the party, and it will surely be an uphill battle for the camera to prove itself in the eyes of producers and directors, but as with all EOS cameras before it – it will take some time to get traction. I for one, am looking forward to see more commercials and dramas shot on the C7oo in the near future.
Claim your copy of DAVINCI RESOLVE 16 - SIMPLIFIED COURSE with 50% off! Get Instant Access!