The new Pocket Cinema Camera 4K may be a few months away from shipping (estimates point to September), but during this time Blackmagic Design have been working on updating the rest of the camera lineup and bringing new features on popular accessories and peripherals for their URSA Mini Pro and URSA Broadcast cameras.
Blackmagic Design just released a new firmware update version 5.0.2, also known as Camera Update 5.0.2, which is more focused on providing extra functionality and improvements to the broadcast side of things.
Camera Update 5.0.2 improves the colour and contrast of the LCD screen on the Studio Fiber Converter and provides greater talkback functionality with 3rd party intercom systems. The latest firmware update also improves the response time for SDI camera control via 12G-SDI when used with Blackmagic Studio and Camera Fiber Converters, and includes general performance and stability improvements.
When updating to Blackmagic Camera 5.0.2, customers will need to power the Camera Fiber Converter from the camera using the URSA 12V power supply during the update. Please refer to URSA Broadcast manual for more information
Blackmagic Camera Update 5.0.2 Details:
New Features for Blackmagic Camera Fiber Converter
Improved response time for SDI Camera Control via 12G SDI.
Fixed bug where 'Fiber' power logo flickers on URSA Mini screen.
General performance and stability improvements.
New Features for Blackmagic Studio Fiber Converter
Improved color & contrast for LCD screen.
Fixed bug where DB25 talkback failed in some formats.
Fixed bug where signal is lost on Return 1 for some formats.
Fixed reference pass through bug when changing reference input signal.
Improved occasional startup corruption on LCD and SDI output.
General performance and stability improvements.
Download Camera Update 5.0.2 here.
That's it for Camera Update 5.0.2, it unfortunately contains no new features for other camera products, however Blackmagic have released a new version 1.0.1 for their Camera Control app. The new Blackmagic Camera Control 1.0.1 Update is available now and it works with iPad on iOS 11 improving support for URSA Broadcast and URSA Mini Pro cameras.
The Blackmagic Camera Control app allows users to use an iPad to control all major functionality on URSA Mini Pro cameras over Bluetooth from up to 30 feet away via Bluetooth from your iPad. Remote functions include – remotely power the camera on or off, change settings, control your lens, adjust metadata and trigger recording.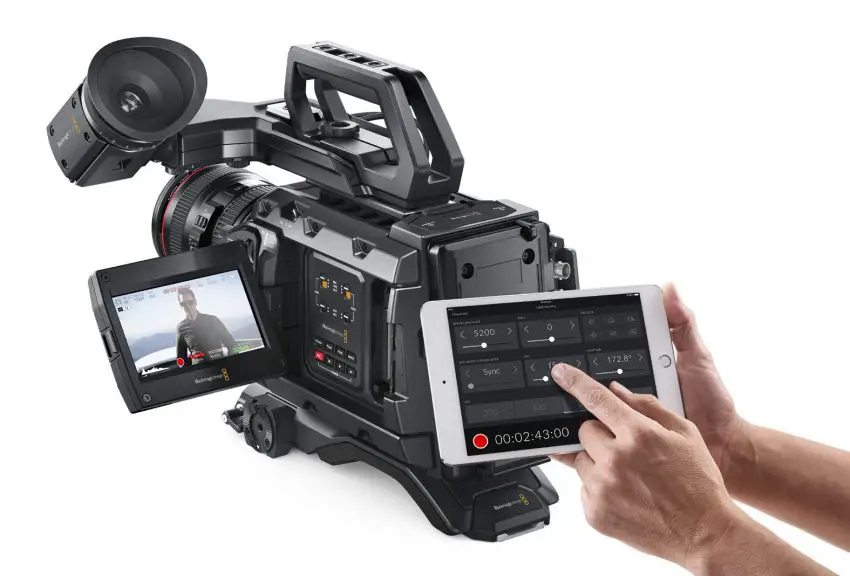 Blackmagic Camera Control 1.0.1 Update Details
Improved support for iOS 11.
Added icons for App Store.
Improved support for URSA Broadcast & URSA Mini Pro.
Fixed bug where App could not stop recording on Cameras on software 4.8 or above.
Fixed warning message after removing or replacing camera's power source.
General performance improvements.
You can download Blackmagic Camera Control 1.0.1 from the iOS App store via this link here.
Claim your copy of DAVINCI RESOLVE - SIMPLIFIED COURSE with 50% off! Get Instant Access!