It's back! The yearly Complete Video Creators Bundle by 5DayDeal has been updated for 2018 with brand new educational products and tutorials that can elevate your game to the next level! While the 2018 5DayDeal Video Creators bundle sale starts on June 1st in just a few days, you can now get a head start and enter their $10,000+ Giveaway for a chance to win some really sweet kit and indispensable educational programmes.
For those of you who might not be aware or have missed the previous event for some reason, the Complete Video Creators Bundle 2018 features a totally new selection of high-quality, carefully curated collection of seriously discounted tutorials and digital tools. This year's exclusive bundle includes professional training and resources related to editing, branding and marketing, camera techniques and visual storytelling, lighting, colour grading and after-effects, aerials and drones, and much more.
As a reminder, the 5DayDeal 2018 Video Creators Bundle sale goes live on Thursday, June 1st, 2018.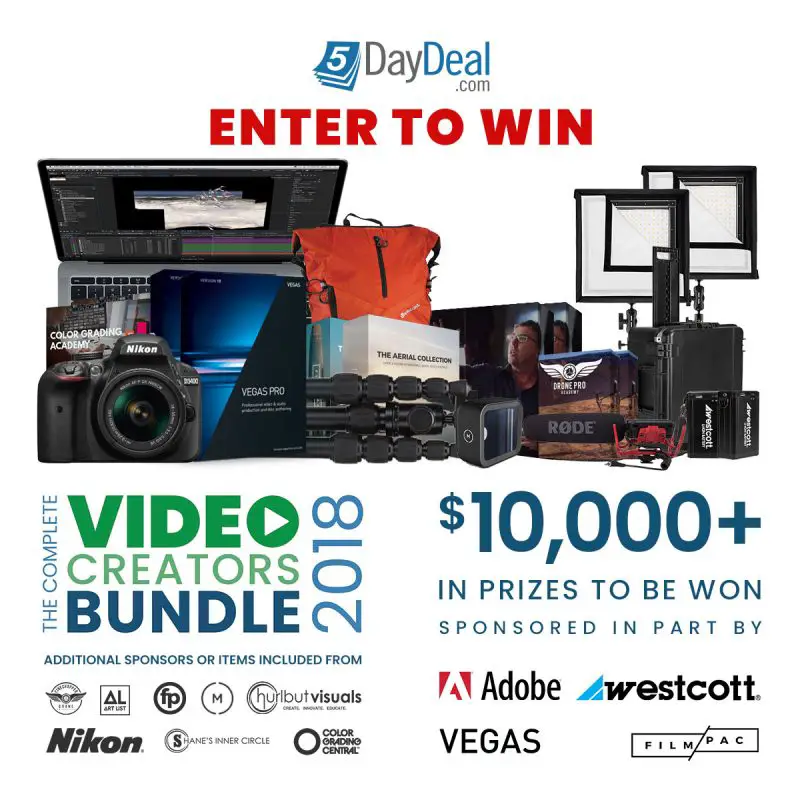 The 2018 Video Creators $10,000+ Giveaway prize list is as follows:
VEGAS Vegas Pro*
CINECHOPPER DRONE PRO ACADEMY Membership*
ARTLIST Subscription*
FILMPAC Single Pac*
MOMENT Anamorphic Lens
COLOR GRADING CENTRAL Academy Membership*
VANGUARD Reno 48 Backpack
MEFOTO Backpacker Tripod
HURLBUT VISUALS – Inner Circle Membership*
ZOOKKI GoPro Accessories
RODE Video Mic
Westcott Flex Daylight LED 2-Light Cine Travel Kit
Adobe Creative Cloud Subscriptions* (draw in October)
NIKON D3400, 18-55 VR Kit (draw in October)
Apple MacBook Air "13 (draw in October)
*Multiple prizes to be awarded.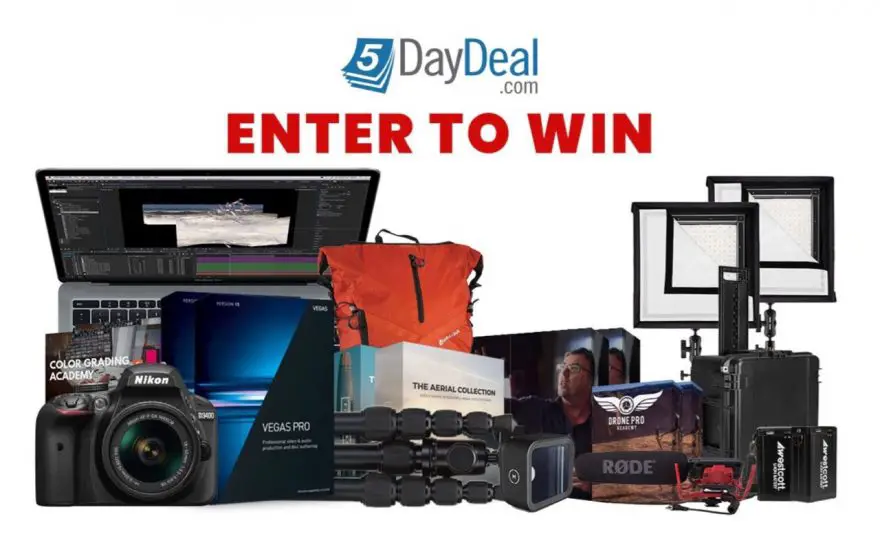 Check out the teaser for the upcoming 2018 5DayDeal Video Creators Bundle for a glimpse of the awesome educational materials included (all to be revealed on June 1st, when the sale starts!):
A full list of what is included in the sale will be revealed soon.
Enter the 5DayDeal $10,000+ giveaway here!
Disclaimer: As an Amazon Associate partner and participant in B&H and Adorama Affiliate programmes, we earn a small comission from each purchase made through the affiliate links listed above at no additional cost to you.
Claim your copy of DAVINCI RESOLVE - SIMPLIFIED COURSE with 50% off! Get Instant Access!