Among the plethora of RAW video formats currently available on the market, Blackmagic Design's implementation of compressed CinemaDNG seems to be a popular option among filmmakers shooting with cameras like the BMPCC, URSA Mini, and URSA Mini Pro. Nonetheless, Adobe Premiere Pro CC still lacks native support for the Blackmagic RAW 3:1 and Blackmagic RAW 4:1 which makes working with the compressed RAW files in the Adobe's NLE virtually impossible.
While this may be a real deal-breaker for many video editors, there are still workarounds that allow the use of the proprietary format in Premiere Pro CC. One way of dealing with the compressed Blackmagic CinemaDNG RAW is by transcoding the footage into a format compatible with Premiere Pro CC (such as CinemaDNG files with Lossless JPEG compression or to Uncompressed CinemaDNG), via a third-party application such as Fast CinemaDNG Processor.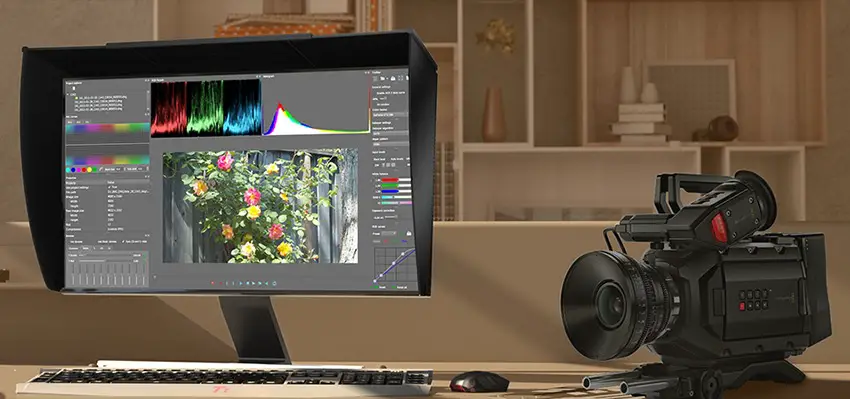 As some of you may recall, Fast CinemaDNG is a dedicated high-performance Windows-based software for CinemaDNG processing entirely based on NVIDIA GPU acceleration. The application supports files up to a whopping 8K resolution and allows for speedy transcoding processes on machines equipped with NVIDIA GPUs and enabled CUDA support.
Besides simply acting as a platform to transcode video files, Fast CinemaDNG offers additional features such as RAW denoising, RGB waveforms, histograms and vectorscopes, application of 3D LUTs, demosaicing, resizing, sharpening and much more.
With the use of Fast CinemaDNG Processor, the workflow of implementing Blackmagic RAW 3:1 and 4:1 files to a Premiere Pro-friendly format is drastically simplified. To get started, launch the Fast CinemaDNG and load your CinemaDNG RAW footage using either the drag-and-drop menu or context menu.
The next few steps involve setting up the export properties. In the Properties widget, set the Project Output Format to DNG. Then go into the DNG export tab choose your encoding method – Uncompressed or Lossless JPEG. If you're planning to use the Uncompressed encoding method, you'll have the option to export at various bit-depths, including 8-bit, 10-bit, 12-bit, 14-bit, and 16-bit.
Once you've adjusted your settings, click the red start button. Wait for the transcoding process to complete and then your freshly transcoded footage will be waiting for you in your designated output folder.
Fast CinemaDNG Processor Highlights
Input images: 8/10/12/14/16-bit DNG/CinemaDNG
Optional input image format: Blackmagic CinemaDNG RAW 3:1 and 4:1
Highly optimized multi-threaded DNG parsing and decompression on CPU
Input video (Cinema DNG): 1080, 2K, 4K CDNG clips and more, up to 8K
Output formats for image series: JPG (24/36-bit), PPM (24/48-bit), TIFF (24/48-bit)
Output Color Space: sRGB, Rec.709, AdobeRGB, Rec.2020, BMD Film, BMD Film 4K
Colour Temperature and Tint control
Demosaicing algorithms: HQLI, DFPD, MG
RAW denoising (float workflow)
Denoise adaptive algorithm for luma and chroma (float workflow)
RGB and HSV Curves and Levels
RGB Histograms for each frame in real-time
RGB Parade monitor
3D LUTs for RGB and HSV
Resize algorithm: Lanczos (float workflow)
Sharpening with Unsharp Mask algorithm (float workflow)
Real-time smooth playback of CinemaDNG sequences via OpenGL
It's also worth noting that in addition to Blackmagic Design cameras, Fast CinemaDNG Processor is also compatible with Kinefinity's lineup of cine cameras, AJA CION 4K/UHD and 2K/HD Production cameras, DJI Zenmuse cameras, Digital Bolex D16 and D16M, just to name a few.
With its customizable encoding options alongside the software's assortment of image manipulation and processing assets, Fast CinemaDNG is a powerful must-have tool for any Premiere Pro CC video editor who needs to deal with compressed Blackmagic CinemaDNG RAW. If you want to learn more about the software and download the free demo version, head over to Fast CinemaDNG Processor official website by using the following link.
[source: Fast CinemaDNG]
Claim your copy of DAVINCI RESOLVE - SIMPLIFIED COURSE with 50% off! Get Instant Access!