Cine Gear Expo 2018 wrapped, but one of the big news out of it was that Atomos announced the release of AtomOS 9.1 (or firmware update 9.1) unleashing lots of new features for the Atomos Sumo19 HDR production monitor recorder. New in AtomOS 9.1 for Sumo19 is the long-anticipated Quad ISO recording and on-screen selectable output switching, plus 5.7K ProRes RAW recording at up to 30fps with the Panasonic AU-EVA1.
In addition, AtomOS 9.1 enables full display of 5.7K images on-screen, automatic HDR detection on playback and a redesigned user interface are on offer. The same 5.7k ProRes RAW recording option will also be available as a free update for the Atomos Shogun Inferno 7″ HDR monitor recorder in the coming days.
The Sumo19 Quad ISO recording function streamlines the equipment required for multi-cam shoots and live productions by combining multiple functions into the same box.
Users can now monitor up to four gen-locked HD sources simultaneously and ISO record each as a separate Apple ProRes or Avid DNxHD file to a single drive.
Supported video signals are:
1080p – 23.98/24/25/29.97/30/50/59.94/60
1080i – 50/59.94/60.
All inputs must be the same frame rate and resolution from each source. Users can simply switch between these inputs via the touchscreen interface, selecting which one is sent to the Sumo19's SDI or HDMI output. This feed can then be separately recorded or live-streamed.
At any time users can choose to see a four-way split view of all sources on the Sumo19 screen at once, or select an individual source for full-screen monitoring.
This allows rapid setup, focus checking and image assessment of each shot angle before or during a shoot. Two-channel digital audio from each of the sources is recorded, plus a separate analogue stereo audio input from a mixer or sound desk can be recorded onto each of the files on channels three and four. The audio for the program out follows the video as it switches on channel 1/2, as well as outputting the analogue audio input.
Check out this video demo below by Atomos for more info on the Quad ISO recording (keep in mind this is from NAB from a few months back).
At present the Quad ISO recording function of the Sumo19 requires all feeds to be synchronous. Genlock can be provided by a number of readily available sync generators.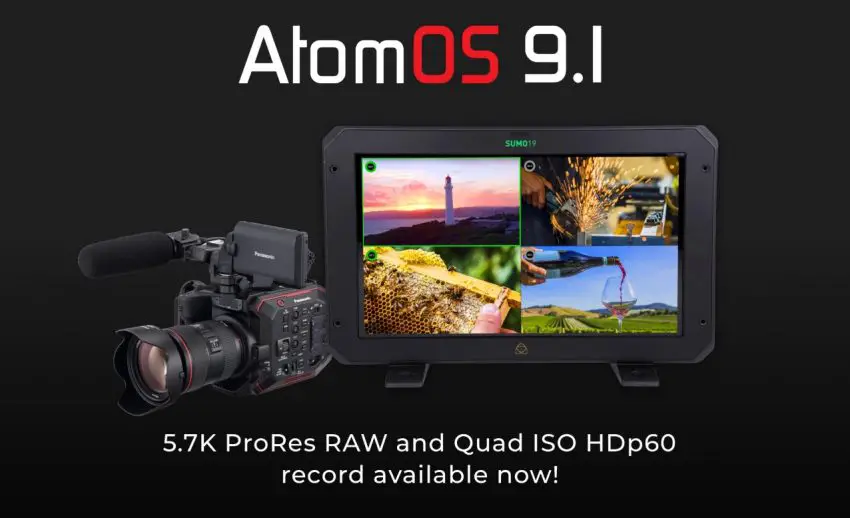 See the details of AtomOS 9.1 below:
SUMO19 Quad ISO recording:
Access from the Input menu – select "4xISO" under SDI MULTI LINK
Supported formats: 1080p23.98/24/25/29.97/50, 1080i50/59.94
All signals must be the same format and synced to a reference signal
Only channel 1/2 of the embedded audio for each stream plus analog input will be recorded and monitored
SDI input 1 is the master reference for timecode and trigger
All ISO recordings will have the same timecode
Panasonic EVA1 5.7K Raw
Frame rates supported: 23.98/24/25/29.97/30
Recording is supported for ProRes RAW only (No CinemaDNG)
Automatic HDR configuration in playback
When playing a movie recorded with AtomHDR monitoring enabled all HDR settings will be automatically restored to match the settings when recording was started
Select the "Auto HDR" button to enable this feature
Monitor mode
"Mon" button will display a 4 way split view when 4 x ISO input mode is enabled
"Mon" button will display a monitoring interface for quick access to monitor features for all other video modes
Use the home button to return to record view
Head over to Atomos' website here to download AtomOS 9.1 for free. Full release notes here.
Claim your copy of DAVINCI RESOLVE - SIMPLIFIED COURSE with 50% off! Get Instant Access!