The last five days were awesome, especially for those of you who already took the chance to get their hands on this year's Complete Video Creators Bundle and supported the charity campaign of the 5DayDeal Team. Unfortunately, the biggest video industry education event wraps up today. So, this is just one last reminder that the Complete Video Creators Bundle 2018 sale is coming to an end in less than 12 hours!
At 12:00 PM (noon) PST today (that's 8:00PM GMT or 9:00 CET), it will be gone, and will NEVER return again. The opportunity to save 91% on these resources is really amazing (it would cost you otherwise $1100+ to get them individually!), so if you ever consider participating, this is your very last chance.
In the meantime, for those of you who might not be aware, the 2018 5DayDeal Complete Video Creators Bundle is the ultimate package of expert education and practical training from top filmmakers and software developers from around the world, while at the same time trying to contribute to making that world a better place.
As usual, you get a massive collection of expert training, tutorials, eBooks, software, and digital tools for all levels of video creation – there's truly something awesome for everyone! Again, here's a brief summary of all the products included in the bundle.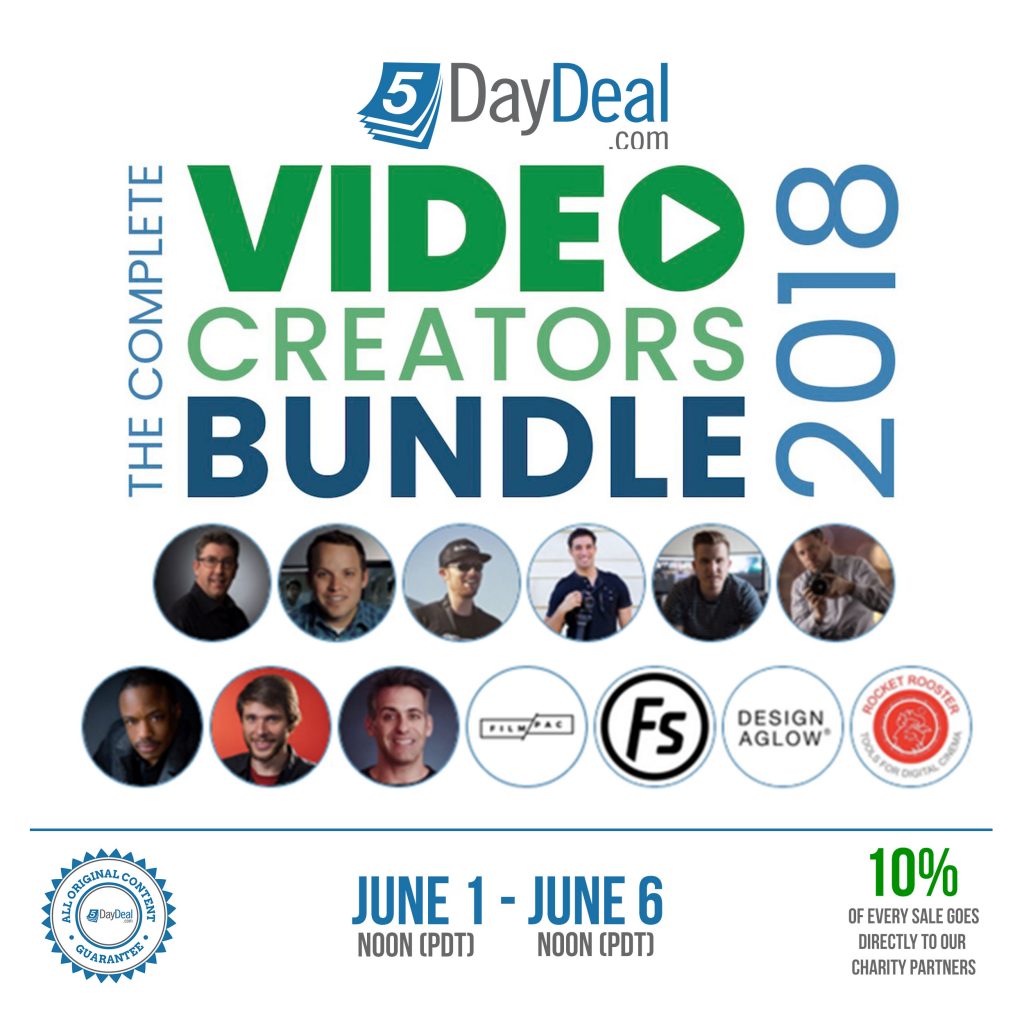 The Complete Video Creators Bundle 2018 features:
The Filmmakers Process by Shane Hurlbut, ASC – $99.00
Motion Picture Film LUTs by Denver Riddle – $99.00
Drone Pro Academy Premiere Pro Drone Editing Templates by Chris Newman – $97.00
Stabilization Strategies by Mark Wonderlin – $197.00
Introduction to Video Editing with Adobe Premiere by Fstoppers

 – 

$45.00
Premiere Pro – Advanced Editing Course by Uri Soglowek – $97.00
Cinematography Marketing Suite by Design Aglow – $97.00
The Podcasting Professional Frederick by Van Johnson – $97.00
Animating Still Photos: Quickstart by Erick Geisler by Serge Ramelli – $97.00
Rocket Rooster Cine Bundle by Rocket Rooster – $133.50
Creative Camera Framing Workshop by Jordy Vandeput – $45.00
This year 5DayDeal have also partnered up with a select group of video educators to bring you a charity bonus resource package. By selecting this bonus option at checkout you'll give even more to charity and in return, you'll receive more than $400+ in additional shooting and editing resources for just $19!
LIST OF BONUS PRODUCTS: 
4K Stock Footage Pac by FilmPac – $99.00
Lighting Secrets Workshop by Eric Thayne – $197.00
Video Editing with Adobe Premiere Pro 2018 for Beginners by Jordy Vandeput – $99.99
Set Up Your Own Grading Suite by Denver Riddle – $49.00
Best of all, 10% of every bundle sold gets donated to charity! This equals $9.90 per bundle by default, but you can add $1.90 that by adding the Charity Bonus to your purchase.
So, that's all there is to it. If you are interested, use the following link to enroll. Thanks!
Claim your copy of DAVINCI RESOLVE 16 - SIMPLIFIED COURSE with 50% off! Get Instant Access!