The power of a well made and high quality ND filter can take your photography or videography to the next level, no doubt, but when you have to pack light or take a single ND filter, things get tricky. This is where a high quality Variable ND filter comes in handy. There are tons of cheaply made and quite poor filters out there, especially in the low range of the dollar scale, but investing a proper vari-ND filter can be quite beneficial and can serve as an integral and indispensable piece of gear in your camera bag. I've been using a 5 year old Genustech Eclipse Vari-ND (77mm front), which has been my workhorse, and it is still OK for the most part despite showing signs of age such as some light scratching.
However advancements in ND filter technology have come a long way in the past five years and better made filters have been available for some time. Hence why, I started digging around for a replacement and noticed that Aurora Aperture have have turned to Kickstarter for their PowerXND Mark II variable ND filter.
While certainly no replacement for 4 x 5.65 NDs, when I need to go light with my rig and can't be bothered to put a massive matte box in front of my Panasonic GH5s, having a good quality, colour neutral, screw-on variable ND filter just makes so much more sense.
According to Aurora Aperture Inc. their new PowerXND-II family is a major upgrade of the PowerXND 2000 filter introduced back in 2016.
The PowerXND-II family features a seamless range of 1 to 11 stops of light reduction capability with the PowerXND-II 2000, a 5-11 stop variable ND filter and a new addition, the PowerXND-II 128, a 1-7 stop ND filter.
"In 2016 we launched the PowerXND™ 2000, the world's first variable ND filter with up to 11 stops," said Jinfu Chen, founder and CEO of Aurora Aperture Inc. "Little did we know that our first inroad into the photographic filter business would be met by such great enthusiasm from our users. The new Mark II version incorporates many core technology advancements made since 2016, such as the improved nano-coatings from the PowerND family, the hard stop and direct reading scale from the PowerGXND family. "
Designed in California, the Aurora Aperture PowerXND-II retains a slim filter frame profile from previous generation to minimize vignetting on wide angle lenses – an important consideration for both photo and video applications. With an overall filter profile of 6.0mm, the Aurora PowerXND-II is still one of the thinnest among commercially available variable ND filters.
Check out their Kickstarter pitch below.
Aurora Aperture PowerXND Mark II Highlights/Specs:
Seamless coverage of 1 to 11 stops:

PowerXND-II 128: ND 2 – 128 (1 – 7 stops)
PowerXND-II 2000: ND 32-2000 (5 – 11stops)

Direct reading scale to allow users quickly dial-in to their desired value
Double scales are available starting at 52mm and larger sizes for the ease of adjusting to stop values
A new hard stop mechanism is added to limit the filter rotation within operating range
A new assist lever feature allows users to turn the filter easily, especially for videography

The lever is removable to allow future add-on of different type of levers

Equally sized front thread allows lens cap to be used and to install additional filters
Slim profile of 6.0mm
Schott B270 Super White glass
Nitto Denso polarization film
Direct reading scale
Dual scales for 52mm or larger
Same size front thread
Assist lever for 52mm or larger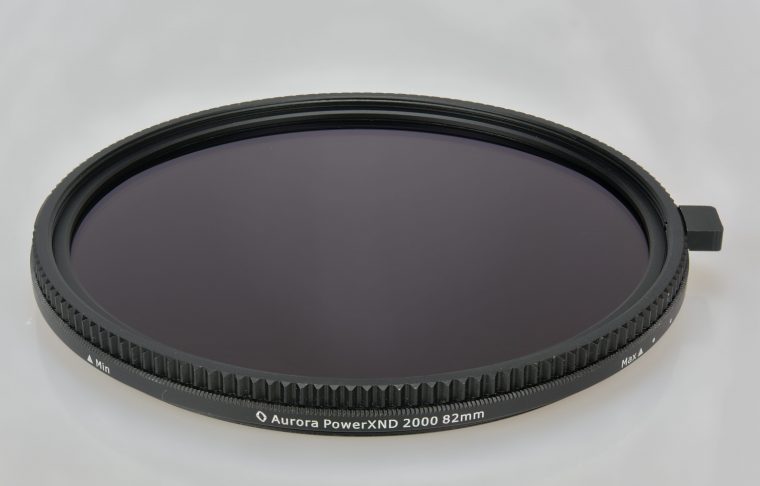 Available filter thread sizes:
37mm, 39mm, 40.5mm, 43mm, 46mm, 49mm,
52mm, 55mm, 58mm, 62mm, 67mm,
72mm, 77mm, 82mm, 86mm, 95mm, 105mm, and 150mm.
Schott B270 glass and high quality polarization film from Nitto Denko are used in the construction of the new PowerXND-II. Combined with a proprietary post-bonding polishing process the filters are able to meet the increasing high resolution demands of 4K/8K video and the high pixel density of modern day digital camera sensors.
Multilayer nano coatings are utilized for light reduction, thus minimizing colour shift. The PowerXND-II features high colour accuracy on par with the benchmark of fixed ND filters.
Lastly, a PFPE based nano coating is applied to the filter surfaces, ensuring the protection of the filter surfaces against water, oil, dust and dirt. This coating allows for easier cleaning of the filter as substances do not easily adhere and are easily removed. The PFPE based nano coating has a 110 degree static contact angle, one of the best in the industry.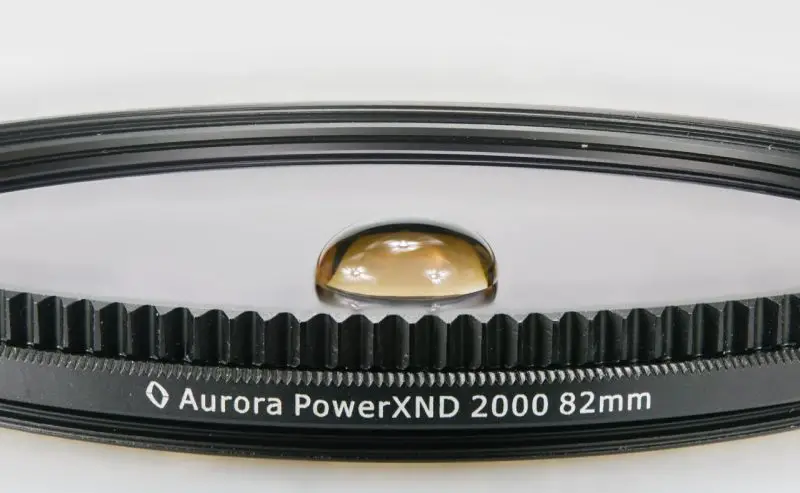 Availability and Pricing
The Aurora PowerXND-II filters will be available through kickstarter.com crowdfunding in June 2018 (there are 14 days left in the Kickstarter campaign as of the time of writing of this piece), and then will go to general public as well as dealers in September 2018.
Filter thread sizes are from 37mm to 105mm with list price start from US$55 to $699 based on filter sizes. A new 150mm size is added to the offering, along with a 150mm circular and square filter adapter for the Nikon AF-S 14-24/2.8G ultra wide angle zoom lens.
To take advantage of the early bird pricing head over to the Aurora Aperture PowerXND II Kickstarter campaign here.
Claim your copy of DAVINCI RESOLVE 16 - SIMPLIFIED COURSE with 50% off! Get Instant Access!