Many seasoned filmmakers will probably tell you that if you're planning on buying extra batteries for your camera, you should definitely get those from the OEM. Of course, there are also others who would encourage you to buy from a third-party instead. As tempting as it is to simply purchase genuine spare batteries, there are a lot of other brands that make the same power units for a significantly lower cost.
For example, while Sony sells their A7III batteries (NP-FZ100) for a ridiculous price of $78, there are several more brands that offer the same model for less than $50. Caleb Pike of DSLR Video Shooter covers a few third-party batteries designed to work with the A7III, helping you determine which battery you should invest in.
The goal of the above test was not only to discover which battery would last the longest but also to calculate which product provided the best value. Battery life was tested by shooting as many 4K video clips as possible after restarting the recordings once the camera reached the 30-minute recording limit. Based on the information gathered from the test, the battery life was determined along with the price-to-performance ratio (dollars per hour).
Brands that were tested in this test included Sony's genuine batteries, Newmowa, BM Premium, KaStar, Wasabi, LeiFire, and DSTE – all of which are established third-party brands known for their low-cost alternatives to OEM products.
Regarding battery life, there's no surprise that Sony's official batteries performed the best. With a runtime of 2 hours and 52 minutes, the Sony units were the longest lasting of all the brands. However, the NP-FZ100s are also the most expensive with a price tag of $78 per unit, or $27 per hour – the worst value compared to all the other rivals.
As expensive as Sony's own product may be, its price tag may be justified if you're an A7III user who requires as much juice as possible for your camera. In addition, if you're someone whose conscience would be at ease with a reputable brand – a.k.a the OEM – then the Sony battery may be indeed worth considering.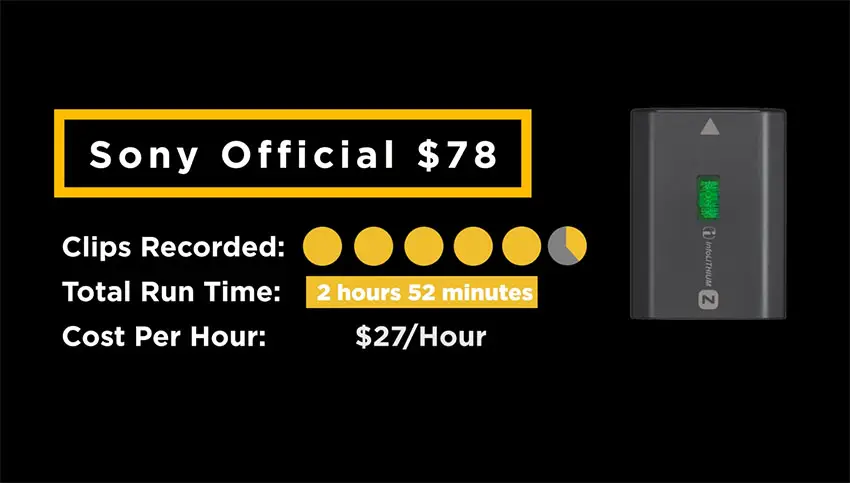 Of all the third-party brands tested, the battery with the best value would be from DSTE. Not only does it last for a surprisingly long 2 hours and 23 minutes, but it only costs $22. To be more specific, the DSTE battery has a price-to-performance ratio of $9/hour, and it costs $66 less than Sony's official offering. So, if you're on a budget and need to stock up on plenty of batteries, DSTE may be the brand you're looking for.
For those curious as to which third-party battery lasted the longest, that title belongs to the $45 one from Wasabi. Although the unit topped out at 2 hours and 29 minutes, the difference between the Wasabi brand and DSTE is minimal, giving little to no reason as to why you should spend an extra $23 for the Wasabi battery.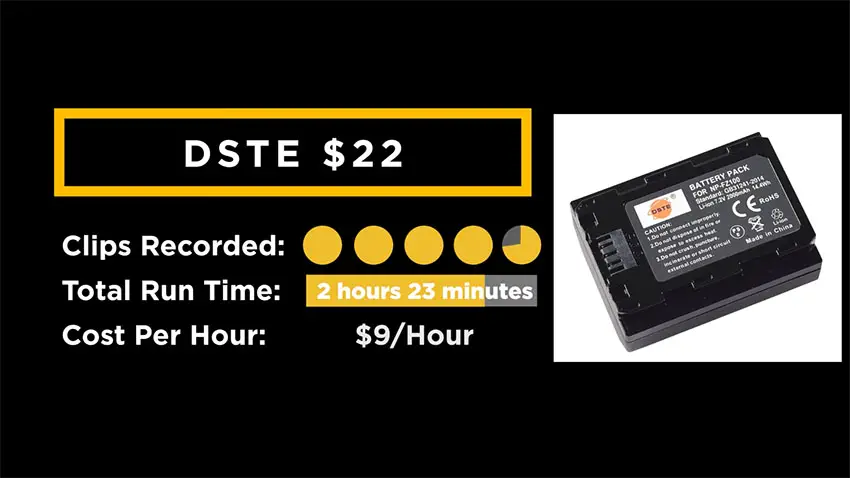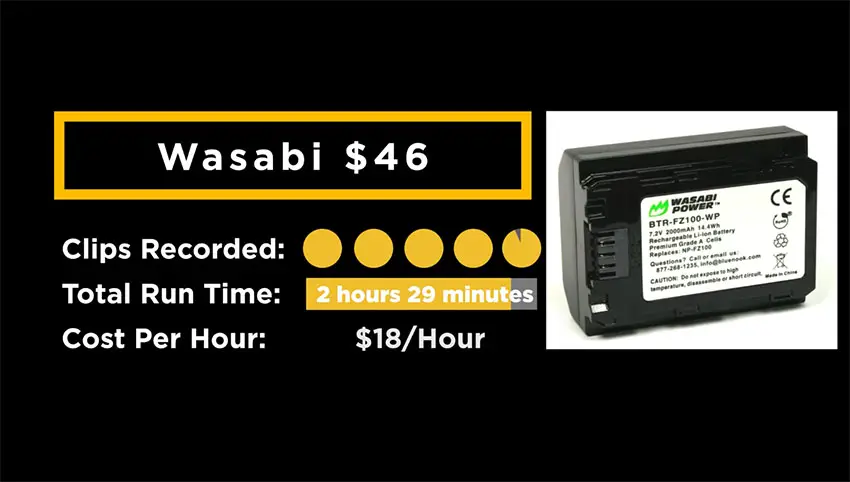 If you're looking for other ways to save money on powering your A7III, Mcoplus offers a battery grip for the A7III that allows you to install two batteries at the same time. For $70, the Mcoplus battery grip is much less expensive than competing brands, yet works just as well for a relatively lower price point.
Finally, if you're looking for an excuse not to purchase Sony's $80 charger for the A7III, check out the Newmowa Dual USB Charger for Sony NP-FZ100. Priced at a mere $14, you could buy the Newmowa alternative solution, plus three DSTE batteries for the same price as one Sony charger.
It is worth noting that while these third-party brands exist, you should still take caution in your purchase. Although the brands listed above have a strong reputation from consumers, they will never be as reliable as the OEMs themselves. So, if your accessories are to be used in highly demanding workflows, consider buying from the OEM rather than the third party to avoid any possible mishaps with your gear.
[source: DSLR Video Shooter]
Disclaimer: As an Amazon Associate partner and participant in B&H and Adorama Affiliate programmes, we earn a small comission from each purchase made through the affiliate links listed above at no additional cost to you.
Claim your copy of DAVINCI RESOLVE - SIMPLIFIED COURSE with 50% off! Get Instant Access!