Sony is joining the wireless microphone war with a trio of microphones that the company claims offer lightweight portability and exceptional sound quality.
The ECM-W3, ECM-LV1, and ECM-A10 are designed to cater to the needs of professionals in videography, podcasting, and live streaming.
ECM-W3/W3S
Aimed directly at the RØDE Wireless Pro and the DJI Mic which dominate the field, the ECM-W3 is created as a high-performance wireless microphone system that brings professional-grade sound quality leveraged by Sony's in-house camera circuitry.
However, Sony's design promises to be well-suited to any camera setup, no matter the brand.
The W3S system comprises a transmitter and receiver, both of which boast a familiar lightweight and portable design that can clipped to a belt or shirt pocket, while the receiver can be easily mounted on a camera or audio recorder.
Through the use of three 14mm large diameter capsules, the W3 captures the voices of vloggers and content creators clearly by focusing on delivering a natural, organic sound while reducing ambient noise.
The W3 comes equipped with a noise-cut filter and windscreen that eliminates wind, vibration noise, and heavy breathing while dampening out interference from the ambient environment.
The ECM-W3 also sets itself apart with advanced professional features, including an expansive frequency response, a minimal noise floor, and Sony's professional-level LC3Plus audio codec.
The W3S system also supports multi-channel operation, enabling users to connect up to four microphones to a single receiver, and users can connect it cable-free to Sony's Multi-Interface (MI) Digital audio shoe for direct recording with no interference and minimal latency.
There is also an option to attach the ECM-LV1 or other Lavalier microphone via its built-in 3.5mm minijack when it becomes necessary to have the mic hidden from view.
The W3 has a battery life of up to six hours of continual use, while the receiver can receive power directly from the camera's MI Shoe for extended usage. The transmitters can send an encrypted audio signal with a range of up to 492 feet using the LC3Plus Codec and Bluetooth 5.3,
The ECM-W3 is the same microphone system but with two transmitters and one receiver.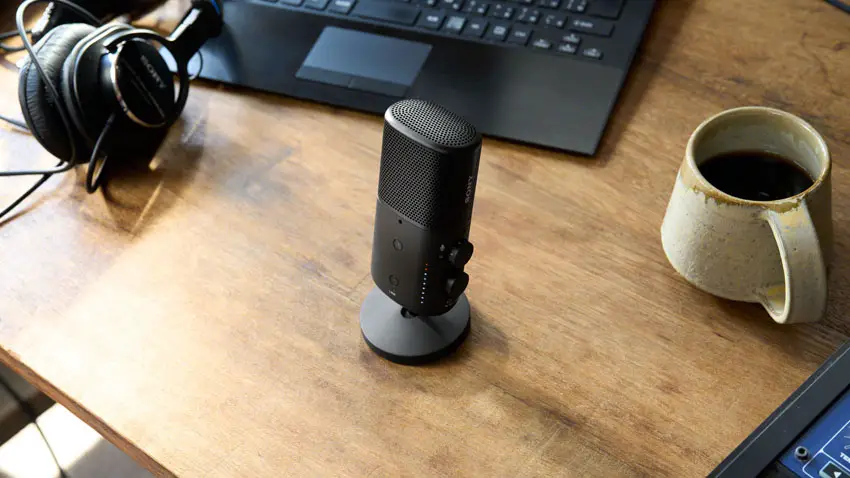 ECM-S1
Completing the trio is the ECM-S1, a compact and lightweight wireless microphone system tailored for live streaming and podcasting.
The S1 is designed to be user-friendly, offering straightforward plug-and-play operation, and transmits audio to an included dual-channel receiver via Bluetooth 5.3.
The S1 is capable of three separate capture modes using an onboard switch on the microphone. Monoaural unidirectional is ideal for narration, voiceover, and podcasting applications, while the Omnidirectional mode allows for multiple subjects or a room's atmosphere to be captured.
Stereo unidirectional is also included for music recording. An included pop filter reduces plosives when the speaker's mouth is close to the microphone.
The included desktop stand can be rotated 360° for optimal positioning. It can be easily attached or detached from the microphone. A 1/4″-20 thread at the bottom of the microphone connects it to a tripod or boom arm. It has an effective wireless range of 492 feet and a usable battery life of 13 hours of continual use.
Pricing and availability
The ECM-W3 is priced at $469, the ECM-W3S at $349, and the ECM-S1 at $419. The W3 comes with a charging case, MI Shoe cap, and furry windscreens.
All are available for preorder through authorized Sony dealers starting Thursday, September 28th, with an expected shipping date of sometime in October 2023 for the ECM-S1 and November 2023 for the ECM-W3 and W3S.
[source: Sony]
Order links:
Sony ECM-W3S Wireless Microphone System with Multi Interface Shoe (B&H)
Sony ECM-W3 2-Person Wireless Microphone System with Multi Interface Shoe (B&H)
Sony ECM-S1 Wireless Streaming Microphone System with Multi Interface Shoe (B&H)
Disclaimer: As an Amazon Associate partner and participant in B&H and Adorama Affiliate programmes, we earn a small comission from each purchase made through the affiliate links listed above at no additional cost to you.
Claim your copy of DAVINCI RESOLVE - SIMPLIFIED COURSE with 50% off! Get Instant Access!