Blackmagic Design today announced that the full release of DaVinci Resolve 15, its industry standard professional color grading software that has expanded well beyond its initial purpose, quickly becoming a one-stop-shop for editing, visual effects, motion graphics, color correction and audio post production software, is now available as a free download (there is of course still the paid Studio version too).
This is of course all possible thanks to all of you – the huge support from the Resolve community, who were instrumental in getting DaVinci Resolve 15 to its current full, live state by reporting various bugs thus enabling Blackmagic software engineers to make the software more reliable.
DaVinci Resolve 15 is a massive update that fully integrates visual effects and motion graphics, making it the world's first solution to combine professional offline and online editing, color correction, audio post production, multi user collaboration and now visual effects together in one software tool.
Blackmagic DaVinci Resolve 15 adds an entirely new Fusion page with over 250 tools for compositing, paint, particles, animated titles and more.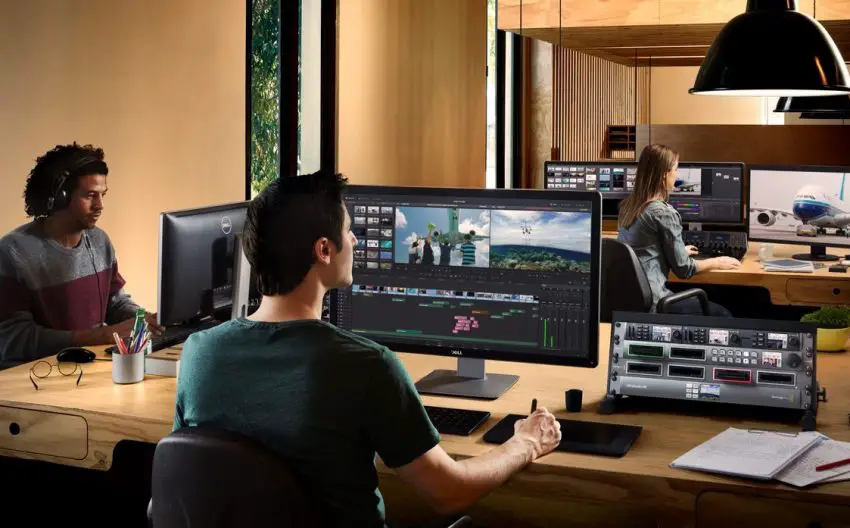 In addition, DaVinci Resolve 15 includes a major update to Fairlight audio, along with over 300 new features and improvements that professional editors and colorists have asked for.
"The public beta of DaVinci Resolve 15 has been download more than any other release, customers have provided incredible feedback, and more high end editors are adopting it faster than ever before," said Grant Petty, CEO, Blackmagic Design.

"Customers get an incredibly mature and fast set of editing and trimming tools that rivals all other systems, the world's most advanced color correction tools, a completely integrated digital audio workstation, and now Fusion visual effects and motion graphics. It's unlike any other software out there and is redefining professional multi user workflows in Hollywood and around the world! Now teams of editors, colorists, sound engineers and VFX artists can all collaborate and work together on the same project at the same time, all in the same software application!"
New DaVinci Resolve 15 features added since NAB 2018 include:
Improved performance when rendering H.264 clips
Clip names can be added as part of a window burn
Added support for HTML text formatting in subtitles
Added support for 2D and 3D title templates
Subclip extents can now be changed from the Edit timeline
Dynamic Trim icon has been added to the toolbar with slip and slide indicators
Audio automation data can now be edited on Fairlight page
FairlightFX now include presets and customers can now create their own
Sound libraries can now be created using DaVinci Resolve disk databases
Initial ResolveFX and OpenFX plugin support has been added to the Fusion page
New bypass Color and Fusion effects button has been added to all pages
Fusion compositions can now be copied and applied to additional clips
MediaIn nodes now let customers modify trim and media properties
Saver nodes have been added to the Fusion page
Clip level blanking output is now supported on the Color page
Nodes can now be assigned custom colors on the Color page
Compositing images with transparency has been improved
Optical flow performance has been dramatically improved
DCTL support has been extended and now supports ResolveFX
On-screen control for OpenFX and ResolveFX are now more responsive
Added support for encoding CEA-708 closed captions in MXF OP1a clips
Added support for encoding EXR clips with alpha channels
Added support for importing audio clip levels from AAF imports
New French and Portuguese language localization
Improved codec and format listing on the Deliver page
Simultaneous monitoring of SDR and HDR for DolbyVisionTM and HDR10+
New support for importing audio only AAF timelines
New support for Final Cut Pro X XML version 1.8
The DaVinci Resolve 15 makes huge leaps in terms of speed, with Blackmagic claiming a tenfold increase over the previous full version, but of course that's not all; the collaborative workflow is on another level too – it dramatically speeds up post production because editors and colorists no longer need to import, export or translate projects between different software applications, and work no longer needs to be conformed when changes are made. Everything is in the same software application.
The free version of DaVinci Resolve 15 can be used for professional work and has more features than virtually every other paid application for post production. DaVinci Resolve 15 Studio, which adds multi user collaboration, 3D, VR, dozens of additional filters and effects, unlimited network rendering and other advanced features such as temporal and spatial noise reduction, is available to own for only US$299.
There are no annual subscription fees or ongoing licensing costs. DaVinci Resolve 15 Studio costs less than all other cloud based software subscriptions and it does not require an internet connection once the software has been activated.
Head over to Blackmagic Design to download DaVinci Resolve 15 for free or get DaVinci Resolve 15 Studio for $299.
Claim your copy of DAVINCI RESOLVE - SIMPLIFIED COURSE with 50% off! Get Instant Access!