Of all the mirrorless cameras that have been released this year, the Sony A7 III is indisputably one of the most popular used by filmmakers all over the world. Not only does the camera strike a balance between price and performance unlike any other in the market but it also provides the utmost in video quality all for under $2,000.
While the A7III camera body itself may be enough to start shooting right away, a lot of folks recommend purchasing additional gear to help you build out your camera rig in a way that best fits your filmmaking style. In the video below, Caleb Pike of DSLR Video Shooter suggests an extensive list that covers some of the best accessories to add to your A7III.
If you're looking for a great all-purpose, non-Sony lens to use with the A7III, the Tamron 28-75mm f/2.8 Di III RXD seems to be an excellent option. For $800, this lens may be expensive for some, however, many professionals would say that its price tag is justified, thanks to its superb sharpness and constant f/2.8 aperture.
One common practice for a lot of Sony shooters is to use Canon lenses on their Sony cameras with the use of an accessory such as the FotodioX Fusion ND Throttle Auto Adapter. Not only will you be able to mount the Canon glass to your A7III, but it also includes an integrated variable ND filter. This is extremely useful when shooting outdoors in bright conditions. Keep in mind, though, that the adapter comes with a steep price as it will set you back roughly $190.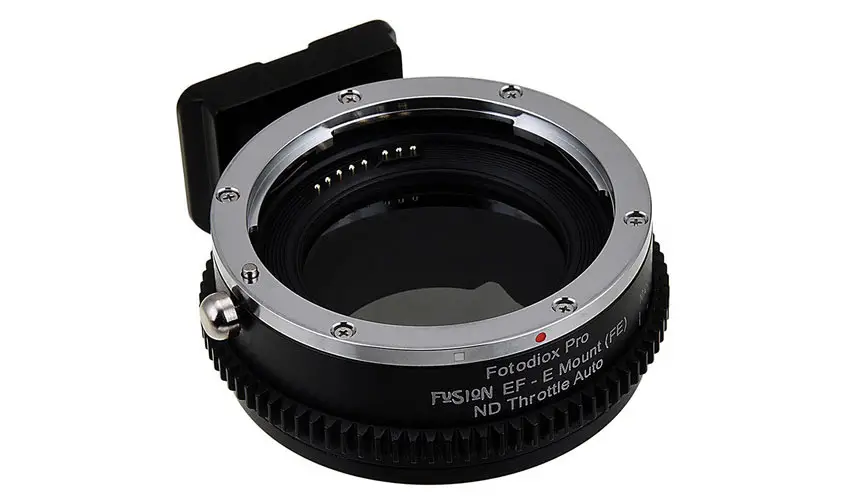 Needless to say, batteries are some of the most basic accessories you can buy for your A7III. However, purchasing Sony's genuine power units (NPFZ100 style batteries) have proven to be quite expensive. That being said, DSTE is a third-party manufacturer that delivers long battery life, all while keeping the cost low for buying extra batteries.
Furthermore, if you want to extend your shooting times without the aid of external battery packs, consider investing in an External Battery Grip. The grip featured in the video isn't from Sony, but rather a company called Meke who makes some very reputable camera accessories for models such as the A7III.
For a modest price of $120, the suggested battery grip not only improves the ergonomics of the A7III but also features a battery compartment on the side that allows for easy swapping on the fly without having to remove the camera from your rig. In addition, the grip supports up to two batteries to double your shooting time.
To help power your other camera accessories, consider purchasing the Power Junkie as well. In essence, this crowdfunded piece of hardware is a battery plate that allows you to run multiple attachments via a DC cable, USB A, USB Micro-B, and USB-C port. The compact unit can be powered using Sony NP-F style batteries and can output power to multiple devices at a time. You can use the Power Junkie to provide juice for your camera, in addition to accessories such as a RodeLink Wireless Filmmaker Kit.
Camera cages are another essential accessory for your A7III. Caleb recommends two SmallRig support systems for the device that are high-quality as well as sturdy and sleek. In addition, SmallRig even sells a variant of the A7III camera cage that supports a battery grip for those who use one on their own systems.
For camera monitors, the video features the 5″ SmallHD Focus – one of the most popular field monitors used by both enthusiasts and professionals in the industry. With an intuitive interface and crystal-clear 720p display, you will have no problems previewing and framing your shots with this device.
While SmallHD's offering is a definite crowd-pleaser, its $500 price tag makes it difficult for novices and budget filmmakers to swallow. In that case, the Sokani 5-inch On-Camera Monitor is an amazing alternative for $300. We have already covered its fantastic functionality and features in a separate post here.
If you're someone who often finds themselves using the Electronic View Finder (EVF), you may want to take a look at the G-Cup EVF Eye Cup. It's large, flexible design allows you to comfortably view your shots through the EVF, especially if you wear glasses. The construction of the eyecup is still soft enough to pull out and orient the on-camera screen if you need to do so.
Regarding audio accessories, one piece of gear worth taking a look at is the Beachtek DXA Micro Pro –  a multichannel pre-amp that can deliver better quality audio compared to the A7III's onboard pre-amp. For $144, you're getting a ruggedly built, compact audio powerhouse with all the ports you need to record pro-grade audio. This includes an XLR Mic Input jack with phantom power and a monitoring port.
To add to the pre-amp's value, there are several adjustable knobs in the front to control mic gain and headphone monitoring levels. This helps you properly preview your audio on set and nail your sound on-the-spot.
As far as microphones go, Rode's offerings are usually a viable option for most indie filmmakers. However, if you're looking for a less-expensive alternative, Azden's SMX-15 comes in at around $180. Besides the relatively low price tag, the SMX-15 is deemed by some as a microphone that can record better audio than the long-living legend the Rode Video Microphone.
In addition to high-quality audio, the SMX-15 also has several features to enhance the microphone's operational experience. This includes being powered by easy-to-find AA batteries and having the ability to automatically switch itself on and off depending on whether or not the camera is on.
Lastly, if you need a solid pair of monitoring headphones on your shoot, the Sony MDR-7506 is a product used by a multitude of professionals, both in film and professional sound mixing applications. With well-balanced acoustics and a comfortable, sturdy build, the MDR-7056 is a pair of headphones to throw in your bag for all your video shoots.
Overall, the Sony A7III is definitely a great camera on its own. However, by finding the right accessories, you'll be able to build out your own A7III rig in a way that is optimized for your production workflow. While the products listed above are considered to be some of the best on the market, it's always a good idea to look further and find the bits and pieces that will perfectly suit your specific filmmaking needs.
[source: DSLR Video Shooter]
Claim your copy of DAVINCI RESOLVE - SIMPLIFIED COURSE with 50% off! Get Instant Access!