No, this is not another fancy kitchen robot mixer. This is "Joey" –  a professional quality panoramic camera, allowing capture, broadcast, and live two-way teleconferencing in unprecedented 360º quality in up to 4K resolution.
I'm quite sure even guys from Google would be impressed by the concept of capturing live street view with a 4K capable panoramic video device such as "Joey" for a future projects. This is the third hardware product of US-based company Kogeto, which recently started a Kickstarter campaign dedicated to "Joey".
Joey integrates seamlessly into Kogeto's online panoramic video ecosystem after the successful launch of the two previous products of the company "Dot" and "Lucy", allowing users to instantly share 360º video with friends and colleagues, or easily integrate them into their own website, social media feed, content management system or evaluation system.
Kogeto is company founded by Jeff Glasse who has been innovating in the fields of digital media and video production for over twenty years.  He was also the founder of DIGIT New Media, an award-winning documentary and interactive production company, and was a chief architect of Cubist Post and Effects, one of the most successful post-production facilities in Philadelphia, United States.

The company aims to transform the way people capture and share video on the web by creating cameras that see the world around them and a web platform to let people share those experiences.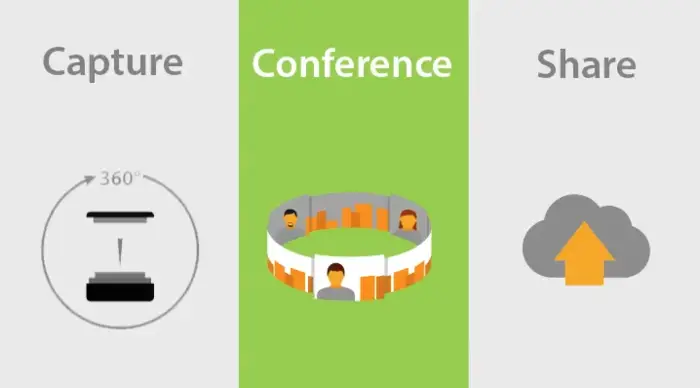 Compared to the previous products of the company Dot and Lucy, Joey is capable of capturing 360º panoramic video at 30fps with the astounding resolution of 3840 x 720 due to the built-in a Snapdragon™ 800 quad core processor and an integrated 13 megapixel sensor. The images produced by the camera are free from the seams, artifacts and color irregularities which other multicam panoramic solutions usually suffer from.
In addition, users could take advantage of the panoramic player for iOS or Android and can develop own 360º applications using the unprecedented quality that Joey provides.

One can easily navigate through Joey's menus via a 4″ touchscreen display. After two and a half years of developing, the camera is ready to get into production phase. Some prototypes were spotted on the set of a high-end video commercial project initiated by the car giant Lexus and on the premiere of the Hollywood blockbuster "Divergent" as well.
The hardware design of "Joey" is completed and Kogeto have confirmed that they have a proven contract manufacturer and vendors already. The shipping price of the Joey will be $1,299, however you can pre-order it with 42% off that price if you pledge for Joey's Kickstarter campaign, that already has 34 backers and more than $16,000 earned so far. For more info on Kogeto and other products they offer go to shop.kogeto.com.
Claim your copy of DAVINCI RESOLVE - SIMPLIFIED COURSE with 50% off! Get Instant Access!