In a somewhat surprising move earlier this month, Canon had released its first pro-level full-frame mirrorless camera – the EOS R. Designed to compete directly with rivals of top-dog mirrorless manufacturers like Sony and Panasonic, it seems that this time the Japanese behemoth has pulled out all the stops with their latest offering, or at least to a certain extent.
This includes integrating newer, higher-end sensor technologies, a brand new lens system alongside a bunch of some neat video features worth noting. Even though the camera should hit the market later this October, some early adopters have already had the opportunity to get their hands on Canon's latest marvel.
Jake Ratcliffe from CVP is one of those lucky guys as he shares his first impressions regarding the EOS R while going through some of the camera's specifications, including its pros and cons from a videographer's perspective.
First and foremost, the EOS-R takes advantage of a new sensor that's similar to the one found on the Canon 5D Mark IV, with a resolution of 30.3 Megapixels, powered by the DIGIC 8 image processor, and capable of recording up to 4K at 30 fps (UHD with a 1.76x sensor crop). As you decrease your shooting resolution, however, you are introduced to more frame rate options, including 1080p/60 and 120fps in 720p.
Shamefully, the video recorded internally in the EOS-R is still 8-bit 4:2:0. Nonetheless, you can choose to film in 10-bit 4:2:2 when recording to an external recorder via the camera's HDMI port. Another dealbreaker for many video shooters will be the massive 1.7x crop of the sensor applied when shooting in 4K. There could be possible workarounds in the future, but for now, that's indeed a big turn off for many 4K shooters.
In terms of color, the EOS-R utilizes either BT.709 or BT.2020 color spaces. Furthermore, the camera offers two color settings: Neutral Matrix or Cinema EOS Original, allowing you to seamlessly integrate the footage from your Canon Cinema and EOS-R cameras.
When it comes to picture profiles, it's no surprise that Canon included their famous C-Log preset, thus squeezing anywhere between 11 to 13.5 stops of dynamic range from the exquisite full-frame CMOS sensor the camera has. In addition, LogView assist is also available, allowing you to apply a temporary LUT to help you preview your shots on the fly.
For years, Canon has been praised for their cameras' ergonomics. This trend continues with the EOS R, wherein its magnesium body is designed to provide shooters with a sturdy ergonomic grip that feels extremely comfortable in your hand. In addition, the innovative MultiFunction button located near the EOS R's Electronic View Finder allows for convenient menu navigation and settings adjust, including left and right swipe/taps.
There's also a new screen on top of the camera that uses E-Ink OLED technology for more efficient power draw.
Another neat feature is the ability to close the mechanical shutter of the camera while swapping lenses which can help tremendously in protecting the sensor from getting dirt and moisture, especially when shooting in the field.
As mentioned previously, the EOS-R utilizes a brand new RF Lens Mount system specifically designed for their full-frame mirrorless lineup. At launch, Canon will be releasing four new lenses using the new mount: Canon RF 28-70mm f2L, Canon RF 24-105mm f4L IS USM, Canon RF 50mm f1.2L, and the Canon RF 35mm f1.8 IS STM Macro.
While this entirely new lens system may be inconvenient for experienced Canon shooters, the company has plans to release a series of adapters that allow you to use Canon EF lenses with the EOS-R, and with future cameras that take advantage of the RF lens system.
With all of these technological advancements found in the EOS-R, one may wonder how well the video looks coming from the camera. By evaluating the footage recorded both internally and externally in this test, it seems that the EOS R is more than capable of capturing cinematic video with life-like colors and natural skin tones.
During shooting, Jake also mentions the fast-acting performance of the EOS-R's autofocus. According to Canon, their latest camera's autofocus system is touted as the fastest autofocus system found in any mirrorless camera. With 5,600 autofocus points, easy touch screen focus setting, and with the new Dual-Pixel Manual Focus assist feature, you have no more excuses when it comes to getting sharp, crystal clear images.
Although Canon's camera definitely impresses, it does have one major caveat: the lack of In-Body Image Stabilization (IBIS). Without this feature, handheld footage may be difficult to record without an ungodly amount of jitters and shakes.
To compensate for this, however, Canon has implemented a feature called Dual Sensing Image Stabilization, which determines the level of image stabilization required when operating the camera with a compatible, IS-enabled lens.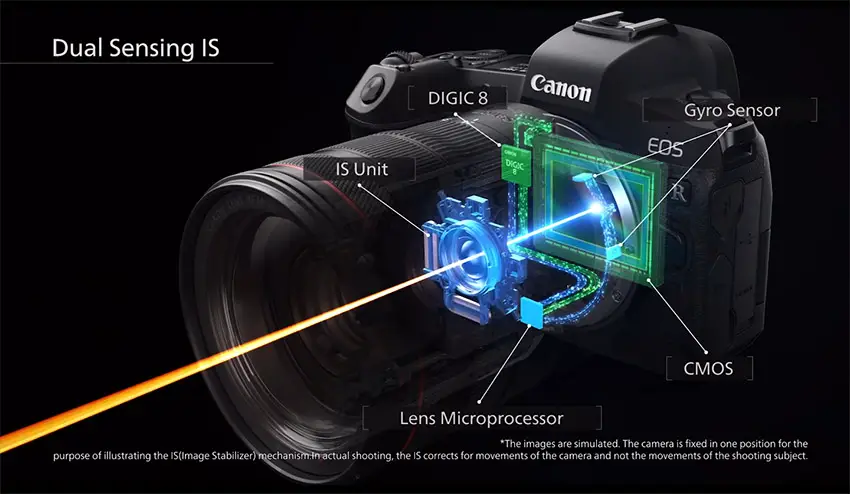 Despite that Canon's mirrorless line of cameras is still in its infancy, the company's years of experience in the photo and video industry has helped to develop a product that is ready to go head-to-toe against other rivals.
Until the final production units are sold and tested later this year, however, it's hard to tell whether the Canon EOS-R will be able to live up to the hype, especially when you consider the stiff competition in this particular market segment.
[source: CVP]
B&H Pre-Order Link:
Canon EOS R Mirrorless Digital Camera (Body Only)
Claim your copy of DAVINCI RESOLVE - SIMPLIFIED COURSE with 50% off! Get Instant Access!