Freefly Systems, the "Godfathers" of handheld gimbal stabilizers that were single-handedly responsible for the explosion of this exciting sub-segment of filmmaking gear that we now know as 3-axis gimbal stabilizers, continue to innovate and have just added another innovative addition to their impressive image stabilization system – the MoVI Wheels, designed to give gimbal operators that old-school feel of a "geared-head" wheels for an unmatched level of control and precision. The MoVi Wheels have been designed with flexibility in mind giving operators the choice of controlling Pan & Tilt, in addition to adding a third axis – the Roll, for extended control over the camera/gimbal movement.
The Movi Wheels are optimized to work seamlessly with the MōVI ecosystem, and are compatible with the beefy Movi XL, the MoVI Pro, and the MoVI Carbon (now available with the Panasonic GH5s, which we wrote about here).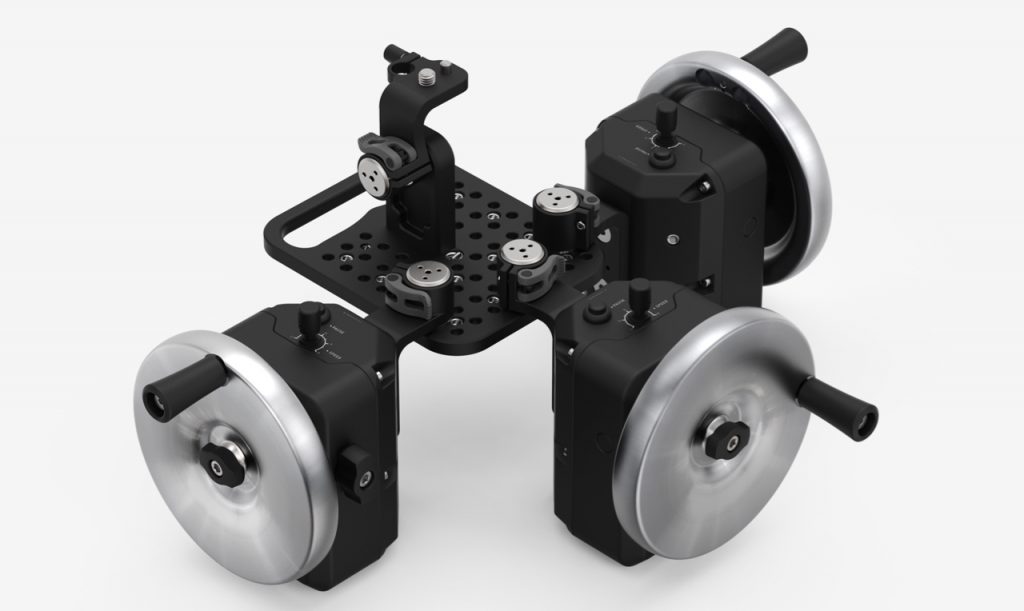 Introducing the MōVI Wheels:
The Freefly MoVI Wheels feature a modular, adjustable mounting base that allows the gimbal operator to quickly position each wheel module for maximum comfort. Freefly have also made it possible to easily adjust wheel friction, gear ratios, and toggle wheel modules on the fly.
For any of you who've ever used a geared head on a tripod, it is a whole new world of fluid movement, but it does take some time to get used to and mastering it takes a long time. I've only seen very experienced camera operators with large ALEXA setups use geared head wheels to control the camera movement, but the MoVI Wheels with some practice can get you halfway there. As with anything, practice makes perfect, and in my opinion more experience operators will have the upperhand here.
You can chose between solid brass or stainless steel wheels so as to suit your style depending on which feel you prefer – using "geared head" wheels like these is more of an art form than science in my opinion, some operators prefer brass, others steel.
When switching to wheel controls, MōVI parameters automatically adjust to give the most connected, precise and repeatable feel possible. The new MōVI Wheels feature a high-speed CAN network that allows users to connect up to 9 modules to the system—control Pan/Tilt/ Roll/Focus/Iris/Zoom as well as just about any future control input in the FreeFly MoVi ecosystem. 
In case you missed it, here is a recorded version of the MoVI Wheels livestream from earlier today:
MoVI Wheels Specifications:
Performance

Long range wireless control
High speed plug n play CAN network
Break single wheel off, or setup with multiple for complex system
Compatible with entire Freefly Ecosystem

Requires: Movi Controller, or MIMIC

Mechanical

Robust machined enclosures
Versatile and adjustable mounting options

25mm tool less adjustable mounting post
Integrated Rosette mounting option

Wheel position can be fine tuned for user preference
Friction lock allows user to define wheel friction / lock out wheel

Input

CAN
USB C
UART (5V)
Speed Knob
Pause Button

Output

CAN (12v) / USB C
UART / Tri color LED

Sensors

16 bit magnetic encoder is robust, precise, and compact

Expandability

Daisy chain up to 9 modules (including pilot modules)

Software

Tuned to optimally control MōVI product line
User updatable firmware via internal mass storage drive

Operation/Usability

Quickly control wheel direction, gearing, or kill wheel
Designed for minimum latency
Absolute position control of MōVI pointing
Easily assign any wheel to any axis regardless of its connection
Mix wheels and pilot modules for maximum flexibility

Compatible with:

Mimic
MōVI Controller
Pilot

Can control the following Freefly stabilizers:

MōVI Pro
MōVI XL
MōVI Carbon
M5 / M10 / M15
MoVI Wheels Pricing:
Single Wheel / Stainless Steel – $1,495
Single Wheel / Brass – $1,795
Two Wheel / Stainless Steel – $2,995
Two Wheel / Brass – $3,595
Three Wheel / Steel – $3,995
Three Wheel / Brass – $4,895
The MoVI Wheels are expected to start shipping within 1-2 weeks time from order. To learn more and order head over to Freefly Systems.
Claim your copy of DAVINCI RESOLVE 16 - SIMPLIFIED COURSE with 50% off! Get Instant Access!