You'd love to shoot 4K footage. Featuring approximately 4,000 horizontal pixels, 4K helps create sharper and detailed images. On the other hand, 4K post-production is inevitable. Not only should you fix possible incompatibility problem due to HEVC, but you also hope to make a better-looking than a raw file.
The expert 4K processing software – VideoProc is where's at when easy tricks to transcode and edit 4K videos are in need.
Easy & Quick Transcoding from 4K HEVC to H.264 etc.
Record a 4K 60fps video using the newest GoPro HERO7 Black and you will get an HEVC file. HEVC is widely recognized as a perfect codec for 4K, whose high efficient compression ratio can dramatically reduce video file size while retaining great quality. However, it is a CPU-intensive task to decode HEVC leading to choppy playback if you are using an underpowered computer. And, older devices, operating systems, and some media programs lack the native support of HEVC. Well, it turns to be a must to transcode HEVC to H.264 which has better compatibility.
VideoProc offers a 3-step video conversion solution. You can quickly get how to transcode in seconds thanks to the straightforward interface. Now, load your source 4K HEVC file > select H.264 as output format > RUN. An extremely fast performance can be appreciated. This program utilizes full GPU acceleration making full use of graphics cards – Intel, NVIDIA, AMD – to speed up 4K HEVC encoding, decoding, and processing. It's time to check the resulting file. It's in high quality. Details of images and audios are perfectly preserved.
4K transcoding of VideoProc is never limited to HEVC to H.264. It wraps 420+ outputs, including ready-made device profiles empowering you to convert 4K videos to AVI, WMV, MOV, FLV, WebM, iPhone, iPad, Samsung, Huawei, Xbox, Sony PlayStation etc, and even intra-frame formats good for editing in Premiere Pro, like Apple ProRes, GoPro Cineform.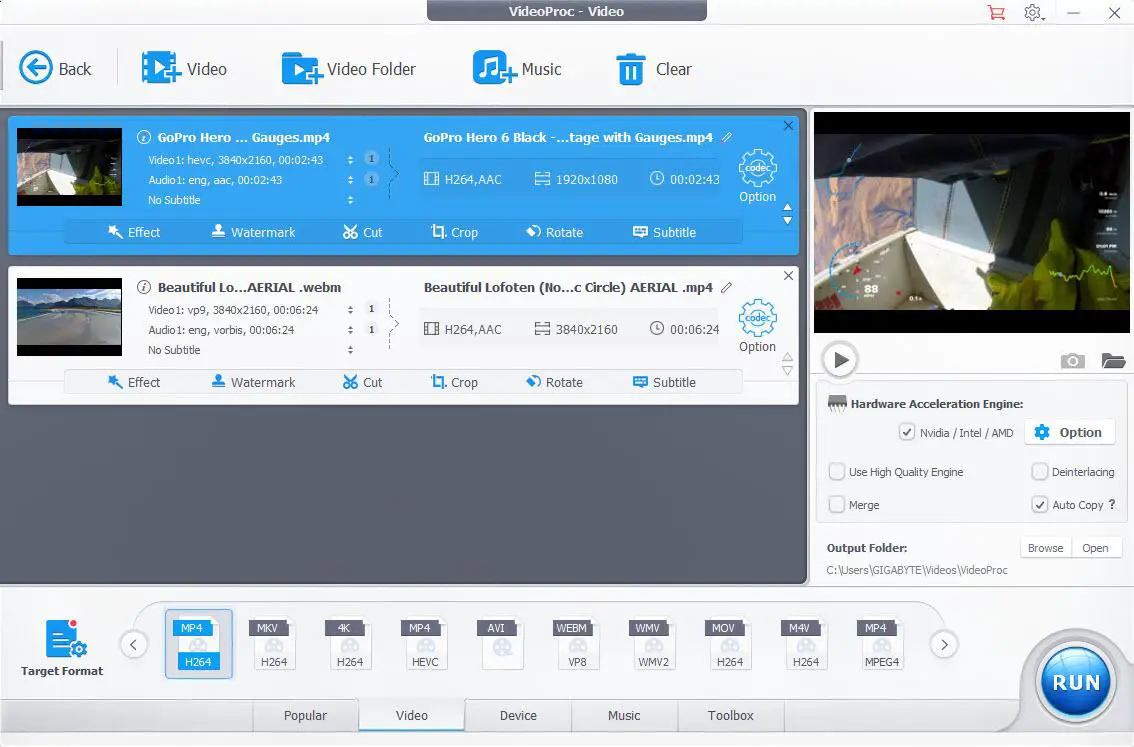 Get 4K Videos Properly Resized
You fail to share a 4K clip over the internet. It is probably because of large size. Although there is no specific restriction on size and length, you should have high bandwidth to stream 4K content. It's suggestible to compress 4K videos to make your online sharing smooth.
VideoProc gives several easy ways to resize 4K videos from GoPro, DJI, Sony etc, with lossless quality.
Adjust Parameters
Bitrate is the vital factor affecting video file size and quality. You can lower bit rate suitably to reduce file size while not compromising much quality.
If the 4K footage features variable bit rate, higher frame rate leads to larger file size. To decrease frame rate to 30fps can certainly resize video.
You can also downscale 4K to 1080P if you just have a 1080P display.
Cut & Split
Length is another key that impacts file size. You can cut redundant parts off a 4K clips to shorten the duration or split the whole video into multiple smaller parts for uploading to websites successfully and speedily.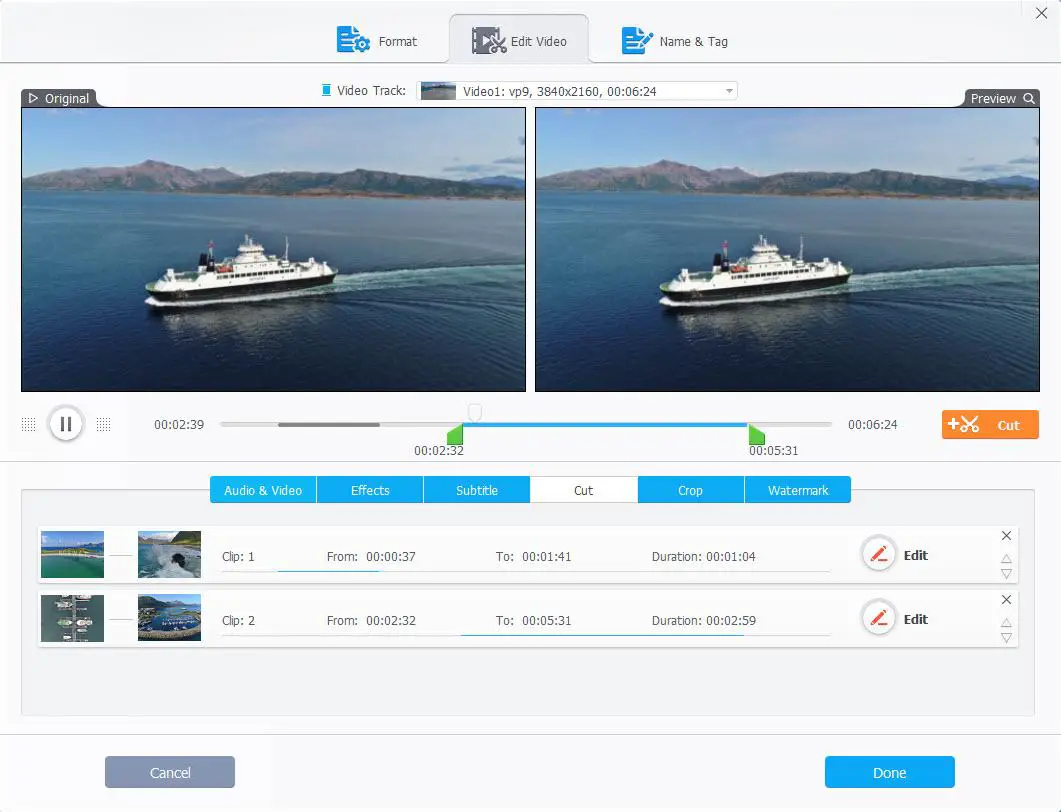 Transcode
As above-mentioned, HEVC can compress videos more efficiently so that a HEVC file is commonly smaller that videos encoded with other formats. If you ensure the site or device accepts HEVC, try to transcode 4K H.264 to HEVC.
Unfold the Editing Toolbox
VideoProc draws a batch of editing tools in a box. Open it and let's explore what the toolbox can do.
Additionally, you can make GIFs, extract frames from 4K videos; convert 4K 3D to 2D; add watermark/subtitle/effects and more using VideoProc.

All-in-one Media Processing Solution
VideoProc is more than a 4K video processor but also works as a DVD converter, video downloader and screen recorder.
It packs the ability to digitize DVD discs – unprotected and copy-protected – as MP4 (H.264), AVI, WMV, MOV, FLV, WebM, MKV, MPEG2 etc, as well as transfer DVD to iPhone, iPad, Samsung, Huawei, Xbox, PS3/4, YouTube, Facebook, Twitter and more in a breeze.
It downloads online videos from 1000+ sites, YouTube, Facebook, Twitter, Instagram, Vimeo included. Besides a single video, it can download a whole playlist or channel. Live videos can be got off as well.
It records screen and webcam simultaneously for you to create a tutorial video with a resolution of 1080P and hi-fi audio.
Get a Glance: VideoProc boasts handling any large-sized 4K footage from GoPro, DJI, iPhone, Android, Sony, and digital cameras. Both transcoding and editing can be easily accessed via this software. Easy navigation and fast performance turn it to be a perfect 4K video processing tool.
Claim your copy of DAVINCI RESOLVE 16 - SIMPLIFIED COURSE with 50% off! Get Instant Access!