ARRI have announced the immediate release of Software Update Package LF SUP 4.0 for the ALEXA LF camera. This firmware update provides significant new features for anamorphic shooting, advanced features such as improved dynamic defect pixel correction, compatibility with ARRI LBUS accessories, and important bug fixes.
Rental houses and production companies, who own an ALEXA LF as part of their fleet should note that the new LF SUP 4.0 requires the new ACDA4 Board. Therefore, LF SUP 4.0 should only be installed on ALEXA LF cameras that have previously undergone the "ALEXA LF 3.0 Software & Hardware Upgrade", which can be performed free-of-charge by ARRI service.
The ALEXA LF 3.0 upgrade includes the upgrade of an electronics board (ACDA3 gets exchanged for ACDA4), and LF SUP 4.0 requires the ACDA4 board. LF SUP 4.0 will not run on ALEXA LF cameras with the ACDA3 board installed (any camera currently running LF SUP 2.0 or LF SUP 2.1)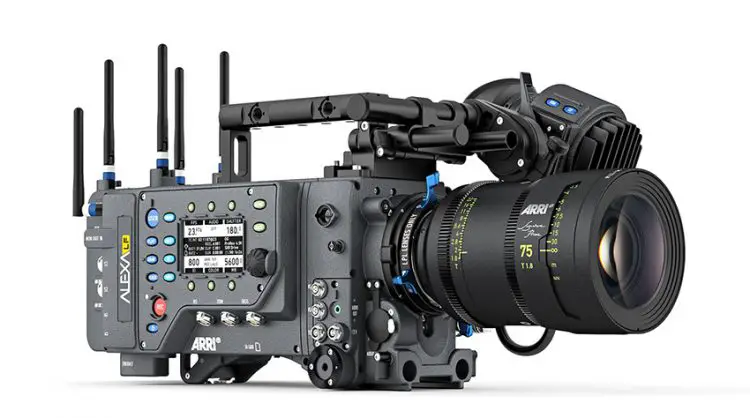 ARRI ALEXA LF SUP 4.0 Details
New anamorphic de-squeeze factors
LBUS support

The LCS to LBUS cable (K2.0007318) allows use of ARRI LBUS accessories
Including cforce mini motors, Operator Control Unit OCU-1 with override, Master Grips, LCUBEs and others

EXT Sync (sensor sync and settings sync)

Like in the Super 35 ALEXA cameras, it is now possible to precisely synchronize the sensors and the settings of two ALEXA LF cameras for 3D shooting or other applications that require a tight synchronization of the sensors.

Separate MAGNIFY values for each sensor mode
Project frame rate changes sensor and SDI frame rates
"False colour mode" menu item moved up

Moved up to be immediately visible without scrolling.
This is because it is important to be able to quickly look up if the false colour mode is set to "Mon.-based" or "Log C-based"

Improved dynamic defect pixel correction

ALEXA LF with LF SUP 4.0 now uses the same sophisticated dynamic defect pixel correction algorithm as the ALEXA Mini and AMIRA.

Timecode User Bits setting disabled
The ALEXA LF Software Update Package LF SUP 4.0 can be downloaded from the DOWNLOADS section at the bottom of the ARRI Large Format microsite at www.arri.com/largeformat.
No registration is needed, and the LF SUP 4.0 can be installed on the camera either by using an SD card directly on the camera (described in detail below) or from a computer via the ALEXA Ethernet Cable (K2.72021.0).
[via ARRI]
Disclaimer: As an Amazon Associate partner and participant in B&H and Adorama Affiliate programmes, we earn a small comission from each purchase made through the affiliate links listed above at no additional cost to you.
Claim your copy of DAVINCI RESOLVE - SIMPLIFIED COURSE with 50% off! Get Instant Access!