ARRI unveiled the ALEXA LF at this year's BSC Expo in London in addition to a brand new lineup of large format cine lenses known as the ARRI Signature Primes. I remember these two announcements caused quite a stir and were the talk of town during the show, signalling to many that "large format" cinematography (really a catch-all term created to distinguish itself from the more photographic "full-frame") is the new frontier and one that has possibly replaced the resolution K wars from years prior.
ARRI being ARRI, are making the best out of their industry gold-standard ALEVIII sensor, this time splicing two of them together to create a larger coverage area (I know, that's a crass oversimplification, but that's the gist of it), while retaining the same organic colour reproduction wrapped up in that sweet ALEXA magic.
ARRI going true 4K and large format – and some may say catching up to RED and Sony, when it comes to larger-than-S35 cinema cameras, but if nothing else – ARRI joining the big sensor fray is kind of a big thing, having a full-blown Netflix-approved 4K camera that is for sale and not the ALEXA 65.
So, naturally, when James from Phoenix, Arizona based film production company VISION5, Inc. sent me their ARRI Alexa LF test it piqued my interest. VISION5 recently took delivery of a brand new ARRI ALEXA LF and immediately put it to the test alongside an ALEXA Mini and some sweet Cooke S7i large format primes to see what the new true 4K ALEXA could do.
ARRI ALEXA LF – Camera Test from VISION5 Inc. on Vimeo.
From the test above you can see the LF gives off a wider field of view due to its larger sensor, which is of course to be expected. At this same time though, the larger image still maintains a pleasant and soft shallow DOF.
One of the most important aspects of the ALEXA LF that James and his team noticed is the ability to move into higher ISO's without adding as much noise. The Alexa LF is also equipped with a new noise reduction feature, which does help reduce noise without making the image too sharp or unpleasant at high ISO values 1600 – 3200.
To read more about their findings and thoughts on the new ARRI ALEXA LF head over to their website here.
ARRI ALEXA LF Highlights/Features
Large Format 4K ALEVIII Sensor (from the ALEXA family)
Compatible with Full-Frame Cine Lenses such as:

New ARRI Signature Primes
Cooke S7i
Sigma Cine Primes
Tokina Vista Vision etc.

Sensor is slightly bigger than 35mm full-frame
Familiar ALEXA SXT family body design
4K ProRes recording options
ARRIRAW at 150fps
SxS or SXR Capture Drives depending on configuration
Netflix/Amazon and other UHD/4K deliverables compliant
PL to LPL mount enables use of most S35 lenses
Wi-Fi enabled
Basic pricing starts at €74,000
Available now.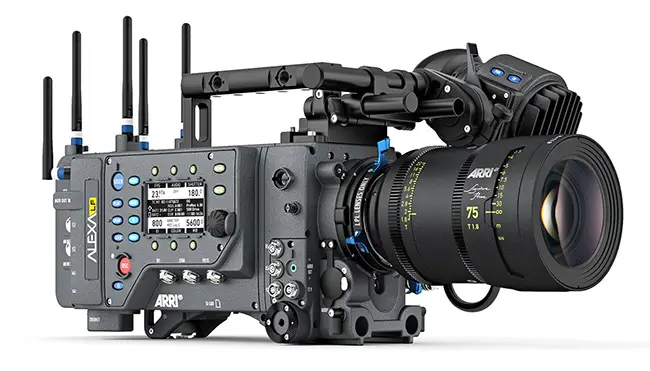 ARRI ALEXA LF Sensor Modes:
Open Gate:

36.70 x 25.54mm (4448 x 3096) at up to 90fps
44.71mm image circle coverage area
No surround view
Max resolution, uses full sensor area

LF 2.39:1 

36.70 x 15.31mm (4448 x 1856) up to 150fps
For full-frame spherical lenses
39.76mm image circle coverage
No surround view

LF 16:9

31.68 x 17.82mm (3840 x 2160) up to 90fps
36.35mm image circle coverage
Has surround view
Some S35 lenses can cover this mode
24mm and longer ARRI ULTRA Primes cover this mode
35mm and longer ARRI Master Primes cover this mode
To learn more about the ARRI Alexa LF features and workflow head over to my previous post here, where you can see some really helpful videos that ARRI have produced.
VISION5, Inc. is a film production company based out of Phoenix, AZ specialising in branded content, documentaries, and narrative and creative work.
For more tests and other happenings you can follow them on Instagram and Twitter here.
Claim your copy of DAVINCI RESOLVE - SIMPLIFIED COURSE with 50% off! Get Instant Access!