Popular Australian audio gear maker RØDE Microphones, has just launched the RODECaster Pro, which they are pitching as "the world's first fully integrated podcast production studio" to the ever growing market of podcast creators. Whether you are looking to start podcasting, or already are doing it, the RODECaster Pro looks like a versatile and rather compact solution that can be used both in the studio for professional podcasters as well as full-time creators on the move.
As someone, who used to podcast a few years back with barebones equipment, knowing that something like the RODECaster Pro now exists, it really makes me want to get back to podcasting. RODE have made it possible for literally everyone with a dream to create professional-quality podcasts will be able to do so seamlessly with this new and powerful platform.
"We released our first podcast product, the Podcaster USB microphone, in 2004," says RØDE Founder and Chairman, Peter Freedman AM. "Since then, our broadcast microphones, especially the Procaster and RØDE NT-USB mics, have become the microphones of choice for the growing podcasting and vlogging world.

"The RØDECaster™ Pro Podcast Studio is a real passion project for us here at RØDE, and the natural next step in our mission to democratise the tools of creativity. "The RØDECaster™ Pro puts a professional level studio in the hands of everyone – whether they are just starting out or are a seasoned professional. There is nothing like this in the world!"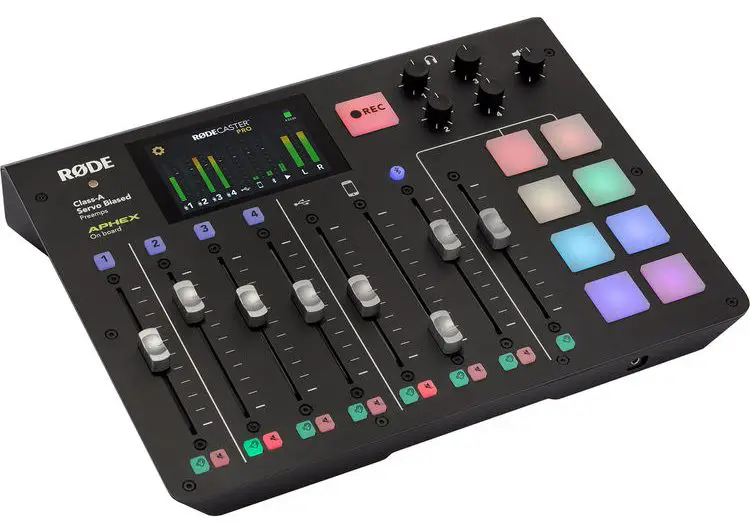 RODECaster Pro Features:
4 x XLR inputs for pro microphones:

Class A, servo based inputs able to power studio condenser microphones as well as conventional dynamic microphones.

Separate inputs for:

3.5mm TRRS (phone or device)
Bluetooth (phone or device)
USB (for music/audio or app calls)

Pristine audio quality phone and app calls – with no echo (mix-minus). 

Easily adjust levels – no extra gear or messy set-up involved.

Programmable sound effects pads:

8 colour coded sound effects triggers for programmable jingles and sound effects.

Programmable in the RØDECaster Pro or from your computer via the software.
APHEX Exciter and Big Bottom patented processing for that rich, warm tone only found in professional broadcast systems.

Also includes multistage dynamics: compression, limiting and noise-gating.

Full Colour, High-Resolution Touch-screen

allows easy control of all settings, including EQ presets for a range of professional voicing.

Four high-power headphone outputs and stereo speaker out:

each with independent volume controls.

Records direct to microSD Card 

for completely self-contained operation,
or to your preferred computer and software via USB.

Live streaming capability!
TRRS, USB, and Bluetooth Connectivity
4 Discrete Headphone Outputs
Pre-order: $599 at B&H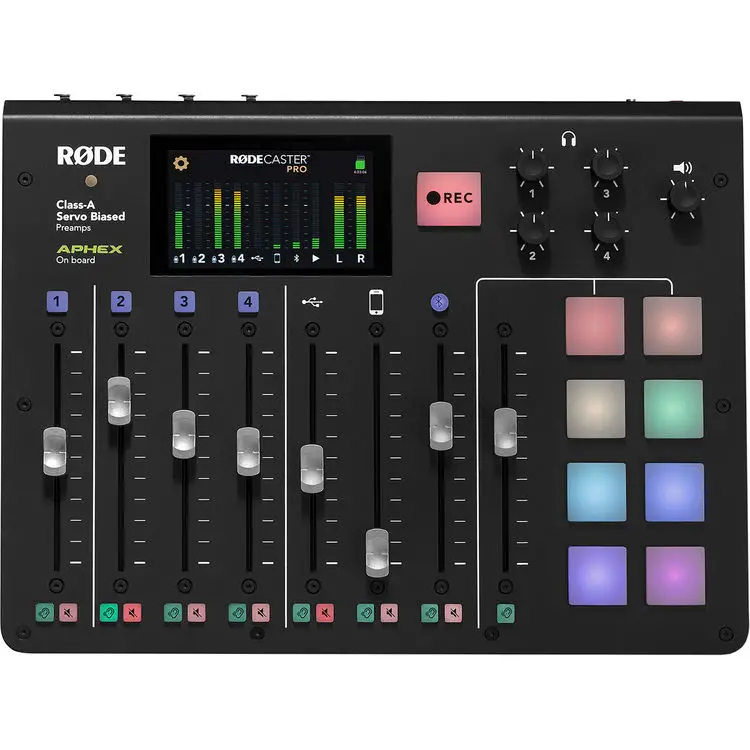 The RODECaster Pro gives podcasters the opportunity to record and mix podcasts on the fly with up to 4x microphones, thanks to the high quality XLR mic inputs, 4 discreet headphone outputs, remote guests on calls, music, and pre-recorded segments going on all at once.
You can save your recordings directly to an onboard microSD card or to your computer via USB. RODE have made it easy for content creators by including intuitive and ergonomic controls and a large full-colour touchscreen.
The RODECaster Pro is A class-compliant USB audio interface, meaning you can connect the unit to your computer via USB, and record a stereo mix of your podcast to your favourite DAW or recording software, while at the same time bringing music in from your computer into the dedicated USB channel.
The RODECaster Pro Podcast Production Studio will be available for sale in December 2018 and can be pre-ordered now for $599 from authorised dealers such as B&H via this link.
Claim your copy of DAVINCI RESOLVE - SIMPLIFIED COURSE with 50% off! Get Instant Access!