RED Digital Cinema has just added the Dragon-X 5K S35 sensor option into the unified DSMC2 system. The Dragon 5K S35 sensor addition to the DSMC2 lineup marks the 4th option cinematographers now have when choosing a sensor for the simplified, and unified DSMC2 family, which also includes the Gemini 5K, the Helium 8K S35 and the top-tier Monstro 8K VV.
The 13.8 megapixel Dragon-X Super 35 sensor has 5120 × 2700 effective pixels and tops-out at 5K/96fps using the full sensor, or 5K/120fps if using the 2.4:1 mode; and 150 fps at 4K 2.4:1 (4096 x 1728) respectively.
Moving into a DSMC2 unified body offers many benefits including the new standard, and more streamlined in-camera IPP2 image pipeline and better data rates of up to 300 MB/s. The sensor board has been redesigned as such to accommodate such benefits inherent in the DSMC2 system, and of course, you also get simultaneous REDCODE Raw and ProRes or DNxHR/HD recording options.
With features like cable-free peripherals, integrated media bay, wireless control, and more—DSMC2 is also compatible with a growing arsenal of modules and accessories—from RED and other Third-Party manufacturers. Tack on interchangeable OLPFs and lens mounts and DSMC2 give you the ultimate control over your footage.
The RED Dragon-X 5K S35 brain is currently priced at $14,950 and can be ordered direct from RED.
An upgrade path to go from Scarlet-W to DSMC2 Dragon-X is available for $4,950.
RED also introduced a new DSMC2 Production Module with pretty much all necessary connections and outputs to make your DSMC2 brain into an actual usable camera for high-end productions.
Designed for professional shooting configurations, the DSMC2 Production Module (V-Lock) mounts directly to the DSMC2 brain (regardless of which sensor you go with within the new unified family) and offers a comprehensive array of video, power, communication, and pro audio connections. Constructed from lightweight and durable aluminium alloy, this module incorporates an industry standard V-Lock mount to power your DSMC2 camera when using RED BRICK®, REDVOLT-V, or other V-Lock batteries.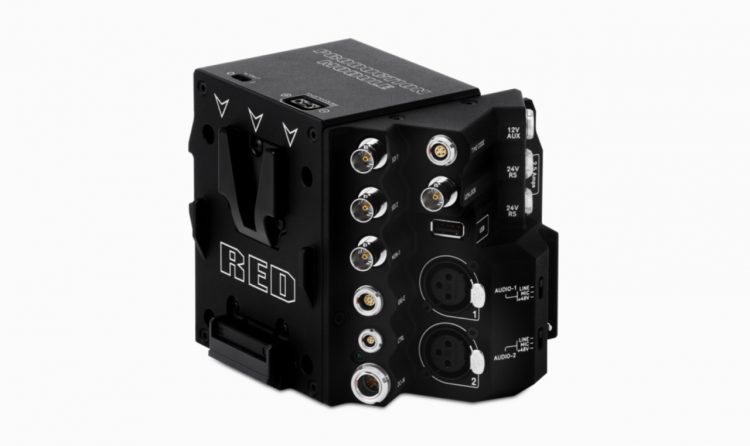 The Production Module includes 3 x BNC (SDI) video connectors for maximum monitoring flexibility on-set. Two connectors output a cloned 3G-SDI signal, and one connector serves as an independent monitoring output.
RED DSMC2 Production Module Features
To make it easier for you and your AC on set the RED DSMC2 Production Module has you sorted when it comes to on-board monitors, wireless video transmitters, wireless lens control, and focus assist systems, since the new module includes multiple auxiliary power outputs such as:
2 x front-facing 3-Pin Fischer R/S ports

support Remote Start/Stop functionality
provide 24V power out up to a combined 2.5 Amps.

A front-facing 2-Pin 0B LEMO AUX PWR port

provides power out up to 3.0 Amps.

A 2-Pin P-Tap connector on the top

provides power out up to 3.0 Amps.

A rear-facing USB 2.0 port with support for fast charging:

offers 5V at 1.5 Amps for powering small mobile devices.

2 x XLR inputs

each XLR input features a 3-position selector switch to designate the incoming audio signal type:

Balanced Line Level,
Balanced Mic Level, and
Balanced Mic with +48V phantom power.

Additionally, a 3.5mm line-level headphone jack allows users to monitor audio during takes and in playback mode.
The module also features ports for power in (DC IN), Genlock (BNC), Timecode (LEMO), GIG-E, and CTRL.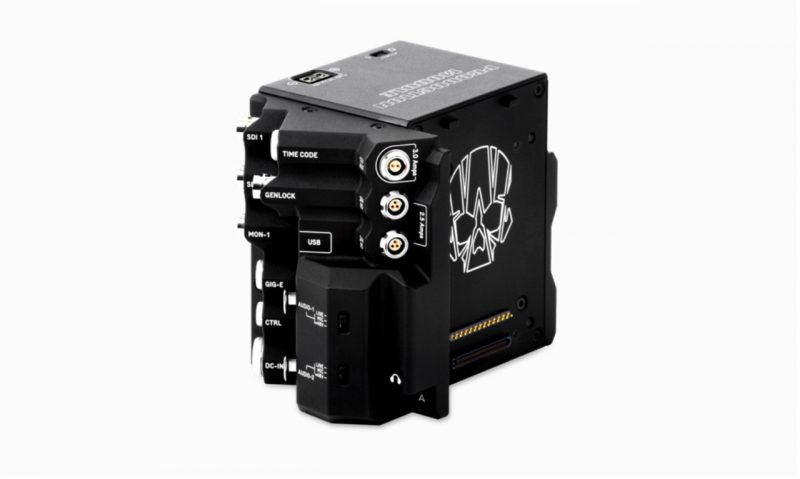 The module RED DSMC2 Production Module is priced at $4750 and you get get the full specs and more info by heading over to RED's website here.
Claim your copy of DAVINCI RESOLVE - SIMPLIFIED COURSE with 50% off! Get Instant Access!