One of the most recent firmware updates of the Panasonic GH5, allows video shooters to capture footage while using 400Mbps All-I compression, resulting in even better image quality when recording internally. Due to the increased bitrate, though, you have to use a card that is at least V60 class or higher, with a minimum write speed of 60MB/s.
Despite the minimum requirement, there's a multitude of filmmakers who have reported that many V60 class SD cards are incompatible with the new codec, failing to record more than a few seconds of footage. Fortunately, David Mathews of 30FIVE Millimeter goes over one particular SD card that is more than capable of handling the GH5 ALL-I 400Mbps recording.
In essence, the FreeTail Evoke Pro 1000x is a V60-class SDXC card that boasts a peak write speed of 240 MB/s which is far beyond the minimum requirement when using the All-I codec. The card comes in varying capacities, though the model tested in the video is the 128GB version that retails for $85.
Before trying out the memory card with the GH5, Mathews first tested the card on a computer using the Blackmagic Design Disk Speed Test. From the benchmark, the Evoke Pro 1000x produced a write speed of 74.6 MB/s and a read speed of 84 MB/s which is much lower than the advertised peak speed, but still well over the minimum write speed requirements of All-I (400Mbps) recording.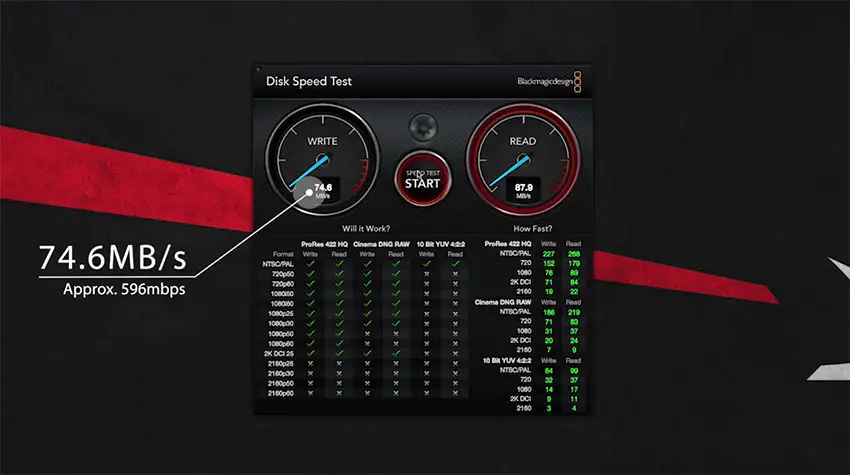 When using the memory card with the GH5, the Evoke Poor 1000x performed extremely well, capable of completing the five-minute recording test successfully. So, if you're concerned about potential drop frames or any other potential issues, there's no need to worry about as the test footage revealed no noticeable imperfections or any other artifacts whatsoever.
Based on the tests conducted in the video, it's safe to conclude that if you're looking for a memory card that can reliably handle 400Mbps All-I recording in your GH5, the Evoke Pro 1000x may be indeed the one you're looking for.
[source: 30FIVE Millimeter]
Amazon Link:
FreeTail Evoke Pro 1000x 64GB Micro SDXC UHS-II/U3 Card
Claim your copy of DAVINCI RESOLVE 16 - SIMPLIFIED COURSE with 50% off! Get Instant Access!