Gudsen MOZA, a world-leading brand in handheld gimbal stabilizers that many filmmakers are familiar with already, are proud to announce that the MOZA Air 2 is featured as one of the accessories for the launch of the Nikon Z6 Filmmaker's Kit. With handheld gimbals being considered these days as pretty much a required part of any mirrorless camera setup that shoots 4K video, having a compact handheld gimbal you can pack in a back pack easily solves a lot of hassle.
The MOZA Air 2 handheld single grip gimbal seems like the perfect companion to the Nikon Z6, now part of the Nikon Z6 Filmmaker's Kit, offering users versatility, compatibility, and reliability with up to 9lbs payload capacity with 16-hour long battery time, Smart Time-lapse, 8 Follow Modes, Intelligent Operations, Compact Design, and the entire MOZA Ecosystem including iFocus (Intelligent Wireless Follow Focus system).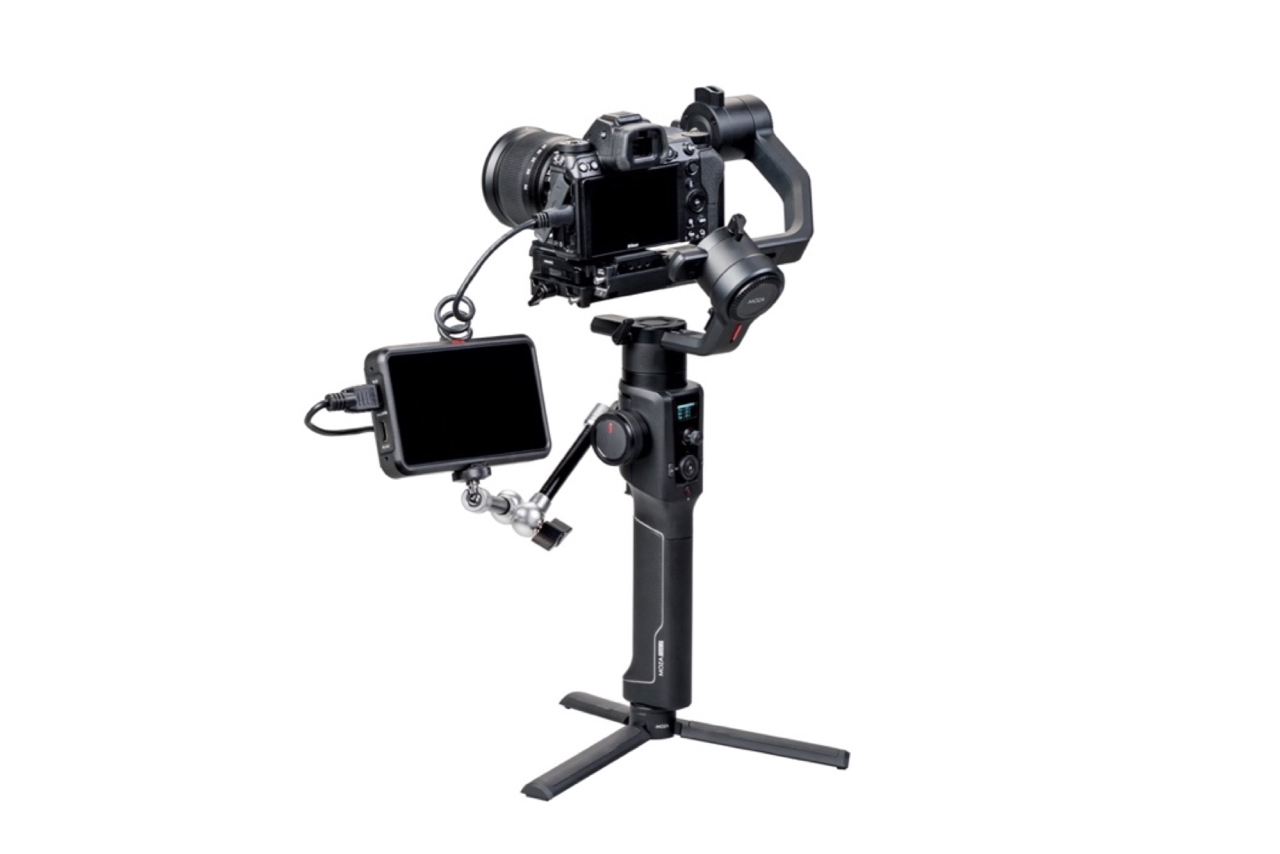 Moza Air 2 Features
Powerful torque motors
4.2kg maximum payload
Wide range of camera support:

Sony alpha series – A7III, A7s II etc.
Nikon Z6/Z7,
Panasonic GH5/GH5S, Canon DSLRs
Even Compact S35 camcorders FS5, similar
although balance with these may be tricky depending on your setup

16-hour long operating time with 4 replaceable high-rate Li-on batteries
Upgraded smart time-lapse
OLED display & Custom parameters
"4-Axis" and 8 follow modes
Compatible with the MOZA ecosystem of professional accessories including:

follow focus system,
MOZA thumb controller,
camera cage,
camera backpack and more

Price: $599 at B&H
At Photokina 2018, I had a chance to check out the Moza Air 2:
The Nikon Z6 Filmmaker's Kit includes a Nikon Z6 mirrorless full-frame camera, the aforementioned MOZA Air 2 3-Axis Hand-Held Gimbal Stabilizer, the NIKKOR Z 24-70mm f/4 S lens, FTZ lens mount adapter, the excellent Atomos Ninja V 4K HDR 5" Monitor Recorder, the Rode VideoMic Pro Plus, 2x EN-EL15b batteries, a coiled HDMI cable, a 12-month Vimeo Pro membership and a complimentary Nikon School Online class.
MOZA Air 2 adds more production value to your shots by getting your already very capable Nikon Z6's stellar video capture potential the smooth footage it deserves. The Nikon Z6 + Moza Air 2 combo with the Atomos Ninja V (the makers of which have already announced they will support ProRes RAW out of the Z6 to be recorded onto the Ninja V – read more about it in my previous post here) should make for an awesome event/wedding filming package or for those creators looking for an affordable and portable solution for travel videos or vlogs with a more polished look.
Thanks to the Type-C interface cable and a micro-Type-C adapter, the MOZA Air 2 gimbal allows Nikon Z6 users a way to conveniently start and stop recording through the gimbal with other features planned via future firmware updates for the Moza Air 2.
The kit will be available in February 2019 for a suggested retail price of $3999.95 and can be pre-ordered now at major authorise dealers such as B&H and Adorama.
For more specs and features of the Moza Air 2 head over to Gudsen's website here.
Disclaimer: As an Amazon Associate partner and participant in B&H and Adorama Affiliate programmes, we earn a small comission from each purchase made through the affiliate links listed above at no additional cost to you.
Claim your copy of DAVINCI RESOLVE - SIMPLIFIED COURSE with 50% off! Get Instant Access!