Blackmagic Design just released Camera Update 6.1 for the Blackmagic Pocket Cinema Camera 4K. Camera Update 6.1 adds pixel remapping and 2:1 monitoring frame guides to the Blackmagic Pocket Cinema Camera 4K, along with improvements to the media formatting interface, better audio monitoring and cleaner recording from the internal microphones, faster auto focus, improved battery life and more.
Many of us were expecting to see Blackmagic RAW in the Pocket 4K camera, but it won't be in this firmware release. Have faith, BRAW in the Pocket 4K camera will probably happen at some point this year, my guess (and I stress – this is my guess/prediction, I have no knowledge of when, and if, it will happen) is that Blackmagic Design will add it to the camera probably around NAB 2019 time in April.
In any case, big features in Camera Update 6.1 to me are the pixel remapping feature – which is basically a new way to recalibrate the sensor and fix "hot pixel" issues. It can be performed the same way you would "black balance" (which some may say is the same thing as pixel remapping, but I am no engineer so don't hold me to it). Just make sure you have the lens cap attached to the front of the lens and then just access the pixel remapping feature in the menu; it takes about a minute according to the newly updated BMPCC 4K operating manual.
It is also nice to see Blackmagic Design improve the battery performance in the Pocket 4K camera, which as many of you know is not great. As soon as I get some time, I will report on my findings after installing Camera Update 6.1 soon. Check out my hands-on review of the BMPCC 4K via this link here.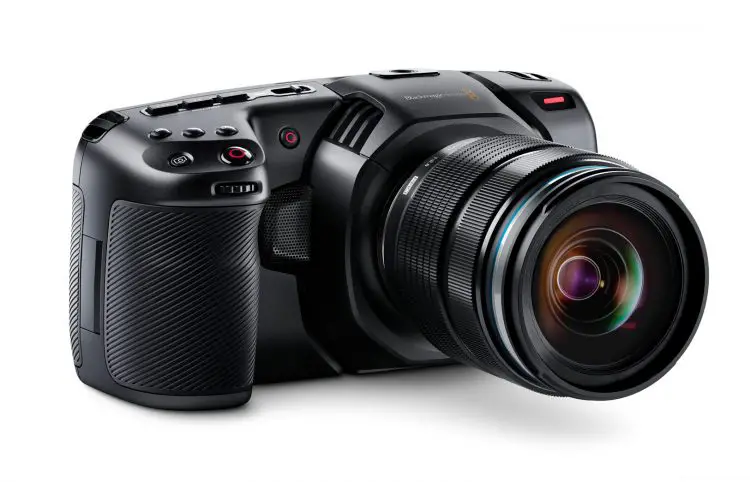 Blackmagic Camera 6.1 Update Details
New Features/Fixes for Blackmagic Pocket Cinema Camera 4K:
Support for pixel remapping in camera.
2:1 monitoring frame guide.
Improved media formatting user interface.
Improved audio monitoring latency performance.
Improved auto focus performance.
Improved signal to noise ratio performance of camera internal microphone.
Improved power efficiency for improved battery life.
Improved 3.5mm audio input selection interface.
Improved AV sync performance.
Fixed an issue:

where time and date is not updated on camera when connected to the Blackmagic Camera Setup utility.
where the 3.5mm audio input level is 6dB lower than expected.
with auto focusing with Lumix 20mm f/1.7 lens.
where some USB-C external SSDs were not detected when connected before camera is powered up.
where some batteries might shut off earlier than expected.
where low battery indicator is not displayed appropriately.
with camera not being detected by host computer when connected to certain USB ports.

Updated dynamic range and ISO chart in user manual.
Camera Update 6.1 adds no new features or fixes for other camera models in the Blackmagic lineup.
If you are a BMPCC 4K owner, head over to Blackmagic Design's website to download the latest firmware update.
Claim your copy of DAVINCI RESOLVE - SIMPLIFIED COURSE with 50% off! Get Instant Access!