MASV.io (massive.io), the world's leading provider of browser-based, accelerated file transfer technology, today announced a major product expansion dubbed MASV 3.0 that seeks to eliminate the need for video and creative professionals to ship hard drives cross-country or internationally. Sending huge 10, 20GB files of 4K, UHD or whatever resolution footage to a different physical location can often be a major hassle, and even though there are other alternatives from companies such as Google, WeTransfer, and Dropbox, MASV claim they are "… the world's fastest file transfer solution for massive video files." 
And while I can't say that I have personally tested this claim, I can say that I've used both Dropbox and WeTransfer in the past to transfer large files with some generally mixed results, hence why I am eager to give MASV a try on an upcoming project where I will need to think of a large-file-transfer solution.
MASV.io doesn't require special plugins, software or any special hardware – it just works straight from your browser. The new update also offers MASV on a mobile device and improves the user interface and uploader. MASV 3.0 has been re-engineered to support lower bandwidth rates and more transfers than ever.
One more benefit is the pay-as-you-go model, that does not tie you into a contract (because not having another monthly subscription to worry about is actually a good thing). Users pay about $0.25 per GB, and thanks to the MASV.io calculator, you can calculate exact costs for sending X amount of data and show/bill your client.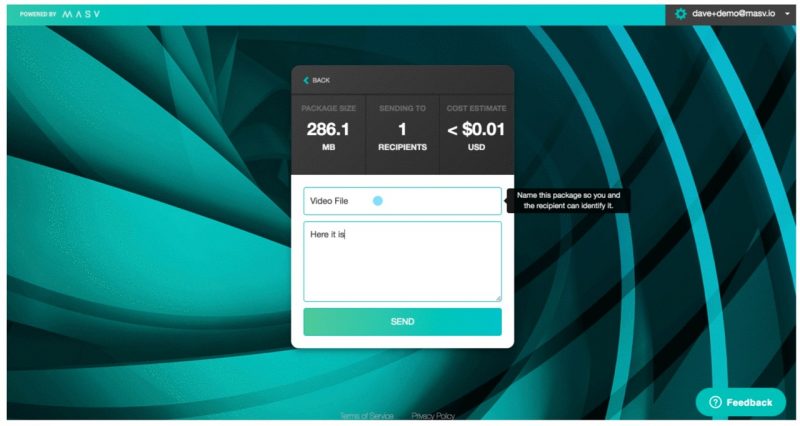 MASV 3.0 boasts a range of new capabilities, including faster, more reliable file transfers on a larger global network. MASV's expansion to 160 new server locations power a global network that now delivers some of "the quickest upload times in the industry". The simple and reliable new MASV makes the need for file-delivery-by-hard-drive an obsolete and wasteful way of doing things.
"There are plenty of ways to share small files. The upgraded MASV solves the unique challenges related to sending files that are too large for conventional cloud services," said MASV Vice-President of Products Dave Horne. "MASV delivers enormous files on-time in a fast, reliable, and pay-as-you go way. It just works – even across long distances and questionable networking conditions. Our specialty in huge files is the reason people come to MASV, but time savings are why they stay."
MASV 3.0 New/Upgraded Features:
Faster transfers on a bigger network
An improved UI and Uploader

Users can now send several thousand files at once!

"Fire-and-forget" file transfers:

complete with retry capabilities, to ensure large files are delivered with minimal user interaction even under challenging network conditions.

Download tracking, so you always know who has downloaded what down to the gigabyte.
Shareable Links

Makes it easy for recipients to copy and paste their link from the completed transfer page to share it with stakeholders

Mobile capabilities for users to manage MASV on the go.
A full API accessible to clients for automation and integration purposes.
These upgrades strengthen a service that already offers no limits on file sizes, users, or portals; no software, plugins or IT setup; and no requirement for training. If you can send an email, you can use MASV to deliver massive files easily without hard drive or subscription headaches.

"Video and creative professionals are project-based and are suffering from subscription fatigue," said Horne. "MASV unshackles users from subscription. Our pay-as-you-go model doesn't need to hit your credit card each month and makes it simple to bill transfers back to clients."
MASV are giving future users a free 100GB trial now available at www.massive.io. Demonstration videos can be found on YouTube or on MASV's feature page at https://www.massive.io/features/.
Have you guys given MASV a try yet? Thoughts? Do share in the comments below.
Claim your copy of DAVINCI RESOLVE - SIMPLIFIED COURSE with 50% off! Get Instant Access!